Inside: 15 of our favorite poems about cake and cup cakes. 
Some of the best memories of our life have cake included in them— birthdays, weddings, special celebrations, childhood classroom parties, they always have that sweet, yummy treat at the center of them!
With all the positive memories and emotions associated with the dessert, it makes sense that it has led people to turn to poetry to convey those feelings and as a way to keep those memories close to them forever.
No matter what type of cake is your favorite, chocolate, birthday, ice cream, carrot, there are plenty of cake poems that are relatable. But proceed with caution: reading through these cake poems may lead to craving a slice, so if you get frosting on your laptop, don't blame us.
Now that we've got that warning out of the way, we "batter" get into these delectable poems about everyone's favorite baked good: CAKE!
Cup Cake Poems
What's better than a big, mouthwatering cake? Multiple, mini, delicious cakes! That's right, this section is dedicated to our favorite cup cake poems.
1. Cupcake by Carrie Heyes – This adorable poem about the processes of baking cupcakes and the agonizing time spent waiting for them to cool down on the counter! Complete with a sweet little twist at the end as well.
2. A Store Called Cupcake Heaven
We stopped by the cupcake bakery
To get ourselves a treat.
We selected a dozen cupcakes
That we really wanted to eat.
We didn't have just one or two.
We enjoyed exactly seven.
Our bellies are really glad
That we went to Cupcake Heaven!
—Bruce Larkin
3. Cake by Julie M. – A cupcake poem that calls back to the famous scene in Alice in Wonderland that depicts Alice taking a bite of a tasty cupcake and growing very, very big!
4. Cupcakes
Oh all the kinds of cupcakes,
Filled with sugar and sweet.
They're all sorts of flavors,
And my favorite treat.
Strawberry and vanilla,
Chocolate and peanut-butter.
They're all so delicious,
I have to have another.
But I must resist,
For if I don't there will be trouble.
But try as hard as I might,
They're all so yummy and loveable!
—Luna Moon
5. CUP CAKES by Sharina Saad – The narrator of this poem admires the beauty and deliciousness of cupcakes, and how they always put a smile on peoples faces! Along with this, they ponder over what type of cupcake they would be.
Poems About Cake
From poems about crazy cakes with a ton of layers, to never being able to eat enough yummy cake, these poems about cake all praise the sweet treat and reminisce on all the wonderful memories in which it was involved.
6. Baking A Cake by Jody Weissler – A wonderful poem for kids that goes through the process of building a ridiculous cake with tons of layers! Each layer is a new stanza in the story and each one adds more craziness to the overall cake than the last. So much fun to teach in a classroom.
When i saw the brand new cake,
Of a gorgeous double layered bake
It looked so good and tasted divine,
I ate it all in a double quick time.
The sponge was light and golden brown,
Somehow all the cake slipped down,
The jam was red, the cream was cream
All slipped down just like a dream.
And now I rush off to the gym,
Cakes will never make me slim,
So now I squat and run and lunge,
All because of Victoria Sponge.
—Pippa Lyons
8. Rainbow Layered Cake by Ed Boxall – A very touching poem from the point of view of a young son spending a day off from school with his dad to go to the dentist. After the dentist they go to the cafe and share a slice of cake and the narrator is relishing in the memory, thinking about how he would be in class right now but would prefer to stay here with his dad forever!
9. Chocolate Cake by Sherbanu Molu – The narrator is taking you through their journey of eating a delectable chocolate cake with sprinkles and a cherry on top! This poem will definitely make you crave a slice.
Cake is necessary,
It's part of growing up!
From gooey chocolate fudge to the simple cup.
Flour and butter,
Eggs and milk.
Marzipan toppings as soft as silk.
Whenever I'm happy,
Whenever I'm sad,
When I've got cake, I'm ever so glad!
—Eleanor Ruth Hughes
Delicious Cake Poems
Are you a serious cake lover? This section is for you! Many of these poem are written from the perspective of cake-obsessed narrators and how much they enjoy eating it.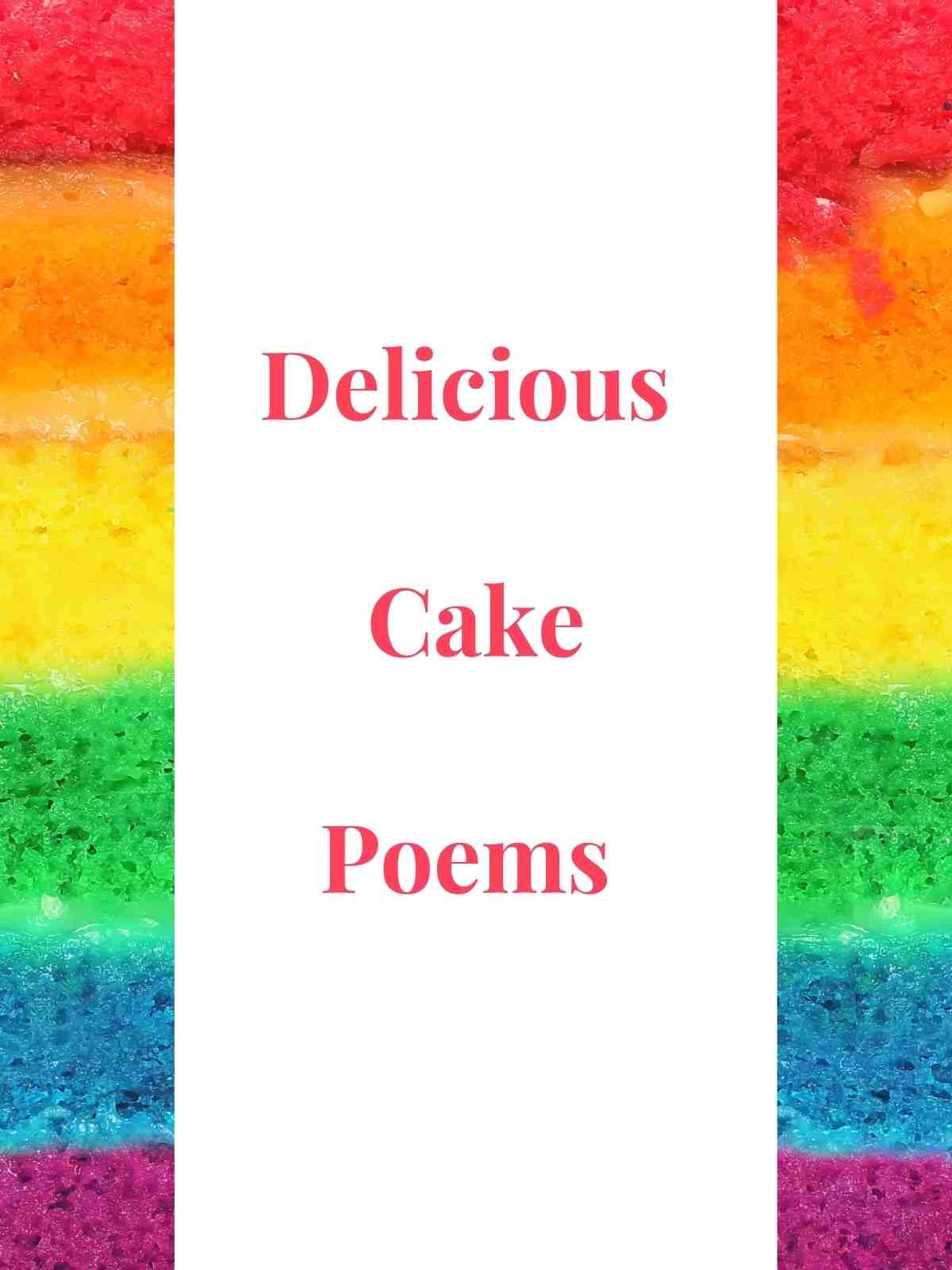 11. The Cake Lover's Week – Go through the typical week of the extreme cake lover and all their favorite flavors! Their love for sweets doesn't stop at a moist cake, however, it extends to other treats like banana bread and scones with tea to end the week.
12. Chocolate Cake
Friends are like chocolate cake
You can never have too much
Chocolate cake it like heaven
Always amazing you with each taste or feeling
Chocolate cake is like life with so many different pieces
Chocolate cake is like happiness, you can never get enough of it.
—Franklina OwusuAnsah
13. Candles on the Birthday Cake
Candles on the birthday cake,
One added every year.
Each candle holds a memory,
Each flame a thought sincere.
A single match ignites a flame,
That one swift breath erases.
Each flicker sparks a memory,
Of special times and places.
—Pamela Joyce Randolph
14. Birthday Cake by Poems and Occasions – A funny, lighthearted birthday poem that lets your friend know that you tried your hardest to make them a special treat for their special day, but it didn't come out as you had hoped! It's the thought that counts, right?
Brown
Rich, deep, brown,
Like the earth on a spring day
Full of promise.
Each tender bite,
An instant pleasure,
Gratifying, grounding.
The moments slow and
The quiet of the morning
Comes forward.
The earth is just
Starting to wake.
I can hear the birds,
One by one, singing their songs.
I'll linger here a little longer.
—Juana Almaguer
More Poems You'll Love
Coffee Poems That Will Wake You Up – Looking for a warm drink to wash down all the cake you just consumed? Head on over to our list of the most jolting coffee poems that convey the warmth and comfort of a steaming cup of joe!
31 Beautiful Wildflower Poems – Wildflower season is the most beautiful season. Not only do these little flowers bloom all over, dotting sidewalks and lawns with their colorful petals, but it means that the warmth of spring and summer is upon us! These poems admire the beauty of wildflowers and use their short seasonal time with us to relate to both life and death. Indulge in some beautiful poems about these beautiful flowers!
23 Enchanting Disney Poems – Disney has taught us so many wonderful and necessary lessons over the years. Lessons revolving around family, friends, love, courage, and most importantly, never growing up! The magical poems included in this list are mostly well-known Disney songs, as all songs are poetry before they are put to music. The magic of Disney and the topics many of its songs and movies address have withstood the test of time and will continue to do so for decades to come.