Inside: 23 haiku poems about love for the hopeless romantic looking for some lovey poetry to read.
The most common theme, when it comes to poetry or art and writing of any kind is love. Love evokes one of the strongest emotions in us as humans, and the most emotional versions of us need somewhere to let it all out.
Therefore, we end up with many poems about love right at our fingertips.
Think about every song you listen to on the regular, most of them are about love. And a song is really just a poem with music, right? Love makes the world go round as much as we don't want to admit it, so it really is all around us.
Maybe you don't want to read all of the sonnets and the long winded poems that are so common, so here are 23 haiku poems about love to get your fill of romance without having to read way too much! Enjoy these romantic little poems.
Just because it's about love, doesn't mean it's a gushy, lovey-dovey happy poem.
There are many poets that write from a place of anger, sadness, and heartbreak. Sometimes, if you're feeling these things, reading about it helps too. I know I personally turn to poetry and books and movies that channel the same energy I'm feeling, simply because I know it'll make me feel a little better, knowing that I'm not alone. Others having felt the same thing as me as a comforting thought, so I love to dig into poetry about heartbreak when I'm upset.
But if you're one of the lucky ones and happy and in love, right now, you'll find a poem here for that, too! We have something for everyone here in this post, so dig into these 23 haiku poems about love.
What Is A Haiku?
If you're new to the world of poetry, you may or may not know what a haiku is.
Many of us used to work on them for school projects, as an introduction to creative writing and poetry. If you're not new to the poetry world, you know what this is.
A haiku is a Japanese form of poetry and it's an incredibly short poem. This allows for a lot of creativity. In short, you have to get creative because there's very specific rules when writing a haiku. Haiku's are three lines: the first being five syllables, the second being seven syllables, and the last being five syllables as well.
There are variations on occasion with the syllable count, like three five three for example. But these then start to go towards different categories of Japanese poetry, but can technically still be called a haiku.
A lot of fun work and play on words comes out of haiku's, when you have to be so creative with the way that it's written to follow so many rules. Have fun reading these haikus about love.
Sweet Haiku Poems About Love
There are two kinds of love poems– being in love or being out of love. Here are some happy ones for you loved-up folks .
1. Together
You and me alone
Madness of world locked away
Peace and quiet reigns
2. A Caress
Strokes of affection
Light and tenderly expressed
Keep love's bonds so strong.
3. Love Haiku
I am over you.
Then my eyes meet yours once more,
and I fall in love.
4. Eye Of Fire
Your eyes are fire.
Their image burnt into my soul,
Scarred by beauty.
5. Love
I love you like mountain snow
so fresh, so fallen
but the path waits for breaking
Love And Heartbreak
On the other end of the spectrum? Here are some of those for you, too.
6. Don't Weep
Don't weep, insects –
Lovers, stars themselves,
Must part.
7. Writer's Block No Mercy
Just a blank paper
Absent words a tragedy
My heart is broken
By Val Brooklyn
8. Aching Heart
for the heart that hurts,
the rib cage embraces it,
the mind consoles it.
9. Sadness
Onto my pillow
Wet tears run freely
From weeping eyes shut!
10. Puzzle
Love cannot make sense
When we force down the wrong piece
Into the puzzle
11. Adam
Dreamt of you again last night
How sweet that moment
Before waking up alone
Family Love Haiku Poems
Love isn't always romantic. Family and friends are some of the most cherished people in your life. Here are some family love haikus.
12. From Mother To Infant
You shatter my sleep
All milk-need and petal lips.
You smile, and I melt.
13. Family Love, Nature's Harmony
A family love
makes the world sing out with joy.
Nature's harmony.
14. Mother
Every heartbeat is bestowed upon,
Compassion embraces a child eternally
That uplifts a child's soul in isolation in every way.
15. A Family Praising
A gather of hands
A feasting at dinnertime
Hear the sounds of smiles
16.
Making wishes
grandmas garden
wishing on
dandelions
Haikus About Love And Longing
17. Sweet Melody
Sweet melody of peaceful surrender
Is what your loves gives me forever
That no one can put asunder
18. Smile
We met years ago
That smile gave me shivers
Don't stop being you
By Danny S
19. Buried Hearts
O travel bound
Tread gently
A million hearts in ground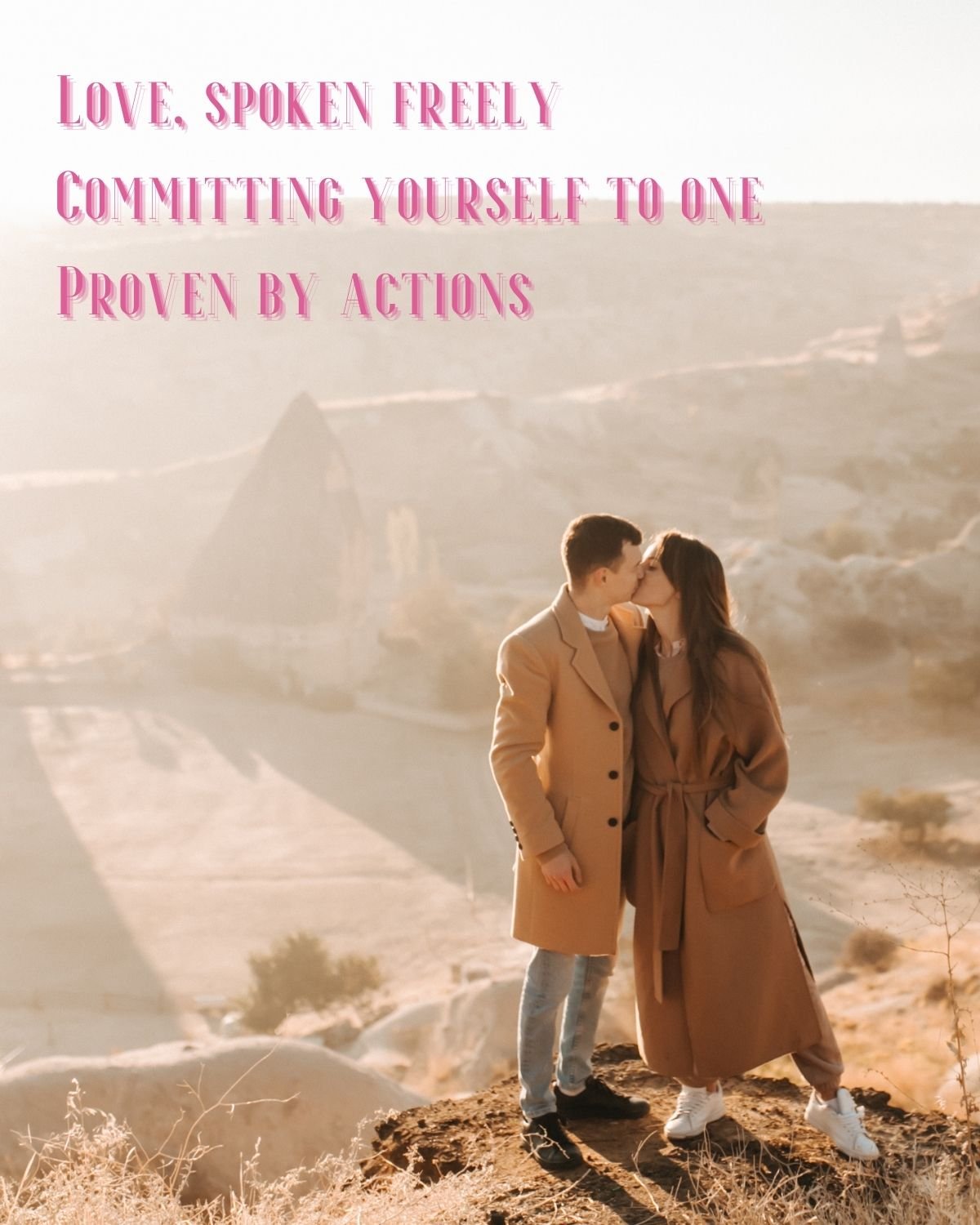 20. Proven
Love, spoken freely
Committing yourself to one
Proven by actions
Friendship Love
My friends are my world these days. I might just need to send them one of these friendship love haikus.
21. Friendship
Sharing is friendship.
Moon and sun are best of friends.
They take turns to shine.
22. 5
Good friends provide us joy
Corrects as we go astray
Friends make us enjoy!
23. 3338
Friends pose for pictures
Under a new canopy,
Masks off for smiles
Don't we all love a good creative haiku?
It's a great way to enter into the world of poetry or get a quick fix especially when someone is so creative with so few words. Mark Twain once said that it takes a great writer to share a story in so few words, and tell the story in less time than a long winded story. Haiku's are great examples of this, because we get wonderful poetic insight to their feelings in such a short poem.
Reading poetry about love is as classic as it gets, so I hope you loved these 23 haiku poems about love!
Feeling far away from your love? Are you in a long distance relationship or is one of you out of town? Here are some poems that you can relate to. 51 poems about missing someone, and you're likely going to find a lot of comfort in them.