Inside: Black and white poems to celebrate contrast and style. 
There are so many things that can be the theme of poetry, the possibilities are endless.
There is so much room for artistic freedom that imagining the many confines that come in basically all other areas of life can feel like too much. One of my favorite themes for poetry actually deals with this, and that is Black and White Poetry.
Black and White poetry can be about many things; it can be a descriptive poem, a commentary on the separation between people, or perhaps an acknowledgment of how our society runs on a very all or nothing way of thinking. In any of these cases, there are hundreds of poems that are dedicated to this overall theme.
So I made a list of the best black and white poems!
Before we get into that though, I want to go over some of the symbolism that the colors Black & White represent, as well as some of the symbolism behind the saying.
What Are The Meaning Of Black And White Poems?
White: White symbolizes cleanliness, goodness, clarity, and purity. Think about it, anytime you've ever seen something that was white(and wasn't covered in stains) you just get an overall feeling of clean. In many cultures, white represents purity as well.
Black: Black, on the other hand, is basically its polar opposite in many ways. Black symbolizes evil, unknowing, and darkness.
You may be thinking that you'd like to stay away from the things that black symbolizes, and I totally understand that. But it may help you to know that in many cultures, they believe that in order to live a balanced life, you must live with both the good and the bad.
Think about the Yin & Yang symbol, it is the prime example. of 2 opposing things, living in harmony with one another, one balancing the other in perfect unison. Life can be hard sometimes, and darkness is unavoidable, but there will also always be light times.
So you can see how this would make for such a good topic for poetry. It's not all so heavy though, I made sure to include some lighthearted ones as well. It's all about balance, baby! So check these out.
Black and White Poetry
This first list is full of awesome examples of Black & White Poetry. I've found that spending a little time reading poetry every day has really impacted my routine in positive ways.
It gives me the opportunity to be introspective and come at things from different angles. It's pretty amazing. So as you are reading these, be proud of yourself for taking the time to do something so beneficial!
1. Adore
I dreamt of you
In black and white
But
Your voice
Was in color
I do not know
What words you said
But I heard
Shades of adore.
– Mrs. Timetable
2. Yesterday
Yesterday,
The moon was still standing there
Looking gayer and harmless.
Yesterday, the stars looked in awe
When I gave up on the world
And reached out for these scrolls.
Yesterday I poured out my secrets
Into these witty papers —
Not fearful of betrayal
Yesterday, I married these scrolls
In whom I find essence
& Inner peace.
Yesterday, I chose to write
Never to step aback
Or say no more
Today, I am the noble poet
Holding to the sacred traditions
— of my fathers.
& Today, I write
From the depths of my loins
About black and white moments
The ups and downs, froze and shock
… The wild and marine
The dessert and plains.
Today, I write about the atom, matter,
Monomers of life, the estatic beauty
— of life, nature and more.
Today, I write
Not to please, but just to tell
What the tongue may never say.
– Abdul Hakim Genius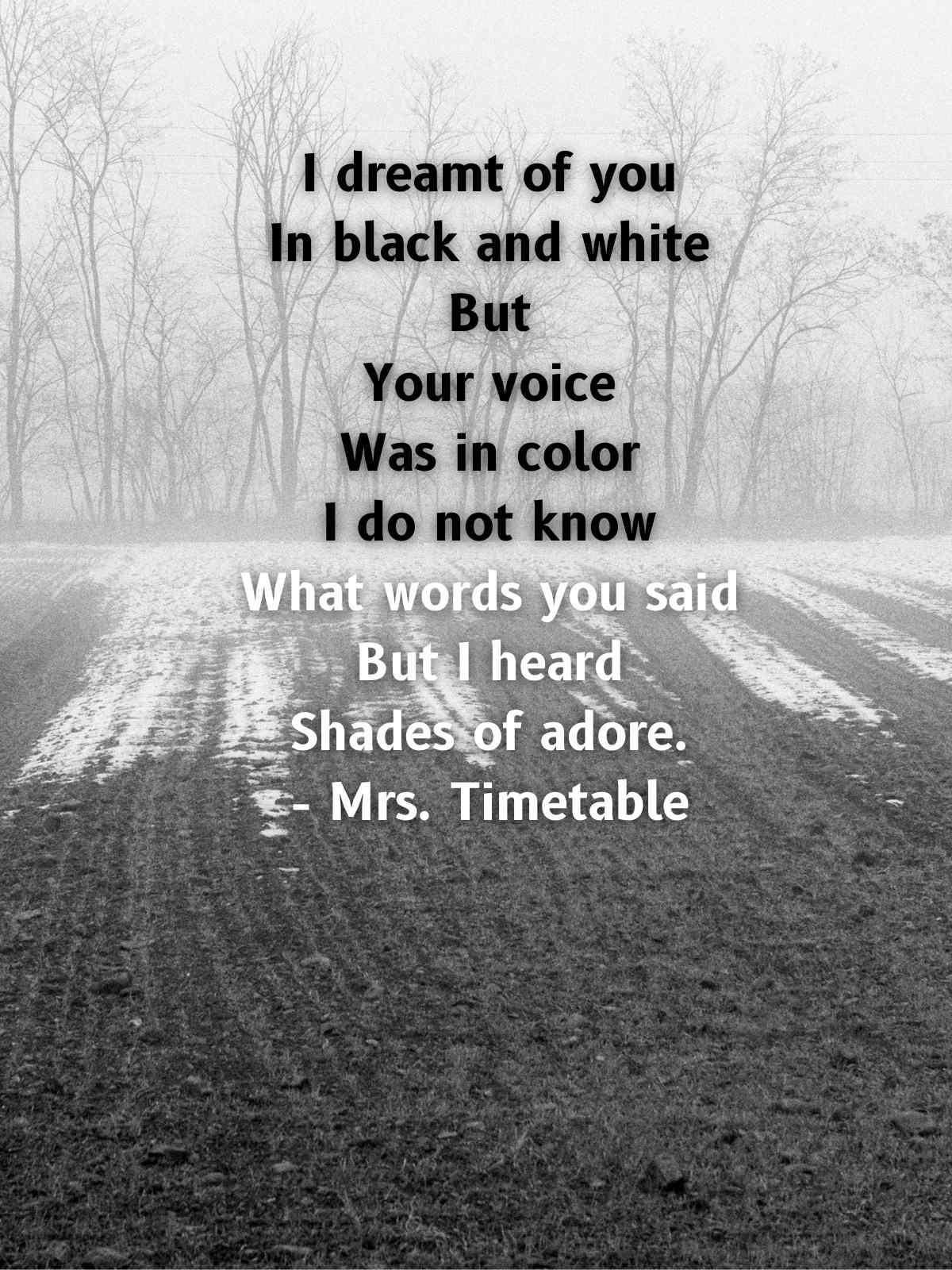 3. Reading
I love traveling the world in the comfort of my bed at my own home,
Through pages,
Ink black and white,
Sound of turning pages,
As I age deep into characters,
I know now I am the character
Choosing my favorite
Because here I have a choice.
I learn about pain as they fall and fail
I share a tear as they die
Now I realise that
Pain sometimes is a matter of our own choices,
But with time I realise it wasn't just a story
As I relate too deep with it.
I just love living in the thoughts of shelves,
Feeling myself.
Exactly what I abhor to adore.
I love how every page is different from another
But same book, isn't that odd?
Nope, it's a lesson learnt
That in this life
Years, day, time may be the same
But different experiences we experiencing
So I keep on reading
And I keep on learning this life through every page I turn
-Maphatlalatse Masta Rj 
The day black and white got a break
Was the day he and she and they
Thought of those things black and white could convey,
That is, those things could be turned into black and white
And be clear to minds.
-Louis Dienes
5. SKY
SKY
SKY WAY OF FLY
ENJOY HIGH WITH FLY
SKY IS A NATURAL GIFT
START COME ON IN NIGHT SHIFT
SKY CHANGE COLOUR
BLUE, BLACK AND WHITE COLOUR
SKY WAY OF FLY
ENJOY NIGHT WITH FLY
I WANT TO TOUCH SKY
I WANT TO FLY
SKY IS VERY HIGH
THE SECRET OF SUN, NO REPLY
SKY WAY OF FLY
ENJOY HIGH WITH FLY
SKY BEAUTY IN DAY AND NIGHT
SKY IS A SYMBOL OF LOVE, NO FIGHT
SKY IS A POSSIBLE SIGN
WHICH INCLUDE DAY AND NIGHT
SKY WAY OF FLY
ENJOY HIGH WITH FLY
CHILD FRIEND OF SKY
THEY ALWAYS KITE FLY
KITE GO UP LINE TOUGH SKY
SKY WAY OF FLY
ENJOY HIGH WITH FLY
-PRAHLAD PANDEY 
6. Heavens
How can they walk proud and tall whilst emanating evil?
They brood they're doing right when raising such upheaval?
Now needed time to knock a few of them from their high horses
Withstanding ill imposters to strengthen natural sources.
Black is black and white is white hence why the controversy?
Righteousness must prevail, justice, grace, and mercy,
Responsibility enforced to prevent the rain
Where heavens open up for us before our time again.
-Paris-Maree Boreham
7. Haiku 30
TV flashes on –
black and white photographs
frowning
-Timothy Hicks
8. Time Jukebox
time machine jukebox
resurrecting black and white
just for the music
-Marty King
Good Black & White Poetry
Black and white poems are very subjective, what one person thinks is brilliant, the next won't like it at all. Humans are funny this way. So for this list, I collected a good mixture of styles and themes that way there is something for everyone out there.
I think that each person's viewpoint and preferences come from their own life experiences, which is why poetry is such a great way to connect us all. It gives you the opportunity to connect with people with different lives and stories. Check these out.
Fuzzy, black and white,
A face with childlike wonder
Loving to explore
-Joseph Coogan
Apples and oranges
balance between black and white.
No need to compare
-Zane Mose
December gray sky
Black and white
Chess pieces
Reign from
These clouds
–Gregory Golden
12. Colourful Girl
clad in pink today
she wears other colours too
thoughts are black and white.
-Carol Fillmore
13. Eternal Light
With a
tremor of light
a black and white filter
inks the nigrescent sky with the
Day star.
– Brian Strand
14. Roses Are Gray
Roses are gray,
violets are gray,
because I'm a dog.
I can only see black and white shades.
-Billy TheKidster 
15. Old Black and White Movies
Being with family is oh so comforting
Much like a familiar old blanket
Or your favourite ragged worn out old sweater
With holes in the elbows
One that has seen much better days
But one that you just can't throw away
Watching old black and white movies
Thinking to yourself
The dialogue and acting left much to be desired
-Jack Ellison
16. Black and White Reflections
Old black and white pictures are faded and worn
the pain they portray is there in her eyes.
Innocence doomed from the time she was born,
no tears for a childhood she lost in the night.
-Susan Jeavons
17. Black or White, We Are All the Same
Black or White
We are all the same
Created by one creator
And are all equal
Accept who we are
Not what we are
Black or White
We are all one
We may have different points  of view
But we are still one
Because we are all humans
Don't let the past
Affect the future
Because we are the future generation
And must show difference in our generation
Only illiterate
Don't know
We are all equal
So let us the educated children
Set examples for our future children
To gain peace
And love in this present life
To protect the image of our generation.
More Poems You'll Love
17+ Delightfully Bright Sun Poems 

– After reading about the absence of color, I thought we should spend some time on something a little more vibrant. So take a look at this list of over 17 of the most delightful Bright poems about the sun! Sun poems hold some of the most power. So take a look.

17+ Famous Purple Poems – Purple is a color that holds lots of symbolism and meanings, so much so that you would be surprised! So check out these poems about the color purple, and learn about some of the symbols and meanings that are hiding behind this everyday color.
17+ Best Poems About Dandelions – Dandelions are one of my favorite flowers. They just bring me right back to childhood, making wishes and feeling the magic in the world come to life. If you want to be transported back to this feeling, then read some of these poems that are dedicated to this whimsical flower!