Color is all around it. It helps bring light into the world, not to mention order. Really think about it, we use color to differentiate everything from trash cans, to traffic lights. It's funny to think about! Different colors have different meanings.
For example, everyone associates Green with go, Red with stop, Yellow with happiness, Blue with sadness…The list goes on.
They've been used to create art, in paintings and sculptures, and they're used in poetry to help describe things in beautiful ways. In fact, there are loads of poems dedicated to the subject of color. Since there are so many to choose from, today I'm going to focus on 1… the color Purple!
Before we get into Purple poetry, let's discuss some of the meanings and symbolisms that are held within the poetry of this color.
Purple Symbolisms
Throughout history, the color purple has been associated with royalty, luxury, nobility, ambition, and power. Created in 1856 by a chemist by the name of William Henry Perkin during the process of making an anti-malaria drug. He noticed the purple color could be used for dying fabrics, so he patented it under the name Tyrian Purple. Obviously, he didn't create the color purple, it shows up naturally in nature. But he did create the first synthetic version of it! This rare hue has been convicted throughout history as an indicator of royalty and power. The widespread appreciation for this color swept from Russia to Rome, and laws were even put in place to only allow the use of it by kings, emperors, and high noblemen…but that was it.
Later in the 20th century, this color began to be associated with social change. The woman's suffrage movement used the colors purple, green, and white in their fight for women's rights. Wow! This color is really something. Even in nature, it's rare. Because of this, it's even been reported to have been considered sacred. The color purple really has quite the history!
Now that we understand the color a bit better, let's dive into the poetry!
Famous Poems about Purple
1. Purple Makes me Cry.
Long ago, purple was only for the rich.
No one else could wear it, not a purple stitch.
It was just for kings and rulers of the world.
They had all the gold, the rubies, and the pearls.
But all around this gorgeous globe, purple could be found.
On flowers, clouds, and insects–why, purple does abound!
It seems to me a gift from someone way up high,
Saying we're ALL special. ~ That's why purple makes me cry.
-P.S Awtry
2. Eulalie
I dwelt alone
In a world of moan,
And my soul was a stagnant tide,
Till the fair and gentle Eulalie became my blushing bride-
Till the yellow-haired young Eulalie became my smiling bride.
Ah, less- less bright
The stars of the night
Than the eyes of the radiant girl!
That the vapor can make
With the moon-tints of purple and pearl,
Can vie with the modest Eulalie's most unregarded curl-
Can compare with the bright-eyed Eulalie's most humble and careless
curl.
Now Doubt- now Pain
Come never again,
For her soul gives me sigh for sigh,
And all day long
Shines, bright and strong,
Astarte within the sky,
While ever to her dear Eulalie upturns her matron eye-
While ever to her young Eulalie upturns her violet eye.
3. Maker Of Heaven And Earth
All things bright and beautiful,
All creatures great and small,
All things wise and wonderful,
The Lord God made them all.
Each little flower that opens,
Each little bird that sings,
He made their glowing colours,
He made their tiny wings.
The rich man in his castle,
The poor man at his gate,
God made them, high or lowly,
And ordered their estate.
The purple-headed mountain,
The river running by,
The sunset, and the morning,
That brightens up the sky;
The cold wind in the winter,
The pleasant summer sun,
The ripe fruits in the garden,
He made them every one.
The tall trees in the greenwood,
The meadows where we play,
The rushes by the water,
We gather every day;–
He gave us eyes to see them,
And lips that we might tell,
How great is God Almighty,
Who has made all things well.
4. Little Purple Flower
I am a little purple flower
My petals so extremely small
I 've stood in the grass for many an hour
Enjoying a breeze most of all
But, oh, what happened to my peers!
Just yesterday, it moved me to tears
While the children of John were playing their game
My peers were trampled to death, what a shame
When just before that, some bigger flowers were damaged
The children were scolded badly by John
But when my brothers were ravaged
It was noticed, sadly, by none
Today, however, I had a reason to smile
A nerd, or so he must be
Looked at this little purplish flower, a while
And took a picture of me
Even if tomorrow, to the worst of my fears
I have to die, as yesterday my peers
I will do so happily
since someone has seen the beauty in me.
-Aufie Zophy
5. Purple Haze
Purple haze,
Twilight days,
Beauty's hour,
Fresh flower!
Purple haze,
A dawn blaze,
Rosebud red,
Sleep in bed.
Show and tell,
Perfume smell.
Purple haze,
Sunset rays,
Blue jay trill,
Evening chill,
Butterflies,
Pink surprise!
Purple haze,
Sunrise glaze,
Blooming parks,
Beauty marks.
Misty mounts,
Color flounced!
Purple haze,
Valley ways,
Honeybee,
Sugar tree,
Hard to see,
Mystery.
Beauty world,
Breezes twirled,
Purple haze,
A hued phase.
-Evelyn Judy Buehler
6. Blackberry-Picking
Late August, given heavy rain and sun
For a full week, the blackberries would ripen.
At first, just one, a glossy purple clot
Among others, red, green, hard as a knot.
You ate that first one and its flesh was sweet
Like thickened wine: summer's blood was in it
Leaving stains upon the tongue and lust for
Picking. Then red ones inked up and that hunger
Sent us out with milk cans, pea tins, jam-pots
Where briars scratched and wet grass bleached our boots.
Round hayfields, cornfields and potato-drills
We trekked and picked until the cans were full
Until the tinkling bottom had been covered
With green ones, and on top big dark blobs burned
Like a plate of eyes. Our hands were peppered
-Seamus Heaney
7. Before The Dawn
But like love
the archers
are blind
Upon the green night,
the piercing saetas
leave traces of warm
lily.
The keel of the moon
breaks through purple clouds
and their quivers
fill with dew.
Ay, but like love
the archers
are blind!
8. Just Beyond the Sunset
Just beyond the sunset
Someone waits for me
Just beyond the sunset
Lies my destiny
Where the purple mountains
Lie in deep tranquillity
There I'll find the treasure
Of love eternally
Just beyond the sunset
Waits someone so fair
Just beyond the sunset
All alone they wait there
Their hair is golden
The colour of the sand
Their eyes sparkle in the night
Like diamonds in your hand
Just beyond the sunset
Lies a home for me
Where the world is peaceful
Like a paradise should be
Just beyond the sunset
Someday is where you'll find me
-David Harris
9.Ode To Wine Excerpt(Read Full Poem Here)
Day-colored wine,
night-colored wine,
wine with purple feet
or wine with topaz blood,
wine,
starry child
of earth,
wine, smooth
as a golden sword,
soft …
-Pablo Neruda
Poems about the Color Purple
Poets from Emily Dickinson to Jenny Joseph have written about this color, so that makes it all the more exciting. It's like reading in a time machine! Take a look at these awesome poems by some of the greats.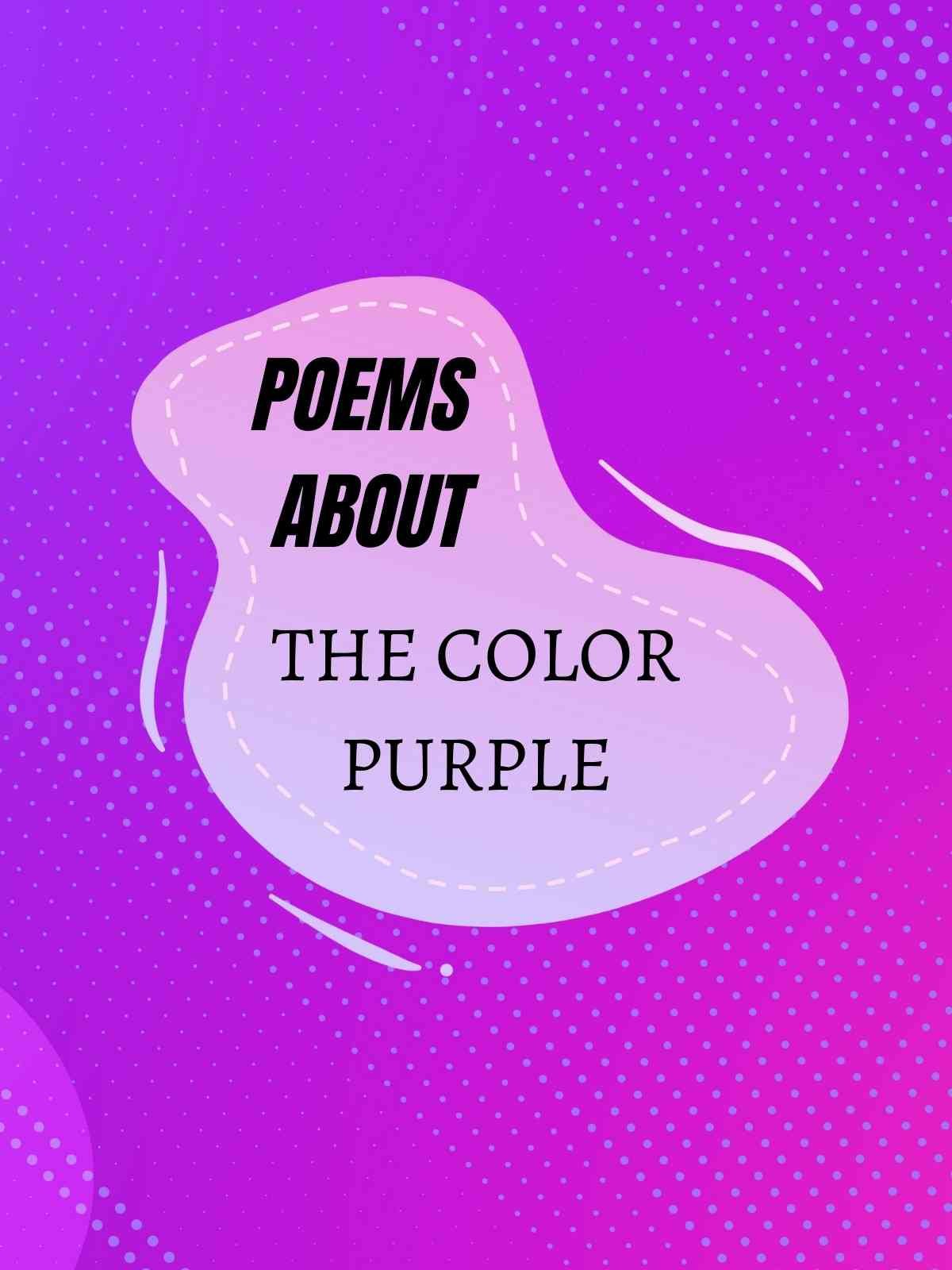 10. The Color Purple
You pretend you're alright,
laugh when you're sad,
hide your true feelings;
never show if you're mad.
Keep to yourself
does no good to fight,
simply try your best
to stay out of sight.
Here in this world
of black and white
you just don't fit
so you live in the night;
hide your color
in a heart so deep
and dream of rainbows
in your sleep.
But deep inside
a greater light shines
through pain and sorrow,
space and time.
There's red and green,
yellow and blue,
pink and orange
and yes, purple too.
A lasting assurance
that beyond the fears
you're not alone
with all those tears.
You are seen and loved,
this you know;
the rainbow's there
to tell you so.
But it's hard in your dark reality
in the world of black and white,
no one appreciates the color purple
until they see you there in the light.
-Carolyn Brunelle
11. The Color Purple
I brought to my mother's house a pot of African Violets.
So pleased was she to see them, she taught me their name.
I think their petals are like wide open eye lids
and those dark green leaves are like hands that aim.
The color purple is evident in various natural settings.
I would love to see the purple grapes on the vines again.
I may prefer the taste of Bartlet pears at weddings,
but purple looks so lovely on both women and men.
-Shanon Norman
12. The Purple Cow
I never saw a purple cow,
I never Hope to see one;
But I can tell you, anyhow,
I'd rather see than be one!
-Gelett Burgess
13. Purple
Walking, I drew my hand over the lumpy
bloom of a spray of purple; I stripped away
my fingers, stained purple; put it to my nose,
the minty honey, a perfume so aggressively
pleasant—I gave it to you to smell,
my daughter, and you pulled away as if
I was giving you a palm full of wasps,
deceptions: "Smell the way the air
changes because of purple and green."
This is the promise I make to you:
I will never give you a fist full of wasps,
just the surprise of purple and the scent of rain.
-Kwame Dawes
14. Purple 2
Purple!
Purple flowers,
Purple rain! !
Purple,
Like a dyed stuff,
Purple! Purple! ! Purple! ! !
Sounding like Music;
Musing along with this colour,
Purple!
Sounds of love;
Store, core, shore!
More to learn about the Purple Color.
Store of love,
Shore of romance,
Core to your heart!
Purple,
Purple flowers of love;
A twist with your mind! ! !
Unable to hide the truth,
Tough and rough is life at times!
But, i have these lovely flowers for you,
-Edward Kofi Louis
15. A Purple Lily
Out of my garden, a purple lily.
Purple is divine.
Purple is amazing.
Purple is not exaggerating.
Purple exudes a fragrance of love and peace!
-S.Y Wong
16. Purple clover
There is a flower that bees prefer,
And butterflies desire;
To gain the purple democrat
The humming-birds aspire.
And whatsoever insect pass,
A honey bears away
Proportioned to his several dearth
And her capacity.
Her face is rounder than the moon,
And ruddier than the gown
Of orchis in the pasture,
Or rhododendron worn.
She doth not wait for June;
Before the world is green
Her sturdy little countenance
Against the wind is seen,
Contending with the grass,
Near kinsman to herself,
For privilege of sod and sun,
Sweet litigants for life.
And when the hills are full,
And newer fashions blow,
Doth not retract a single spice
For pang of jealousy.
Her public is the noon,
Her providence the sun,
Her progress by the bee proclaimed
In sovereign, swerve-less tune.
The bravest of the host,
Surrendering the last,
Nor even of defeat aware
When cancelled by the frost.
-Emily Dickenson
When I am Old, I shall Wear Purple: Full Poem
This is perhaps one of the most popular poems dedicated to the color purple. It describes the ungraceful ways of aging and celebrates the unconventionality of this color. Jenny was born in 1932 and lived until 2018. During her time, she wrote poetry in her downtime and while working many jobs from teaching a literature class to manning a pub. She was truly something to admire! This poem is titled 'Warning'. Check it out below!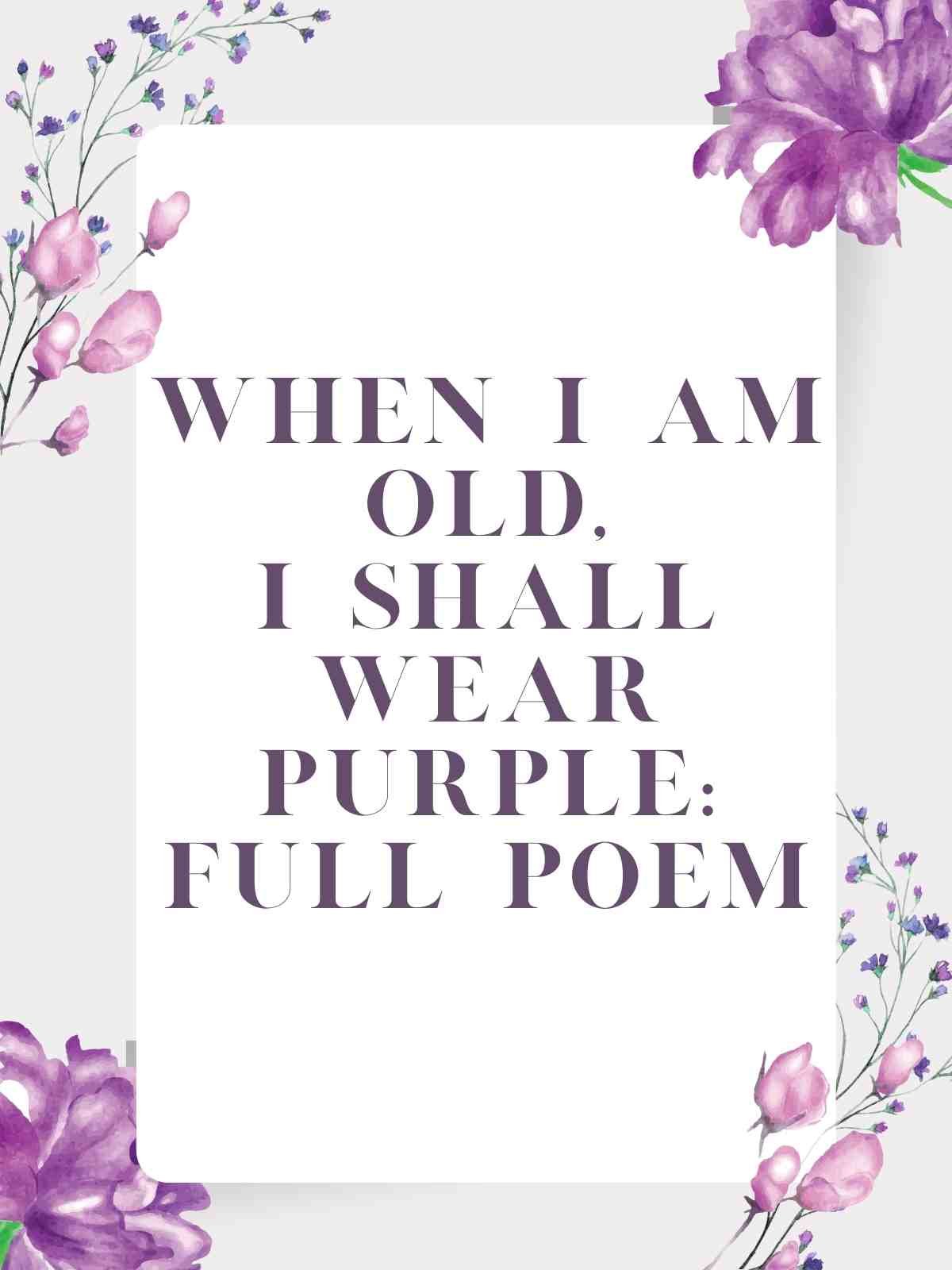 Warning
When I am an old woman I shall wear purple
With a red hat which doesn't go, and doesn't suit me.
And I shall spend my pension on brandy and summer gloves
And satin sandals, and say we've no money for butter.
I shall sit down on the pavement when I'm tired
And gobble up samples in shops and press alarm bells
And run my stick along the public railings
And make up for the sobriety of my youth.
I shall go out in my slippers in the rain
And pick the flowers in other people's gardens
And learn to spit.
You can wear terrible shirts and grow more fat
And eat three pounds of sausages at a go
Or only bread and pickle for a week
And hoard pens and pencils and beermats and things in boxes.
But now we must have clothes that keep us dry
And pay our rent and not swear in the street
And set a good example for the children.
We must have friends to dinner and read the papers.
But maybe I ought to practice a little now?
So people who know me are not too shocked and surprised
When suddenly I am old, and start to wear purple.
-Jenny Joseph
More Poems You'll Love
53+ Amazing Sister Poems – A sisterly love is unlike any other love you experience in any other relationship in your life. The bond you share with your sister is undoubtedly deep, and even if you aren't the closest to one another, the connection is undeniable. We have compiled a list of our favorite poems about the relationship between sisters that will help convey that connection only you have with each other, and only you can understand!
17 Delightful Peony Poems – Peonies have been used as a muse in artwork for many, many years and in many different cultures. Each culture has its own idea as to what the peony symbolizes, but it is universally agreed upon that it's beauty is show-stopping, and worthy of art and poetry. With all the poems written about the delicate flower, here are 17 that I think really capture the essence of it!
Passionate Love Poems – Ah, love. The power of it is enough to make you do something stupid, but it is so, so worth it. Sometimes, explaining your love for someone, whether it be a partner, a friend, or a family member, can be extremely difficult. Of course it is, love is a big, all-consuming feeling! So, to help you explain to your loved ones just how you feel about them and how much you love them, we have found a ton of love poems that are passionate and will hopefully help you get your feelings across.