Inside: 17 Basketball Poems 
While basketball may not exactly hold the title, "America's pastime", it's still is very near and dear to many people's hearts…and not just in the U.S! In fact, over 195 different countries in the world play this, 100 of them having their own teams! So this sport is quite the big deal, and it isn't hard to see why.
Sports bring people together and are giving people something to look forward to outside of their regular life. It gives you something to route for, cheer on, and support!
So If you think that the fan's passion is intense, just imagine what must be going on inside the PLAYER'S heads(and hearts). They really give their all into this, on and off the court. T
hey have countless hours of training and team building, they have specific diets to better their athletic abilities…they really dedicate their mind and bodies to basketball.
So with all this passion surrounding this sport, you may not be surprised to learn that many people channel it into arts, including poetry. That's right, basketball poetry!
I've made a list of 17 of the best Basketball Poems out there for you to take a look at! You may be thinking, but isn't this sport full of macho guys…why would there be poetry written about it? Well, first of all, that's kind of an outdated way of looking at things, basketball is for everyone! And so is poetry. I mean, even one of the greatest basketball players who ever lived wrote a poem dedicated to his cause, and it's perhaps one of the most well-known.
Don't worry, I made sure to include it!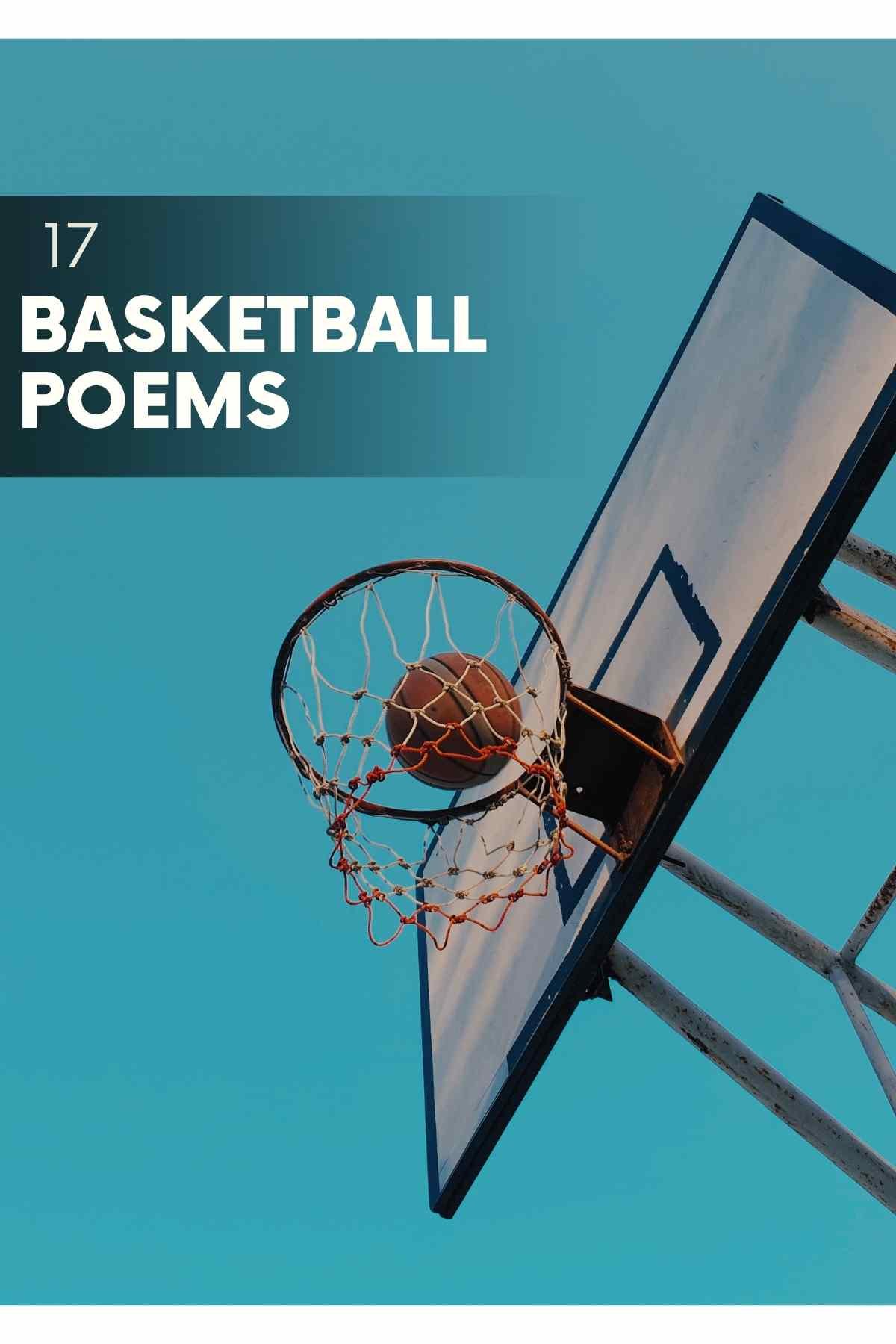 But first, let's briefly discuss the history of basketball in all its glory!
The History of Basketball
Basketball was created in 1891 by James Naismith. The inspiration behind it was actually his boss at the YMCA, who asked Naismith to come up with a fun indoor sport that could be played during the winter in Massachusetts. He wrote the original rulebook and everything! As funny as it may sound, the original ball used for this game was in fact of the soccer variety! And they would shoot it into peach baskets until the year 1900 when the string baskets that we've come to know and love were invented! And get this….they weren't even allowed to dribble! They had to just chuck the thing from wherever it was caught. Thank goodness this changed! Also, games were much shorter and mainly consisted of 15 minutes.
Though a few things have changed, the spirit of the game remains. It's inspired thousands if not millions of people around the globe for over 130 years now, and I don't think this will change anytime soon. So before the list of basketball poetry becomes too long for us to even begin to read, let's go ahead and dive into our list of 17 of the best Basketball Poems on the internet!
Poems about Basketball
1. Slam, Dunk, & Hook
Fast breaks. Lay ups. With Mercury's
Insignia on our sneakers,
We outmaneuvered the footwork
Of bad angels. Nothing but a hot
Swish of strings like silk
Ten feet out. In the roundhouse
Labyrinth our bodies
Created, we could almost
Last forever, poised in midair
Like storybook sea monsters.
A high note hung there
A long second. Off
The rim. We'd corkscrew
Up & dunk balls that exploded
The skullcap of hope & good
Intention. Lanky, all hands
& feet…sprung rhythm.
We were metaphysical when girls
Cheered on the sidelines.
Tangled up in a falling,
Muscles were a bright motor
Double-flashing to the metal hoop
Nailed to our oak.
When Sonny Boy's mama died
He played nonstop all day, so hard
Our backboard splintered.
Glistening with sweat,
We rolled the ball off
Our fingertips. Trouble
Was there slapping a blackjack
Against an open palm.
Dribble, drive to the inside,
& glide like a sparrow hawk.
Lay ups. Fast breaks.
We had moves we didn't know
We had. Our bodies spun
On swivels of bone & faith,
Through a lyric slipknot
Of joy, & we knew we were
Beautiful & dangerous.
– Yusef Komunyakaa
2. Basketball is for Everybody
Telling blacks not to come to a basketball game.
That is such a racist remark and a shame.
Making such a comment is an absurdity.
In the professional basketball community,
African-Americans make up the great majority.
Those words said were a public disgrace.
Everywhere in any professional sports place,
room should be made for any color and race.
– Robert Pettit
3. Basketball
My heart races as I step on the court
Basketball my favorite sport
The whistle blows to start the game
It's a feeling I can't explain
My team is my family
When we work together there's no boundaries
Pass, shoot, score
Everyone wants more
Time for defense no one gets by
Shot goes up the ball is mine
The half time buzzer blows
Into the locker room we go
Start at half it's a tie
We need to give it our all to get by
Ten seconds left down by one
We can't be done
I have the ball I shoot a three
The crowd stands up and cheers or me.
– Erika Johnson
4. Basketball LifeStyle
Basketball
It's not a sport
It's a lifestyle
No one understands
What it means to play it
Not for the money
Not for the fame
But the love for the game
Basketball
Not a sport
It's a lifestyle
-Brian Jinanawa
Good bye the black mamba
O Kobe Bryant
What a talent was you
Kobe the tremendous
You are arguably the best
You held the basketball with class
You played the game all good
You dunk it with finesse
You held us spellbound
A Lakers gargantuan inspiration
A Leader on a high
On a high ladder for the young
A new generation of players
Kobe lived for basketball
Always pushing for something
For something better
A remarkable Olympian
A Masterpieces NBA Champion
Vanessa Laine's heartthrob
A fantastic girl dad
Gianna Natalia Bianka Capri
Is basketball played over there
Gianna will play the game
Gianna Maria-Onore Bryant
Gianna will play it like Kobe
Alas it is good bye Kobe Bryant
– Murtaza Micky Yusuf
The heavy bodies lunge, the broken language
of fake and drive, glamorous jump shot
slowed to a stutter. Their gestures, in love
again with the pure geometry of curves,
rise toward the ball, falter, and fall away.
On the boards their hands and fingertips
tremble in tense little prayers of reach
and balance. Then, the grind of bone
and socket, the caught breath, the sigh,
the grunt of the body laboring to give
birth to itself. In their toiling and grand
sweeps, I wonder, do they still make love
to their wives, kissing the undersides
of their wrists, dancing the old soft-shoe
of desire? And on the long walk home
from the VFW, do they still sing
to the drunken moon? Stands full, clock
moving, the one in army fatigues
and houseshoes says to himself, pick and roll,
and the phrase sounds musical as ever,
radio crooning songs of love after the game,
the girl leaning back in the Chevy's front seat
as her raven hair flames in the shuddering
light of the outdoor movie, and now he drives,
gliding toward the net. A glass wand
of autumn light breaks over the backboard.
Boys rise up in old men, wings begin to sprout
at their backs. The ball turns in the darkening air.
– B.H Fairchild
7. Ex-Basketball Player
Pearl Avenue runs past the high-school lot,
Bends with the trolley tracks, and stops, cut off
Before it has a chance to go two blocks,
At Colonel McComsky Plaza. Berth's Garage
Is on the corner facing west, and there,
Most days, you'll find Flick Webb, who helps Berth out.
Flick stands tall among the idiot pumps—
Five on a side, the old bubble-head style,
Their rubber elbows hanging loose and low.
One's nostrils are two S's, and his eyes
An E and O. And one is squat, without
A head at all—more of a football type.
Once Flick played for the high-school team, the Wizards.
He was good: in fact, the best. In '46
He bucketed three hundred ninety points,
A county record still. The ball loved Flick.
I saw him rack up thirty-eight or forty
In one home game. His hands were like wild birds.
He never learned a trade, he just sells gas,
Checks oil, and changes flats. Once in a while,
As a gag, he dribbles an inner tube,
But most of us remember anyway.
His hands are fine and nervous on the lug wrench.
It makes no difference to the lug wrench, though.
Off work, he hangs around Mae's Luncheonette.
Grease-gray and kind of coiled, he plays pinball,
Smokes those thin cigars, nurses lemon phosphates.
Flick seldom says a word to Mae, just nods
Beyond her face toward bright applauding tiers
Of Necco Wafers, Nibs, and Juju Beads.
– John Updike
8. Future Superstar
The world welcomes a newborn baby boy.
To the mother and father, he is a bundle of joy.
Right now of course, he is so small.
It won't be long before he is big and tall.
As a defensive lineman, he will hone his attack.
The boy will have no trouble sacking the quarterback.
He will control the boards, slam dunk, and grab every rebound.
I'm sure a sports superstar will be found.
-Robert Pettit
9. Makin Jump Shots
He waltzes into the lane
'cross the free-throw line,
fakes a drive, pivots,
floats from the asphalt turf
in an arc of black light,
and sinks two into the chains.
One on one he fakes
down the main, passes
into the free lane
and hits the chains.
A sniff in the fallen air—
he stuffs it through the chains
riding high:
"traveling" someone calls—
and he laughs, stepping
to a silent beat, gliding
as he sinks two into the chains.
-Michael S. Harper
Basketball Poems that Rhyme
Fathers hold you when you have bad dreams
And they comfort you when all is lost it seems.
Fathers teach you to dribble a basketball and shoot a free throw
And they lead you as you grow.
Fathers teach you how to drive a car
And they try to teach you how to putt for par.
Fathers wipe the tears of your broken heart
And they hold your hand when you don't know how to start.
Fathers quiz the boys who take you on a date
And they scold those boys who bring you home late.
Fathers carry you on their shoulders when you're too small to see
And they watch as you giggle when they bounce you on their knee.
Fathers extend their feet to you when they teach you how to dance
And they always give you a second chance.
Fathers wait in the wings while you start your own life
And they pray for a husband to make you a wife.
Fathers walk you down the aisle on your wedding day
But fathers never really give their little girls away.
-Mahfooz Ali
I don't think basketball is hard to understand,
It's all about shooting the ball using my hand.
– Bernard F. Asuncion
12. Dad's Last Ball Game
Being the shortest in my high school gym class
Attempts to play basketball brought no success
Broke my finger while trying to catch a pass
Leaping to take balls from tall girls? What a mess!
Always loved football, baseball and soccer too
But in basketball I succumbed to defeat
Just couldn't get into it, that is true
Till Dad took me to see the Miami Heat
Startled he was, watching me jump up and down
Although my enthusiasm was contrived
The cheers of other fans my loud voice did drown
This was the last time I saw my Dad alive
I'm so thankful now that I went to that game
Dad was so grateful for these moments we shared
When I watch basketball now, it's not the same
It was Dad and not the sport for which I cared
-Carolyn Devonshire
13. Ode to Basketball
Defending, passing, and shooting the ball,
The girls on my team are really tall.
I try to give my very best,
And it always seems to really impress.
The sound of squeaky shoes draws near.
We make a shot and fans start to cheer.
I dribble the ball in my hand.
My team runs the play just as planned.
The game is tied with seconds to go,
But we won by making the last free throw.
My love of the game is very strong.
The basketball court is where I belong.
– Jazzy Melnyk
14. Larry Bird
Larry Bird was a great Boston Celtic.
He was very tall.
He could really shoot the basketball.
One of the greatest NBA basketball players of all.
– Lamar Cole
15. Basketball's My Favorite Sport
Basketball's my favorite sport.
I dribble up and down the court.
The ball goes bouncing off my toes
and beans the teacher on the nose.
He stumbles back and grabs his nose
and hits the wall and down he goes.
The other players stop and stare.
They've never heard the teacher swear.
With no one playing anymore,
I grab the ball. I shoot. I score.
I love this game! It's so much fun.
The teacher cried, but, hey–we won.
— Kenn Nesbitt
16. Basketball
Basketball is not a sport
All they ever do is run around the court
The players use an orange bouncy ball
By the way, they're 11 feet tall
And the net is only 10 feet high
"How we gonna score, maybe bend our thigh?"
Saying basketball's a sport is like sportifying 4 square
What sports can you play while you're in a wheelchair?
Basketball's just an activity
So just dunk the ball for infinity
Don't be stupid, be a smarty
Don't go to a basketball party
– Mister Professor Doctor Canner
Dear Basketball Poem
As Promised, we just had to include Dear Basketball By Kobe Bryant. And there was no better spot in this article than for it to be the strong finale of amazing poems! It saddens my heart to say that in January of 2020, Kobe passed away in a helicopter crash at the young age of 42 years old. So it's even more important that we honor and remember the man that we've been cheering on since he first hit the court in 1996. Here's to you Black Mamba!
Dear Basketball,
From the moment
I started rolling my dad's tube socks
And shooting imaginary
Game-winning shots
In the Great Western Forum
I knew one thing was real:
I fell in love with you.
A love so deep I gave you my all —
From my mind & body
To my spirit & soul.
As a six-year-old boy
Deeply in love with you
I never saw the end of the tunnel.
I only saw myself
Running out of one.
And so I ran.
I ran up and down every court
After every loose ball for you.
You asked for my hustle
I gave you my heart
Because it came with so much more.
I played through the sweat and hurt
Not because challenge called me
But because YOU called me.
I did everything for YOU
Because that's what you do
When someone makes you feel as
Alive as you've made me feel.
You gave a six-year-old boy his Laker dream
And I'll always love you for it.
But I can't love you obsessively for much longer.
This season is all I have left to give.
My heart can take the pounding
My mind can handle the grind
But my body knows it's time to say goodbye.
And that's OK.
I'm ready to let you go.
I want you to know now
So we both can savor every moment we have left together.
The good and the bad.
We have given each other
All that we have.
And we both know, no matter what I do next
I'll always be that kid
With the rolled up socks
Garbage can in the corner
:05 seconds on the clock
Ball in my hands.
5 … 4 … 3 … 2 … 1
Love you always,
Kobe
I hope you've enjoyed these amazing poems about basketball, as well as found some entertainment in imagining how it started…with soccerballs and peach baskets, who would have thought! Take a look below at some other poem ideas that will leave you inspired!
More Poems You'll Love!
23 Incredible Rumi Poems. Persian poet Rumi has earned renown for the way that his deeply intimate works of writing have infiltrated literature and pop culture for many centuries. Read these poems about the complexities of love and life to see why Rumi has always been so loved by readers.
27 Impactful Wolf Poems. With wolves, we reflect upon our experiences, as well as our connection to nature and our place in the universe. Check our list of over 27 impactful and meaningful wolf poems that may help you reconnect with nature.
23 Poems About Confidence. It has been said that it does not actually matter who you are or what you look like, so long as you carry yourself with confidence. While that sounds nice, most of us know that having confidence doesn't always come naturally. These pieces about confidence will remind you of your worth and help boost your confidence levels.