Inside: 19 Magnificent Poems About The Month Of April. 
April is the month when the frigid, dark days of winter finally start to make way for the warmer, rainy days that will lead to a bountiful springtime full of gorgeous, blooming flowers. From the classic works of William Shakespeare and Geoffery Chaucer to poetry found in classrooms and on Pinterest, the month of April has been inspiring poetry for generations.
Being the last gloomy month before the vibrancy of springtime breathes life into the world around us once more, April is said to symbolize renewal and rebirth in many art forms.
It is also seen as a sign of hope, with the end of a brittle winter impending and soon we will all be basking in the sunlight in nature once more.
Likewise, April is National Poetry Month as of 1996 and is the largest celebration of literature in the world, which makes all these lovely poems about April that much more sentimental.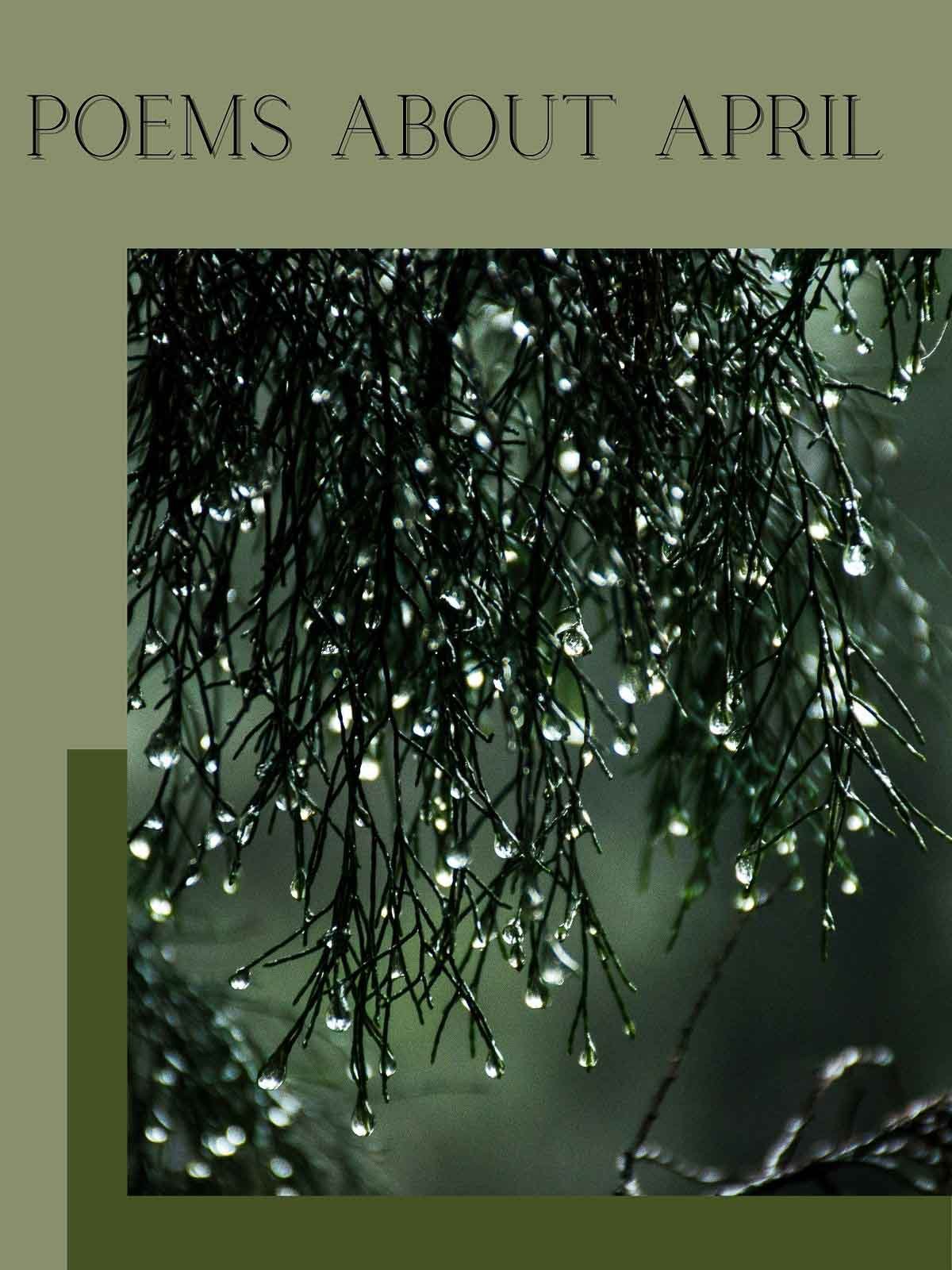 Poems About April
These poems all paint a lovely picture of the beauty and innocence of the new beginning that April brings.
The General Prologue – We can't start off a list of April poems without kicking things off with one of the most famously celebrated descriptions of April in English poetry!
Sonnet 98 – One of William Shakespeare's less famous, but easily comprehensible pieces. In this melodic sonnet, Shakespeare uses gorgeous imagery to describe the beauties of springtime in the month of April.
"…And with a windy April grace / The little clouds go by … I could not be so sure of Spring / save that it sings in me" —Sara Teasdale "April Poem"
"Oh, to be in England / Now that April's there, / And whoever wakes in England / Sees, some mourning, unaware, / That the lowest boughs and the brushwood sheaf / Round the elm-tree bole are in tiny leaf, / While the chaffinch sings on the orchard bough / In England — now!" —Robert Browning "Home Thoughts, From Abroad"
A Calendar Of Sonnets: April Poem – Helen Jackson's compiled literary work "A Calendar Of Sonnets" includes numerous pieces, one for every month. The poem written for April harps on it's fair beauty, comparing it to Aphrodite, goddess of love and beauty.
"What is in this drink but / The April sun, squeezed / Like an orange in / My glass? I sip the / Fire, I drink and drink / Again, I am drunk / Yes, but on the gold / of suns…" —Kamala Das "Summer In Calcutta"
April Showers Poems For Kids
Perfect poems to include in your teaching to introduce children to poetic devices in a simple and kid-friendly way!
A Real April Day – An adorable and straight forward poem about the loveliness of April.
April Showers Bring May Flowers – This classically famous rhyming scheme is the theme of this entire poem! It takes this short, but impactful phrase (I know it's still ingrained in your head from elementary school too) and expands on it to create a lovely piece about the rain showers in April and what they produce.
"Life begins again — in April! / How this dead earth comes to flower! / How the dry boughs wake and quicken / In this blooming, springtime hour! / Life begins again — in April! / And the bird is on the wing, / Books are flowing, breezes tender / In a rhapsody of spring." —Lenore Hetrick "Life Begins Again In April"
April's Smiles – Using metaphors and imagery, this poem describes the innocence and many moods the month of April can have. From gloomy rain, to a sunny smile, to the little baby animals awakening. This poem is a wonderful way to introduce imagery and metaphors to your little one or class!
"April changes her sweet mind / Every other second. / With her many moods and minds, / Nothing can be reckoned. / I always carry an umbrella, / It serves for rain and sun! / I take my boots and out I go / To share in April's fun." —Lenore Hetrick "April Moods"
Lovely April Poems
April is full of new beginnings and seeing the light at the end of the tunnel that is the cold, dark winter, so it is no surprise that its qualities have acted as a muse for poets.
April's Charm – In this poem, the narrator is describing how he feels as he is walking around outdoors on a pleasant day in April. The world is seemingly coming back to life, with birds chirping, flowers popping up everywhere, and the colors of spring poking through the dreary colors of winter.
"Praise the spells and bless the charms, / I found April in my arms. / April golden, April cloudy, / Gracious, cruel, tender, rowdy; / April soft in flowered languor, / April cold with sudden anger, / Ever changing, ever true — / I love April, I love you." —Ogden Nash "Always Marry An April Girl"
Calmly We Walk Through This April Day – Delmore Schwartz uses a melodic, song-like flow to create this poem about the subtle passage of time.
A Little Prayer – You know that feeling when you walk out of your house on that first warm-ish day of the year and you just feel a breath of life go through you? This feeling is what Robert William Service is communicating via this poem. He is grateful and giving thanks to God for allowing him to experience the beauty of April and the new beginning of spring.
Poems Inspired By The Month Of April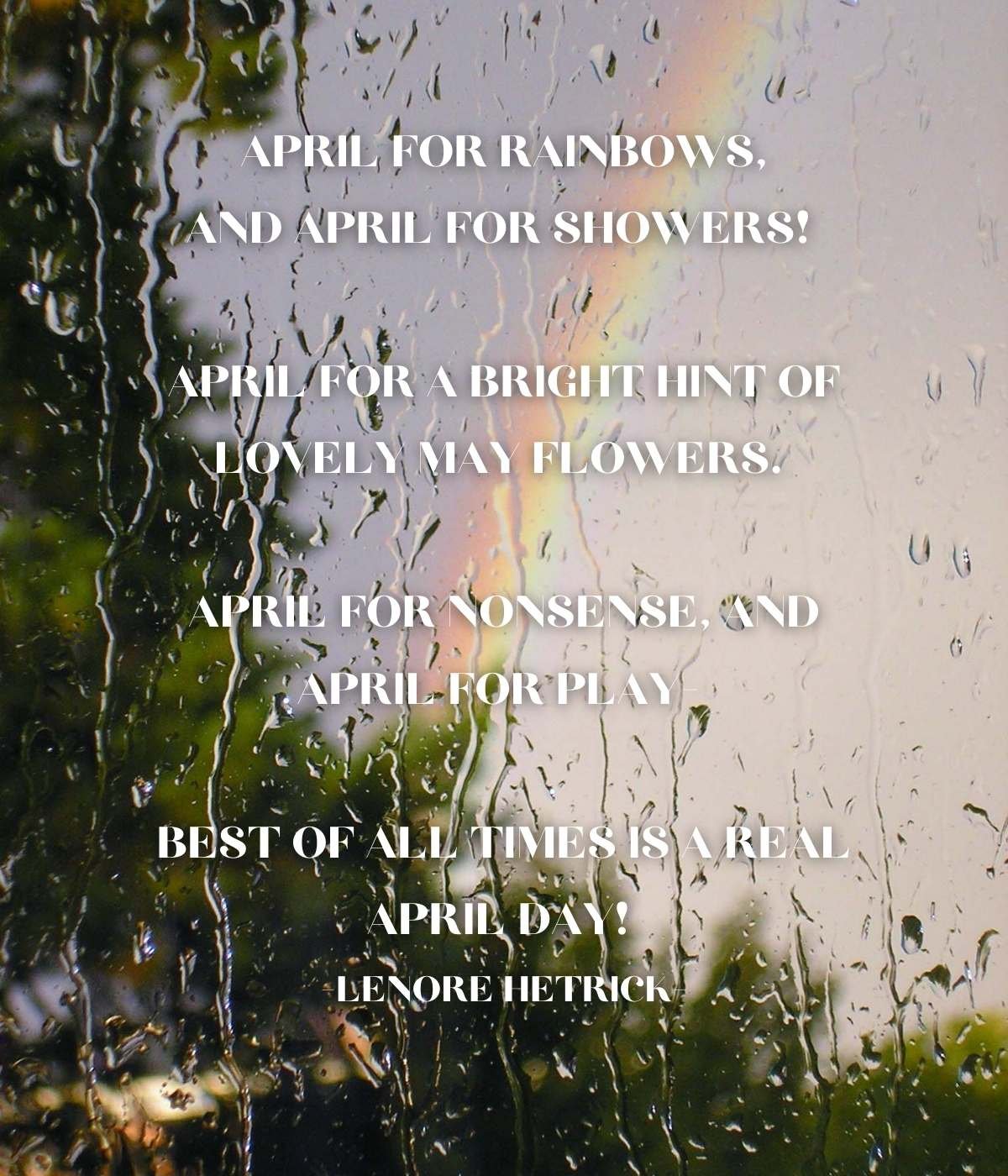 The scenes of an April day are enough to inspire someone to make a new beginning for themselves, and these poets feel the same way!
A Well-Worn Story – Not only is this poem about the new beginning that springtime makes you feel, but it is also about a literal new beginning with a new love during this time.
"April, April, / Laugh thy girlish laughter; / Then, the moment after, / Weep thy girlish tears! / April that mine ears / Like a lover greetest, / If I tell thee, sweetest, / All my hopes and fears, / April, April, / Laugh thy golden laughter, / But, the moment after, / Weep thy golden tears!" —William Watson "April Poem"
It Was An April Morning: Fresh And Clear – William Wordsworth writes this poem with a large sense of appreciation for April and how the effects of the winter season are slowly melting away and making way for the fresh, colorful spring.
My Mother – The author of this poem is describing the time of year that her mother came to this earth. With her mother being born in April, there are many usages of imagery that paint a lovely picture of that time of year.
More Poems You'll Love
17 Poems About Your Child Growing Up – Time does not stop for anyone, and soon your newborn will be a teenager and then heading off to college. These feelings are definitely difficult to deal with and navigate. We have compiled a list of over 15 wonderful poems about the growing pains of watching your babies grow up and experience life right in front of you.
39+ Thoughtful Dog Poems – We all know that dogs are a man's best friend! Your furry four-legged friend is a very special presence in your life, and many poets agree with this sentiment. This list includes a variety of poems about dogs, and even a few that will encapsulate what it's like to lose one.
23 Enchanting Flower Poems – Flowers can symbolize many things, from love to sexual appeal, to happiness and joy! Different flowers have acted as muses for poets for centuries and we have put together our favorite ones. These poems are so perfect for a multitude of occasions, so you're bound to come across one that properly articulate how you're feeling.