Inside: Poems about Confidence and Self Worth.
Everyone has times when they feel discouraged, down on themselves, and even hopeless. Many times, this is due to a lack of belief in oneself and a deterioration of self worth. In those times, reading poems about confidence that describes these struggles and overcoming difficulties can be inspiring and encouraging. We often find strength in ourselves when we read about strength in others.
Self assurance is a common theme in poetry: sonnets, haikus, and free verse alike. Many poets and writers turn to the written word during difficult times in their lives, and so these poems are touching, relatable, and hit close to the heart of those lacking faith in themselves. When you are struggling, reading these works of art will surely strengthen and encourage you.
Take a moment to read some of these impactful and powerful quotes and poems about confidence that explore the themes of strength and self worth.
Touching Poems About Self Worth
Poetry can be both uplifting and inspiring, and it makes you evaluate yourself and the way that you think about the world around you. These poems about confidence consider what it means to be self-assured from the perspective of self worth. They will make you think about how you face your own life and struggles.
Confidence in Life – This sonnet written by Dr. John Celes explores the ups and downs of life, and how inner strength is built over time. The speaker states that we must not fear struggles or difficulties, and instead take advantage of the opportunities that life provides us.
"The universe took its time on you / Crafted you to offer the world / Something different from everyone else / When you doubt /How you were created / You doubt an energy greater than us both / –irreplaceable" —Rupi Kaur, The Sun and Her Flowers
I Am Enough – "I Am Enough: A Poem About Worthiness" was written by Jennifer Williamson. This uplifting poem is from the perspective of a speaker who is confident in their self worth; they are enough, and they want you to know that you are too.
I Believe In Myself – This poem was written by Faith Mcgee in 2016. The speaker has many aspirations and hopes for the future. Rather than be discouraged by those who don't believe in their goals, the speaker asserts that their faith makes them confident in their choices.
Powerful Poems About Self Confidence
There are many impactful works of literature that explore overcoming struggles, becoming stronger than you were before. In several, this process of growth is critical in developing strength and belief in yourself. Read these poems about confidence that implore the reader to see their hardships as a means to build self assurance.
Invictus – Invictus by William Ernest Henley is a powerful poem that explores belief in oneself in the face of all hardships. This is a very famous piece of literature that has inspired readers across many years, and it will surely empower you as well.
"The crowd roars with life / your surprise, it never dies / confidence in you." —Chantelle Clark
"There is freedom waiting for you, / On the breezes of the sky, / And you ask "What if I fall?" / Oh but my darling, / What if you fly?" —Erin Hanson
Keep Going – This poem by Edgar Guest was published in the 1920s. The speaker encourages the reader to maintain their strength and confidence even in times of failure and struggle.
 Song of Myself, 51 – Walt Whitman is a poet from the 1800s most popular for his work Leaves of Grass. "Song of Myself" is an ode to self-acceptance, and belief in oneself as they approach the future. Walt Whitman has written many similar poems about confidence.
Trouble But Not Defeat – This poem was written by Bryan Pulsifier. This poem encourages the reader to "be bold, be happy" and "be confident" despite the struggles that they are experiencing. It inspires positivity even during depressing moments.
Still I Rise – This famous poem by Maya Angelou is the definition of triumph and overcoming adversity. She shares thoughts of being put down and discouraged by those around you, and yet rising, remaining confident and true to herself.
More Poems About Confidence and Strength
Being confident directly translates to having mental strength and fortitude. If you are confident in yourself, you will have the strength to confront difficulties head on.Take a moment to read these poems about confidence with themes of self assurance, overcoming adversity, and believing in yourself and your choices.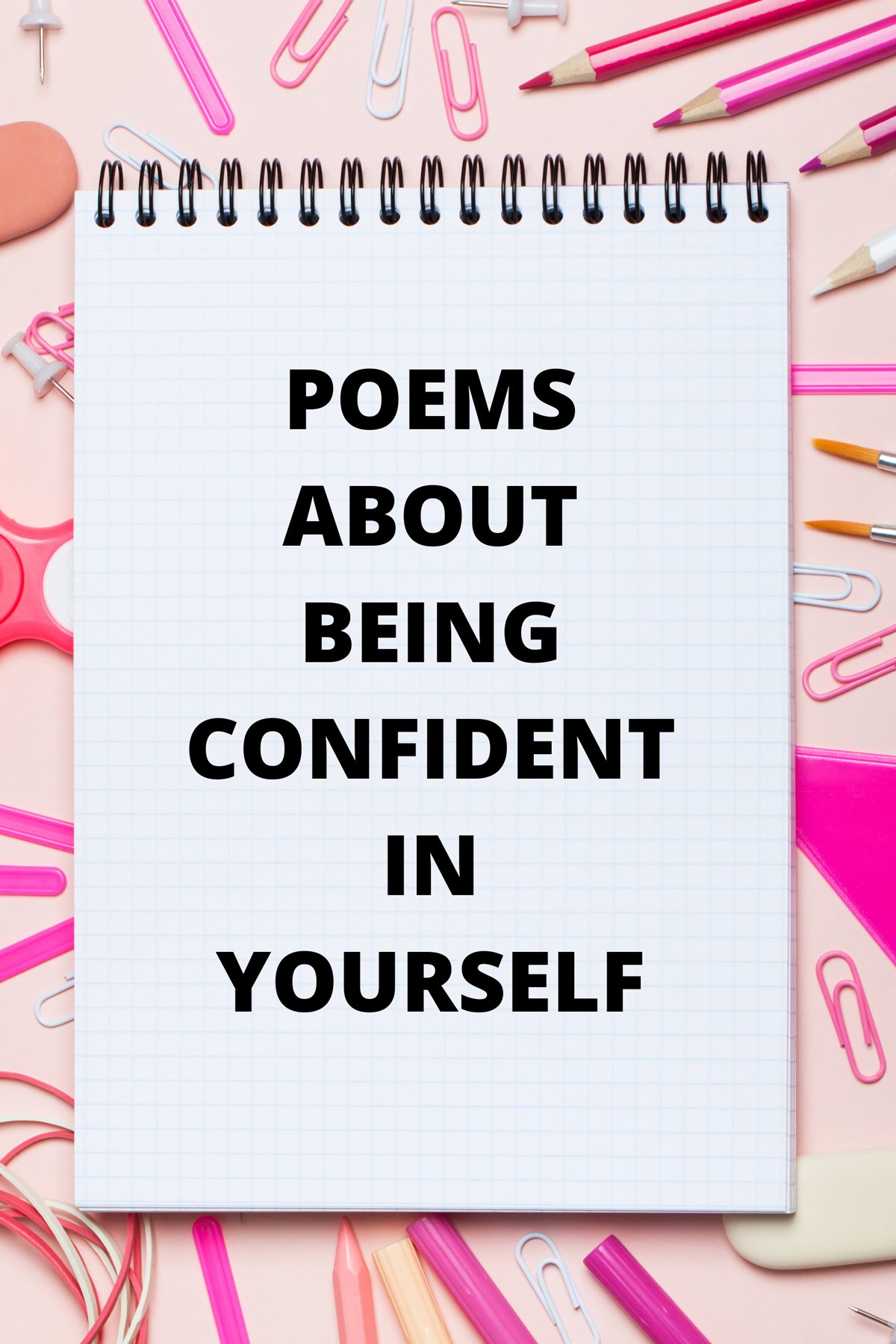 Motivational Quotes About Self Confidence
In addition to poems about confidence, motivational speakers and authors have taken hold of the theme and shared their thoughts on the subject. Let's take a look at a few quotes from famous authors, songwriters, and speakers. Let them inspire you to find courage in your own actions and to take hold of your future.
"I learned this, at least, by my experiment: that if one advances confidently in the direction of his dreams, and endeavors to live the life which he has imagined, he will meet with a success unexpected in common hours." —Henry David Thoreau, Walden: Or, Life in the Woods 
"You gain strength, courage and confidence by every experience in which you really stop to look fear in the face. You are able to say to yourself, 'I have lived through this horror. I can take the next thing that comes along.' You must do the thing you think you cannot do." —Eleanor Roosevelt, You Learn by Living: Eleven Keys for a More Fulfilling Life
"Don't be satisfied with stories, how things have gone with others. Unfold your own myth." —Rumi
"With realization of one's own potential and self-confidence in one's ability, one can build a better world." —The Dalai Lama
"If you hear a voice within you say 'you cannot paint,' then by all means paint, and that voice will be silenced." —Vincent Van Gogh
"The moment you doubt whether you can fly, you cease forever to be able to do it." —J. M. Barrie, Peter Pan 
"Once we believe in ourselves, we can risk curiosity, wonder, spontaneous delight, or any experience that reveals the human spirit." —E.E. Cummings 
More Impactful Poems You'll Love
Sharing and writing poetry has been an emotional outlet for human beings for thousands of years. It is a form of creativity that allows us to express and explore our most complex emotions, and to connect with one another.
Impactful Wolf Poems. Wolves have shown up in human art for thousands of years. They are mysterious and heroic to us, portrayed as strong and powerful creatures. Interestingly, we tend to project our feelings into art about wolves. Some of these poems cast wolves as fiercely independent, solitary creatures — the lone wolf. In other poems, however, wolves are written as part of tight-knit packs, and as lessons in loyalty and bravery.