Inside: 13 Silly and Funny Easter Poems.
Excitement over the Easter bunny and Easter egg hunts is something children wait for all year. It's also a time to celebrate both life and rebirth after winter. This holiday, have fun with words by including some funny poems about Easter!
In this article, we feature funny poems for both young and old, and they're mostly short enough to share with children in the lead up to Easter. So, why not share some of these poems today?
Whether you're looking for Easter poems to read to your young ones or cute poems to share with friends, here is a list of 13 funny Easter poems perfect for the occasion.
Funny Easter Poems For Young Kids
Kids love learning about the Easter bunny, and younger children are especially excited about coloring eggs! These poems will keep them excited as they wait for Easter.
1. Funny Bunny
Little Easter, the comedienne bunny,
Tried too hard at being funny.
She juggled and she dropped the eggs
They fell and smashed between her legs.
Poor Easter left the stage in shame
And thought that she might change her name.
But then that bunny read this ad,
"This Sunday we need help real bad."
So Easter Bunny kept her name
And through the years has gained much fame,
When Easter's Sunday comes each year.
She delivers eggs and we all cheer.
—Grandpa Tucker
2. Patience
Chocolate Easter bunny
In a jelly bean nest,
I'm saving you for very last
Because I love you best.
I'll only take a nibble
From the tip of your ear
And one bite from the other side
So that you won't look queer.
Yum, you're so delicious!
I didn't mean to eat
Your chocolate tail till Tuesday.
Ooops! There go your feet!
—Bobbie Katz
3. Some Things That Easter Brings
Easter duck and Easter chick,
Easter eggs with chocolate thick.
Easter hats for one and all,
Easter Bunny makes a call!
Happy Easter always brings
Such a lot of pleasant things.
—Elsie Parrish
I thought it was a kitty cat
But saw it was a rabbit
He was hopping down the trail
And then he stopped to sit.
He looked back at me
And wiggled his nose
Seems he wanted me to follow
So, I quickly arose.
I started down that trail
Amongst the forest's trees
As that rabbit scurried off
As quickly as you'd please.
—Del "Abe" Jone
There's a story quite funny,
About a toy bunny,
And the wonderful things she can do;
Every bright Easter morning,
Without warning,
She colors eggs, red, green, or blue.
Some she covers with spots,
Some with quaint little dots,
And some with strange mixed colors, too
— Red and green, blue and yellow,
But each unlike its fellow
Are eggs of every hue.
—M. Josephine Todd
Fun Easter Poems For Older Kids
These poems are great for children of all ages to enjoy. Most are funny, easy bunny poems, while one is about getting a cute Easter bonnet. Either way, they're sure to put a smile on your face!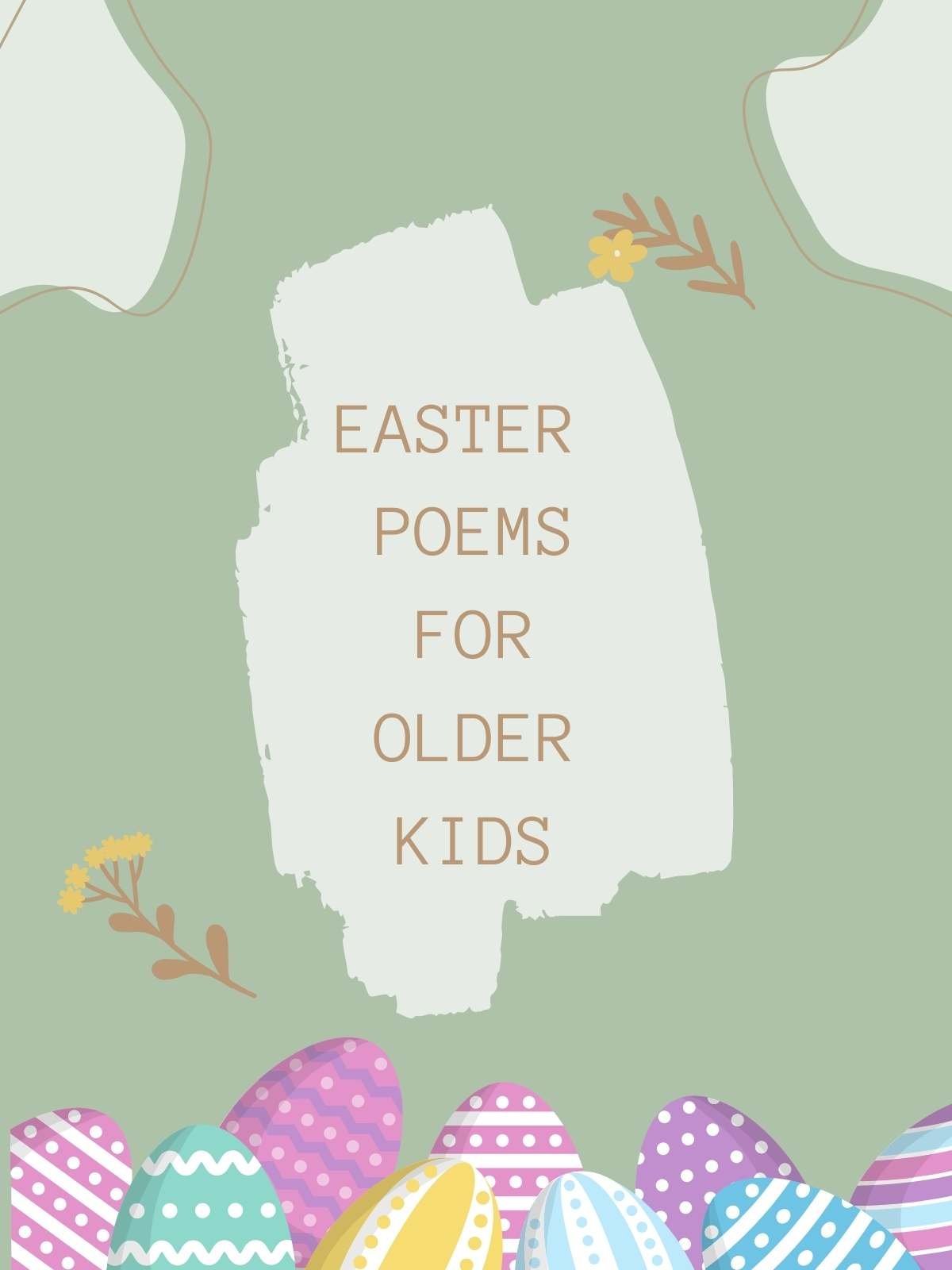 If I were to get a new Easter bonnet
There are just a few things I'd like to see upon it
One white bow and another of pink
A bunch of daisies, and I also think
It should have a rose, and a lovebird or two
Plus a wide floppy brim, to keep off the dew
An ostrich feather, and one from a peacock
To show that I'm hip and ready to rock
A pineapple will be the crowning touch
Though quibblers might say it's a bit too much
And they could have a point, for this hat's getting big
So maybe I'll settle for a new Easter wig.
"Tis chocolate eggs and bonbon eggs
and eggs of red and gray,
For every child in every house
on bonny Easter day."
He perked his ears and winked his eye
and twitched his little nose;
He shook his tail – what tail he had –
and stood up on his toes.
"I must be gone before the sun;
the east is growing gray;
Tis almost time for bells to chime." –
So he hippety-hopped away.
—Rowena Bennett
8. T'was the Day Before Easter
The bunnies hopped past, one, two, three, four,
The rabbit called out and then there were more.
"Come, Peter! Come, Flopsy! Come, Benny! Come, Joe!
Now hop along! Hop along! Hop along! GO!"
So up on each doorstep, the bunnies did hop,
With baskets of eggs. (Let's hope they don't drop!)
Just at that moment, on the porch down below,
Came the stomping of feet; 'Twas the rabbit I know!
—Tammy Fuller
9. Easter Eggs
Come and see! Oh, hurry, hurry!
For the Rabbit, kind and furry,
Has been here again and laid
Eggs in every nest we made!
Purple, orange, red, and blue,
Pink and green and yellow, too,
Like a bunch of finest flowers
Ever seen, and all are ours!
—Evaleen Stein
Adorable and Fun Easter Poems
Here are more cute and clever Easter poems that you can share with your little ones!
In the Easter morning
we wash the Easter eggs.
In the Easter afternoon
we paint on faces
and make funny legs.
In the Easter evening
egg salad, egg tacos
egg white desserts,
Chocolate Easter egg snacks,
Eat eggs till it hurts!
—Debbie T. Alsup
I had an Easter bunny,
One day she ran away.
I looked for her by moonlight,
I looked for her by day.
I found her in the meadow
With her babies 1, 2, 3.
So now I have four rabbit pets
To run and jump with me.
—Author Unknown
Five little Easter eggs, lovely colors wore;
Mother ate the blue one, then there were four.
Four little Easter eggs, two and two, you see;
Daddy ate the red one, then there were three.
Three little Easter eggs, before I knew,
Sister ate the yellow one, then there were two.
Two little Easter eggs; oh, what fun,
Brother ate the purple one, then there was one.
One little Easter egg; see me run!
I ate the very last one, and then there were none.
—Author Unknown
13. Easter Comes But Once A Year
Easter comes but once a year
But when it does, we all know its here
Children filling themselves with chocolate
Dad's down the pub for a pint of beer!
We go to the church for the wine and bread
Dad's half asleep, and jerking his head
Baby sister is here too, munching away
On the free Easter egg that the Priest gave us today
But remember we must, that the Lord died for us
And ascended into heaven to give us fresh lives
For each and every one of us.
—J S Bach
More Poems You'll Love
23 Poems About Confidence. Confidence does not come naturally to anyone, even if it may seem like it. Even the most confident people have moments of insecurity or uncertainty about themselves. These uplifting works about fostering confidence will boost your mood and help remind you of your worth!
23 Incredible Rumi Poems. Persian poet Rumi has earned renown for the way that his deeply intimate works of writing have infiltrated literature and pop culture for many centuries. Read these poems about the complexities of love and life to see why Rumi has always been so loved by readers.
53 Amazing Sister Poems. There is nothing quite like the bond shared between siblings, especially the one between sisters. These pieces about sisterly love will warm your heart and make you want to reach out to your favorite sister.