Inside: 43 Best Friend Poem Ideas
The love you get from a Best Friend is truly unmatched. They weren't born from the same parents and might not have even come from the same town, and yet here they are; smack dab in the middle of your life, and that's where they will be…forever. They are there for you when you are in your darkest times and need a shoulder to cry on, and they're there in your highest moments as well.
You're graduations, Birthdays, Wedding Days, literal BIRTHdays when you have your first baby. Let's face it, these people are better than family…because you CHOSE them. But uhm…don't tell your sister that.
The connection you've created together is kind of an insane concept when you think about it objectively. One day you meet a stranger, and from then on you're like, you know what…I'm gonna keep you. Unless you've been best friends since childhood, there was a point in your life when the person you share all of your deepest darkest secrets with was a stranger.
I know, seems hard to imagine now, after all, you've been through. But take moment and think back on your relationship; How it started, the good times and the bad ones, all of those little things that lead you here now. Are you in your feels yet? Because I sure am. Best Friends deserve to be appreciated, and not just on holidays and birthdays, but all the time!
And one of the best ways to show how much you care is through poetry.
Poetry is a way to take all of the messy thoughts in your head and organize them out onto paper in a way that conveys exactly how you feel.
It's been around for thousands of years, and if that doesn't give it enough credit I don't know what will. So get into those emotions and put them onto paper!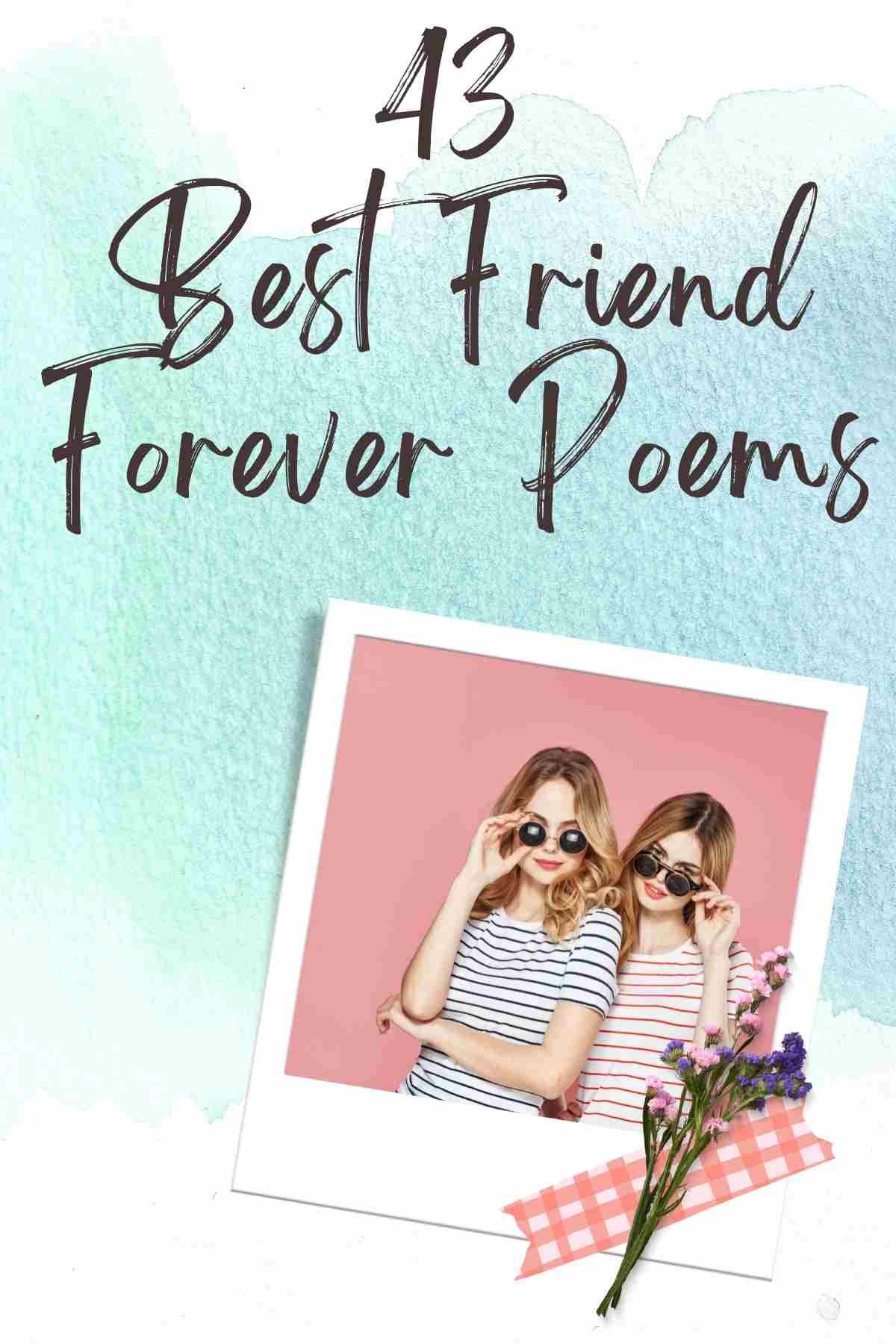 How to Write A Best Friend Poem
Though this can seem like a daunting task, it's actually very simple…and fun! All you need to get started is something to write with, whether that be a laptop, your phone, or the classic pen and paper, anything will suffice! Next, you'll need a topic. This part is easy, you'll be writing about your bestie! Now, poetry is all about feeling and emotion. The most important thing to remember is to express yours and you'll be good to go! There are many different styles you can use, from rhymes to haikus, so just do what feels right for your poem!
Now to get those creative juices flowing, I've created a list of 43 greatest Best Friend Poems you can find! These will help you gain inspiration while also getting you thinking about how amazing your own best friend is. Take a look below to get started!
Poems Written For Best Friends Forever
Best Friends
The title we chose
But what does it mean to be "best friends"?
You should see each other every day?
Well that's not true for you and me
Should silly little fights get in our way?
Only if that's how it's meant to be
Should we give?
Should we borrow?
Should we dance like there's not tomorrow?
Secrets are traded
Privacy invaded
Hugs and smiles are shared
Tears are shed
Love is spread
We know that we both really cared
I smile, you smile
You cry, I cry
I wish, you wish
You die, I die
If you fall
I'll help you up
And if you call
I'll always pick up
Best Friends Forever
The promise we made
And I know in my heart
That it will never fade
– Melissa Magaliff
2. With You
No matter what sadness,
I want to overcome it with you.
No matter what race,
I want to run with you.
No matter how bad,
I want to work this out with you.
No matter what loss,
I want to hope with you.
No matter what consequences,
I want to stay with you.
No matter what fight,
I want to win with you.
No matter what dreams,
I want to share it with you.
No matter what happiness,
I want to smile with you.
No matter what the future brings,
I want to see it with you.
I wonder why it cannot be with anyone…but you.
-Frances Joy T. Chavez
When you close your eyes, I am with you.
When you sleep, I shall protect you.
When you are angry, I will be there to calm you.
When you are ill, I am there to care for you.
When your upset, I'll be there to comfort you.
When you weep, I shall dry your tears.
In the darkest of hours of the night,
when all your fears and doubts consume your mind,
all I ask of you is that your re-read this
as a reminder of how I love you
with all my heart, body and soul.
– Allyce Louise
We have something that holds us together,
Something that made us both better,
Something called being a friend.
It makes the fun never end,
And it helps me to know that when
I am down and blue,
Because you're my friend
I can count on you.
We run through life without a care.
Would anyone try to part us?
They wouldn't dare
And when the time comes for me to go,
I really want for you to know
That even though my life has come to an end
I will never stop being your friend.
Friends indeed,
Together we will succeed.
Our dreams will come true,
Forever me and you.
You are my sister, my best friend.
The bond we have will never end!
We will laugh and cry
And be filled with fear inside.
We will conquer our fears
And live our dreams.
-Stephanie
6. A Friend From Above(Read Full Poem Here)
I prayed for you before we met…
Not knowing what you'd be,
I asked the Lord to send a friend.
One chosen just for me…
I asked that they'd be Godly
With wisdom of his ways.
A friend to help and guide me
In the troubles of these days…
So often in life, we need someone
To listen while we talk.
Someone who will not condemn or judge
But encourage us as we walk….
– Unknown
7. Fault of Others
What are another's faults to me?
I've not a vulture's bill,
To pick at every flaw I see,
And make it wider still.
It is enough for me to know
I've follies of my own;
And on my heart the care bestow,
And let my friends alone.
– Daniel C. Colesworthy
The very first time the two of us met,
We were caught in a friendship's net.
You are I, together gelled so damn well,
Every time I was in a fix I would ring your door bell,
As time passed and we grew closer and closer,
To the world outside, you gave me an easier exposure,
You made me understand what is right and wrong,
I have depended on your advice all my life along,
I will always be thankful for moments we shared,
They brought us closer to each other like butter and bread,
And those crazy things we did together,
Coz' they turned us into best friends forever!
-Unknown
9. Welcome My Friend
The world is filled
With all too few
Wonderful people
Like YOU!
My door is always open
You are always welcome here
Our friendship is golden
You, my friend, are so dear!
– Unknown
I see you, alone at your desk.
I think, she might be the best!
As I walk over, you look at me.
I smile goofy, you giggle at me.
I say aloha, and you say hello,
The bell rings, I don't want to go!
My teacher says recess, and we walk out together.
One month later, we're birds of a feather.
As a friend you're there, as a sister too.
Oh, where would I be if I didn't have you?
But then comes summer, but it's not a total bummer.
We have sleepovers and parties, just like friends do.
And then BACK TO SCHOOL!
I wonder, "Where are you?"
As I look at my new class,
My heart shatters like glass!
I don't see your name, and I'm about to cry
My heart starts to weep and my brain asks why.
You walk up behind me,
And I fall into your arms.
Even to this day, you and I remain apart.
But even though you're not with me,
I think that this is easy.
But just to let you know,
You keep my feet on the ground.
And you turn my world around!
– Jenna
11. Thy Friendship
Thy friendship like magic is nectar to me,
Distilled from the fountains of love;
May thy life a garden of beauty be.
In the beautiful land above.
-Eloise A. Skimings
12. How Blessed I Am
Don't think a day goes by
When I stop and realize
How blessed I am
To have a friend like you
I appreciate your kindness
Your listening ear
When I tell you of my fears
You listen, you hear.
Appreciation for another
Especially like you, no other
Thanks my friend for always being there
Appreciation I do share!
– Catherine Pulsifer
13. I Am Here
I AM HERE
If you need a laugh, I am here.
If you need a hug, I am here.
If you need a shoulder to cry on, I am here.
If you need someone to support you, I am here.
If you need to feel cared for, I am here.
If you need someone to listen, I am here.
If you need to hear that someone loves you, I am here.
If you need to feel wanted, I am here.
If you need to talk, I am here.
If you need a friend, I am here.
-Joseph Boris
14. You Remain
You remain my best,
In the midst of the storm.
You weren't at your rest,
I can't repay your deed,
To see me sail the storm.
That you are made of gold,
I can tell from all you did,
Procured to be the best,
That fill a friend's thirst
-Unknown
15. God Bless Thee Friend
'Tis sweet to feel friendship's warm glow,
When sorrow's tears from sad eyes flow;
When hearts with wounds are pierced by care
God bless thee friend, my earnest prayer.
– Eloise A. Skimings
16. My Dearest Friend(Read Full Poem Here)
For those whom pray for us when times are harsh.
To these we doth confide our dearest love;
To stand alone to know that we've a friend,
A soul whom lives for us, and better still,
A being whom we trust with all our heart
Whom leaves our space and plays a life alone:
This is the greatest gift for one to have…
17. Each other
If we knew each other better,
You and I and all the rest,
Seeing down beneath the surface
To the sorrows all unguessed,
We would quit our cold complaining
And a hand of trust extend,
If we knew each other better.
We would count each one a friend.
-Unknown
Poems about Deep Friendship
This next section is dedicated to deep friendships. Having a close relationship with someone is more important for you than you may expect. In fact, it can even affect your health! Science has proven that close personal relationships can lead to less anxiety and depression, better self-esteem, and can even strengthen your immune system! That's yet another amazing aspect of having a best friend. I've incorporated poems from the classics such as Robert Frost, to newly published ones. So take a look!
18. A Time To Talk
When a friend calls to me from the road
And slows his horse to a meaning walk,
I don't stand still and look around
On all the hills I haven't hoed,
And shout from where I am, What is it?
No, not as there is a time to talk.
I thrust my hoe in the mellow ground,
Blade-end up and five feet tall,
And plod: I go up to the stone wall
For a friendly visit.
-Robert Frost
19. My Friend
How many people are truly blessed enough
to say there is someone they
can always turn to,
no matter what their troubles may be?
How many people are lucky
enough to know that
there is someone that will always be
there for them in their time of need?
The meaning of friendship can be defined
in the kindness you have shown me and
the compassion you
display each and every day.
-Unknown
20. A Poison Tree
I was angry with my friend;
I told my wrath, my wrath did end.
I was angry with my foe:
I told it not, my wrath did grow.
And I waterd it in fears,
Night & morning with my tears:
And I sunned it with smiles,
And with soft deceitful wiles.
And it grew both day and night.
Till it bore an apple bright.
And my foe beheld it shine,
And he knew that it was mine.
And into my garden stole,
When the night had veild the pole;
In the morning glad I see;
My foe outstretched beneath the tree.
-William Blake
21. You'll Always Be My Friend
We have been friends for not so long
We've learned to trust and shared a song
We used to laugh and used to cry
We've been together and learned to fly
Those sweet memories we both have shared
I will always treasure, I will always care
For all those moments we've been together
Are oh so precious, more precious than jasper
I wish no hardships and pains arrived
That blocks this feeling and forever deprived
For if I loose the inspiration you've shared
My heart in agony, forever will suffer
With all my heart, I do sincerely pray
That this precious friendship forever will stay
Deep in my soul, a vow I will offer
You'll always be my friend, from now until forever.
-Roberto C. Alico Jr.
A Friend is a Person –
Who will help you in the hour of sickness;
Who will lend you a dollar without deducting the interest;
Who will help you up hill when you are sliding down;
Who will defend you in the hour when others speak evil of you;
Who will believe in your innocence until you admit your guilt;
Who will say behind your back what he says to your face;
Who will shake hands with you wherever he meets you, even though you wear patches; and
Who will do all these things just because he likes you!
-Dorothy C. Retsloff
23. Alone(Excerpt)
Lying, thinking
Last night
How to find my soul a home
Where water is not thirsty
And bread loaf is not stone
I came up with one thing
And I don't believe I'm wrong
That nobody,
But nobody
Can make it out here alone.
-Maya Angelou
Remember me
When the days are long
You must stay strong
Remember me
Remember the times
Remember the rhymes
Friends, they stay together
But, changes like the weather
Remember me
Before I die
Remember me
But just don't cry
Remember the time we always shared
Just tell me you've always cared
Remember the times we always had together
And remember we will always be best friends forever
-Desiree N. Singleton
25. Comrade Four
Dear comrades, my comrades,
My heart is always true;
An' ever an' ever
I shall remember you.
We all joined together,
Together joined we four;
An' I have been first to
Pass t'rough the open door.
-Claude McKay
I couldn't find the right words
Nothing seemed to rhyme
To write something for you all
I think it will take time
Because when you have friends
That are very hard to find,
There's so much to say
Because you make everything all right.
So I will tell you right now
Exactly what I need to say
To show you how much I appreciate
You being there every day.
You're worth more than anyone,
Even a million pounds
Because you always know what to say
When I am feeling down.
You make me smile big smiles
And my days so very bright,
And when I lose my way,
You find me in the night.
I sometimes wish I could explain
How much you mean to me,
But it's just not possible
To list a billion things.
So I just wanted to say
I love you so, so much,
And I hope you never leave me.
Promise to stay in touch.
– Louise
27. A Friendship So Dear
To me so dear is you my friend.
I hope and pray our friendship never ends.
As you are mine, and I am yours.
Our friendship has opened many doors.
Let's never fight, and always laugh,
We'll keep this friendship, under glass.
For if it breaks, then we'll know.
A friendship like ours, can take more than a throw.
-Julie Hebert
28. My Everything Friend
You magnify my happiness
When I am feeling glad;
You help to heal my injured heart
Whenever I am sad.
You're such a pleasure in my life;
I hope that you can see
How meaningful your friendship is;
You're a total joy to me.
-Joanna Fuchs
29. Tug O' War
I will not play at tug o' war.
I'd rather play at hug o' war,
Where everyone hugs
Instead of tugs,
Where everyone giggles
And rolls on the rug,
Where everyone kisses,
And everyone grins,
And everyone cuddles,
And everyone wins
-Shel Silverstein
Poems about Life Long Friends
The best part of Best Friends? They're for life! Your friendship will keep growing and blossoming with each new year, until you'll basically end up like the Golden Girls! I make it a point to write a poem to my Best Friend each year, after a while, you'll be able to look back and see just how deeper the friendship has gotten through time! So if you're in your teens, this is the perfect time to start. These kinds of things are invaluable!
30. Living Friendly
Life without the friendly greetin'
Of the folks I know so well,
Would be a lonely kind o' life,
Just an empty sort o' shell;
About all that I'm askin'
At the closin' of the day,
Is a chance to do my livin'
In a friendly sort o' way.
-Unknown
31. A Friend Is Someone
A friend is someone
we turn to when our spirits need a life.
A friend is someone
we treasure for our friendship is a gift.
A friend is someone
who fills our lives with beauty, joy, and grace
And makes the world
we live in a better and happier place.
-Unknown
32. The Journey
For so long I held my heart so securely in place
Away from the world, in this cold, dark, lonely space
Then you came into my life, and I didn't know what to do
What my heart had so longingly missed, I now found in you
Letting you in my life was something I wasn't sure about
But the more time we spent together I was left without a doubt
Knowing that with each passing day, your love to me meant more
It filled a place inside my heart that had known only emptiness before
I didn't see how painful it must have been for you to love me, unconditionally
When I demanded so much of you, this perfect person you tried so hard to be
Even though it wasn't purposeful I know it hurt your heart to believe
That just one mistake, and I wouldn't hesitate to leave
How could you have known nothing was ever farther from being true
Your smile, the warmth of your heart, I could never bid adieu
As you held my heart you touched a part of my soul, and there your fingerprints still rest
Your whispers softly echo, with hopes of hearing them I quiet my very breath
Although where we're headed now is something yet unknown,
A part of me has left, and never again will I alone, my heart own
And how fortunate I must be, that at this journey's end
It has been, still is, and always will be, you I call best friend
-Leon E. Jenkins
33. Friends For Life
We are friends.
I've got your back,
And you have mine.
I'll help you out
Anytime!
To see you hurt,
To see you cry,
Makes me weep
And wanna die.
If you agree
To never fight,
It wouldn't matter
Who's wrong or right.
If a broken heart
Needs a mend,
I'll be right there
Till the end.
If your cheeks are wet
From drops of tears,
Don't worry,
Let go of your fears.
Hand in hand
Love is sent.
We'll be friends
Till the end!
– Angelica N. Brissett
34. A Time To Talk
When a friend calls to me from the road
And slows his horse to a meaning walk,
I don't stand still and look around
On all the hills I haven't hoed,
And shout from where I am, What is it?
No, not as there is a time to talk.
I thrust my hoe in the mellow ground,
Blade-end up and five feet tall,
And plod: I go up to the stone wall
For a friendly visit.
-Robert Frost
When you feel like the world
has turned its back on you,
there's always one person
who loves you for you.
Your angel, your life, your love,
your rose.
The rose of your life,
is the one that knows
Everything about you.
They won't give it away.
The rose of your life,
the one that will always stay.
Your rose is your friend,
the one you'll never let go.
Your gift from God,
something you'll always know.
Your rose will help you
through all your hard times.
They make you feel better.
Then you hear the angel chimes.
-Kasandra D.
36. How Many? How Much?
How many slams in an old screen door?
Depends how loud you shut it.
How many slices in a bread?
Depends how thin you cut it.
How much good inside a day?
Depends how good you live 'em.
How much love inside a friend?
Depends how much you give 'em.
– Shel Silverstein
37. Friend
A friend in a person
to laugh and cry with,
An inspiration,
Someone who lends a helping hand,
though friends may not be forever,
And they may not end up together,
the memories of a true friendship will
last forever.
A friend is not a shadow nor a servant
But someone who hold
a piece of a person in his heart.
Someone who shares a smile,
Someone who brightens up your day
What makes a person a friend?
Is by saying your Love will stay.
-Renee Donna Bufete
38. Your Kind Of Friendship
It takes more than caring
To be a real friend;
The nature of friendship;
Requires a blend
Of warmest compassion
And love deep and true
To reach and to comfort
The way that you do.
Because I can see
That your kind of friendship
Is priceless to me.
-Unknown
Marry your best friend.
I do not say that lightly.
Really, truly find the strongest,
Happiest friendship
In the person you fall in love with.
Someone who speaks highly of you.
Someone you can laugh with.
The kind of laughs that make
Your belly ache, and your nose snort.
The embarrassing, earnest, healing kind of laughs.
Wit is important.
Life is too short not to love someone
Who lets you be a fool with them.
Make sure they are somebody
Who lets you cry, too.
Despair will come.
Find someone that you want
To be there with you
Through those times.
Most importantly,
Marry the one that makes passion,
Love, and madness combine
And course through you.
A love that will never dilute –
Even when the waters get deep, and dark.
-Unknown
40. Friends To The End
To the ends of time I will love you my friend.
A friendship like ours has no definite end.
You raise my spirits with ways I can't find
Always lifting me up and ever so kind.
I'm blessed and thank you so lucky am I
My friend you are treasured till the day that I die. MY SPECIAL FRIEND
-Unknown
41. Good Friends
You and I are good friends
On that we both agree.
It means that I am here for you
And you are there for me.
We know each other's secrets
We share our dreams and hopes
We help each other stay upright
Along life's slippery slopes.
We might not speak for days or weeks…
Perhaps a month will pass
But each knows that the other
will be there to the last.
So, know – my friend, I love you.
This message makes it clear.
Good friends are forever.
-Unknown
42. Lucky To Have You My Friend
How lucky I am to find a friend
someone tried and true
You're always there
you always care
and I'm just thanking you.
-Unknown
Breaking down huge barriers like we're breaking
Eggs over a fry pan.
Songs playing in the background,
Talking about nothing and everything.
Friends forever.
Rest assured, no matter what,
I will always find time to talk to you or to
Email you about
Nothing but my day.
Distance can't separate us.
-Anilise B. Gulwell
More Poems You'll Lov
23 Poems About Confidence Some people struggle with confidence all their lives. It can be hard to muster up confidence, and even harder to do it consistently without trying. When it seems like other people are effortlessly armed with easy confidence, read some of these poems to remind yourself that you have plenty of reasons to feel confident, and to practice confidence until it comes to you effortlessly.
53 Amazing Sister Poems Sisters are an indelible part of our lives, whether we like it or not. It's been said that a sister is like a built-in best friend, and many of these poems explore that idea. The bond between sisters is unlike any other, as they are individuals who have known you throughout every phase of your life.
23 Incredible Rumi Poems Rumi was a poet in the thirteenth century whose words were so poignant that they are still widely circulated today. Rumi's poetry touches upon some of the deepest human emotions and experiences, as he explores a realm of topics about life and love. These pieces are sure to tug at your heartstrings and to nourish your mind.