Inside: Spring Acrostic Poems That Will Get You Excited For The Season. 
Poetry is a stunning way to communicate feelings that may not be so easily expressible through speech.
Writing words down on paper gives them a little something extra that truly allows the reader to feel what the writer was feeling in that moment. Acrostic poems may not be as glamorous as sonnets, but they still are able to convey feelings about a specific topic.
Taking a word, and writing a line of poetry that starts with each letter in the word is an extremely creative way to generate a poem. Springtime is typically associated with hope, new beginnings, and the joy of seeing the outside world come back to life.
With Spring acrostic poems, we are able to express our favorite parts of the season, memories attached to this time of year, and all that's affiliated with Spring in a seemingly simple, yet highly effective manner.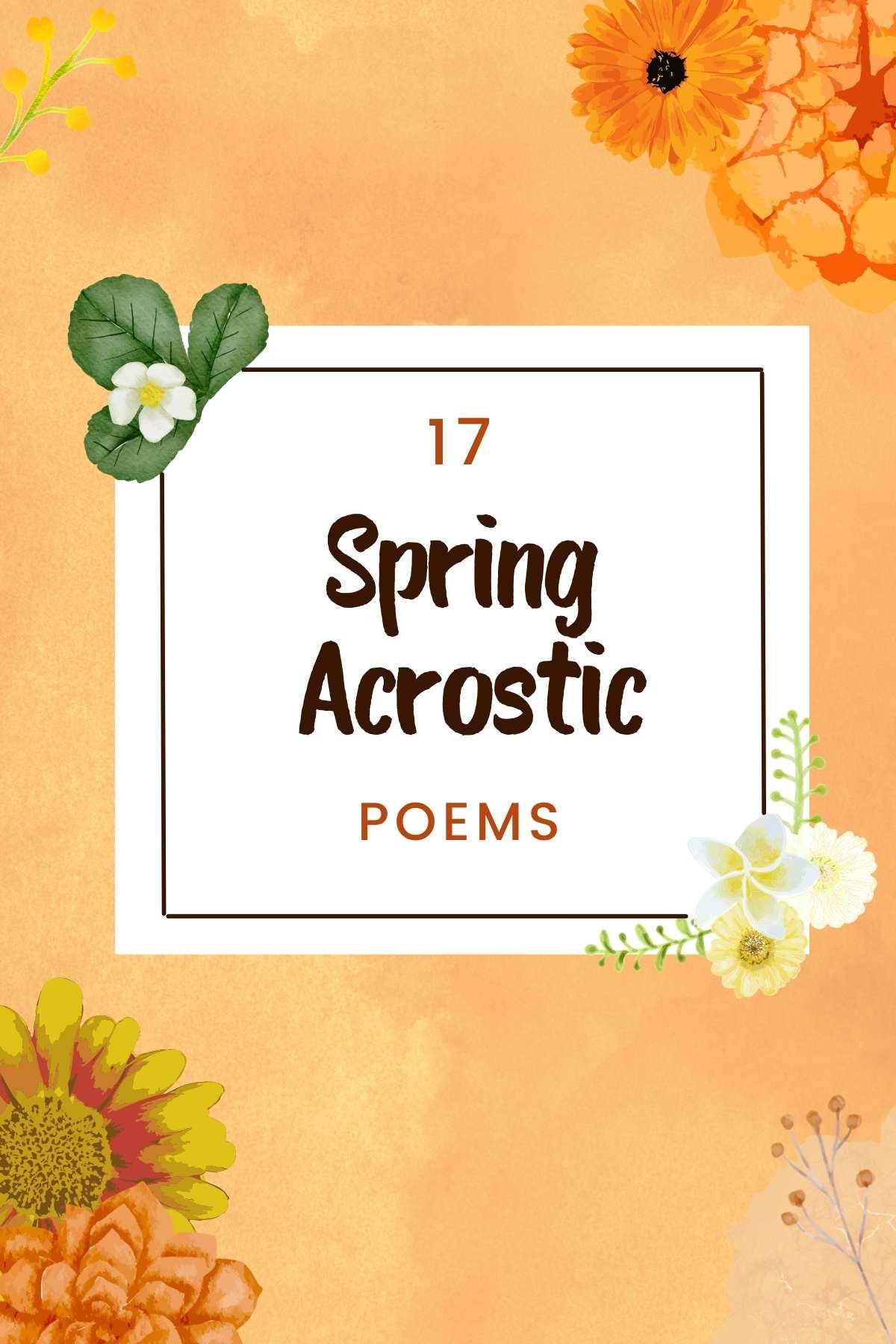 Wonderful Acrostic Spring Poems
Springtime can elicit a lot of different feelings, and a great way to express those feelings is through an acrostic poem! Using every letter in the word "spring" to depict a feeling or thought in accordance with the season is an activity that yields magnificent results.
1. Descriptive Springtime – Using imagery in this acrostic poem about spring, the writer communicates what they're seeing as the season is coming.
2. Spring is coming soon
Pretty flowers bloom
Rains a lot
I like to play outside
No more snow
Grass will get greener —Angel Jones "Spring"
3. Adorable Classroom Acrostic – This acrostic poetry activity is a wonderful addition to any class as it teaches kids about poetry in a simple way!
4. Spring is awesome because it is warm and beautiful.
People love spring because of the sun shining and the sunset.
Rainy days in the spring.
I love spring because it is nice outside.
Nothing is better than spring.
Gardens everywhere in the spring. —Faith
5. Spring Appreciation Activity – Two wonderful Spring acrostic poems as well as instructions for a poetry activity. Introduce your kids to the act of expressing oneself through poetry with this acrostic activity! Giving them a set topic is a wonderful way to keep them on track and make it specific.
6. Songbirds singing in the trees,
Poppies swaying in the breeze.
Rural farmers sow their corn.
In the streams the salmon spawn.
New born lambs in pastures green,
Grizzly bears can now be seen.
Dark grey skies have turned to blue
And sunlight sparkles in the dew.
You see the butterflies on the wing,
Spreading the magical spell of spring. —a shacknofsky "Spring Days [Acrostic]"
Acrostic Poems About Spring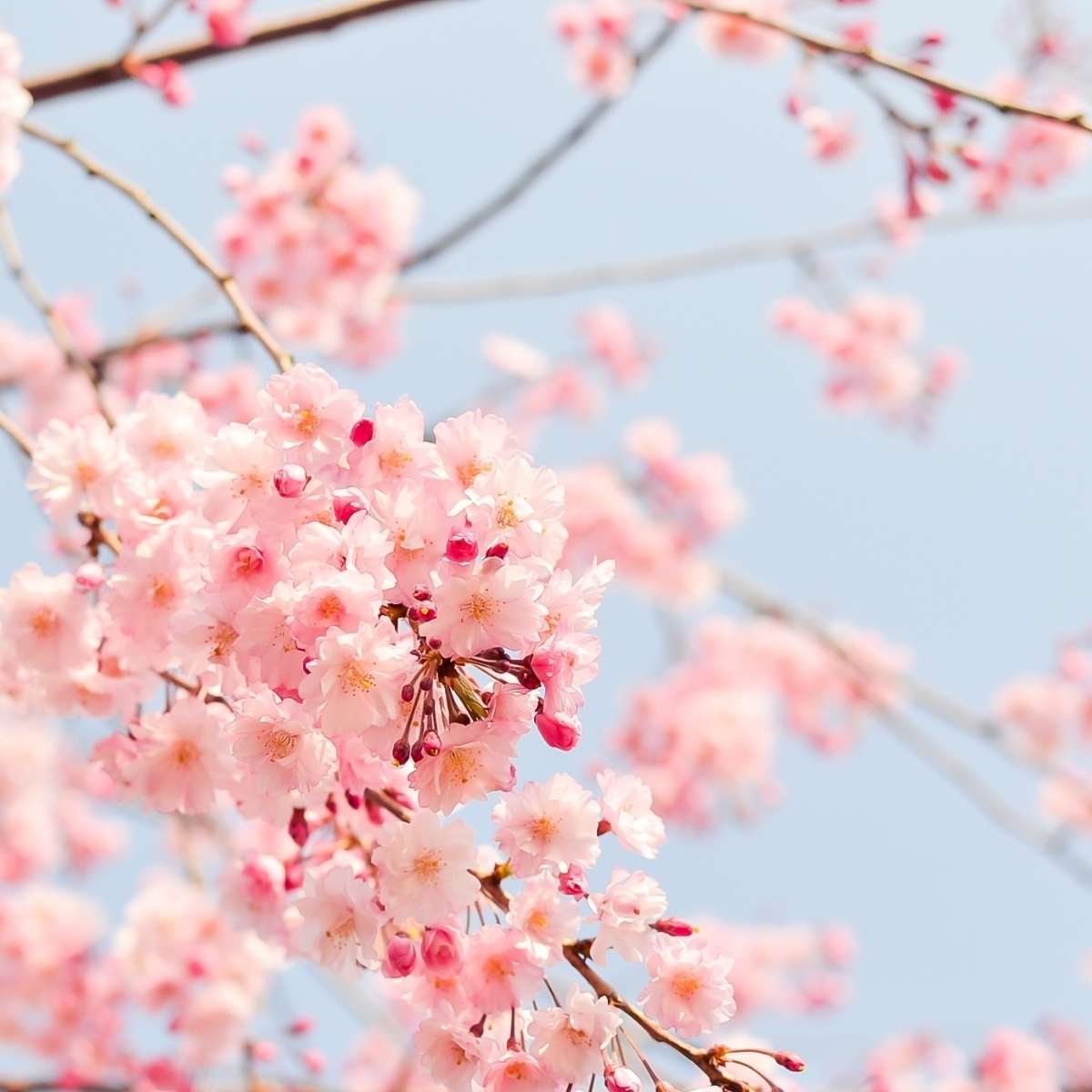 An impending spring season brings a lot of excitement, especially if you live in a place with a colder climate. Winter is dark and can be a damper on your mood, but with the knowledge that spring will be breaking the dreariness so soon, it's hard to not feel giddy!
New life is upon us not only out in the natural world, but that feeling resonates within us as well. Spring feels like a new beginning for many and it helps to write out those thoughts and feelings in a lovely spring acrostic poem.
7. Senses awakened
Pink flowering hastens
Running through the breeze
Inside the garden
Nature loves us
Gives us scented pardon —Love Life Links
8. Children's Spring Acrostic Poem – This adorable poem written by a kid, for kids! It aptly communicates the feelings and thoughts of being a child experiencing spring time.
Such an exciting time for kids! Bulky winter clothes shed off and playing outside in the warm sunshine becomes an everyday activity once more.
9. Soft colour creeps quietly into my garden.
Primrose, crocus, and mists of bluebells
Ribbons of daffodils, gold April trumpeters
Irises, camellias, curl their pink petal shells.
Nodding in line, tulips like wine glasses.
Golden, red, purple, and rich creamy white. —Eliza Jean "A Spectrum of Spring (Acrostic Poem)"
10. Suddenly Spring is here.
Flowers Push up through the cold ground.
Streams Run cold with melted snow.
Birds sing In chorus.
Nothing beats a Nice spring day.
After a lonG hard winter! —Tammy Worcester "Spring Acrostic Poem With A Twist!"
11. Shining light from the sun
Playing outside all day
Rabbits hopping
Imagine flowers in the meadow
New animals being born
Getting ready to explore —Ariyan Kay
Spring Acrostic Poems By Children, For Children
Acrostic poems are a very simple style of poetry and therefore are used in many classrooms with younger students to introduce them to poetry while also getting them excited for the upcoming season. As a child, spring can seem so much more exciting, with the idea of playing outside with friends, and the school year coming to an end.
Since April is National Poetry Month and maybe the most "spring" month of the year, it makes sense to write poetry about this time! These poems are written by children from grades kindergarten to second grade, and encapsulate what it feels like to be a kid during springtime!
12. Snakes come out
Put your shovels down
Rain showers come
I play in the sun
No more snow
Girls and boys play outside
13. Sun is shining bright.
Perfect warm weather.
Rain showers.
I play soccer outside.
No snow.
Go bike riding.
14. Sun is shining brightly
Playing outside in the grass
Riding bikes outside in the breeze
I play outside [bouncing] on my [trampoline]
No snow outside and no more cold
Great grass is growing green.
15. Sunny days
Pretty flowers grow
Rainy days happen
I like to go outside
New babies are born
Games are played all day long
16. Sunny and warmer weather.
Pretty flowers bloom.
Rabbits start to come.
I love the rainbows in spring.
No snow or ice.
Green grass grows.
17. Soccer season starts and it gets warmer.
People go outside and play on the playgrounds.
Raindrops fall and there is colorful rainbows
I like listening to the birds sing.
New flowers are growing.
Growing animals like birds and deer.
More Poems You'll Love
21 Inspiring Poems About Community – The feeling of being part of a community is that of no other. Feeling the support and unity of being within a group of people who make you feel safe and uplift you is truly something humans sometimes take for granted. These poems all focus on the topic of community and feelings that come with being in one. With poems for every age level, anyone will be able to resonate with these poems about community.
23 Incredible Rumi Poems – Chances are, you've come across a Rumi poem before. While he was a poet in the 13th century, his poems have withstood the sands of time. Out of his over 6,000 inspiring poems, mainly revolving around spirituality and the self, this list includes 23 of his poems about a variety of topics.
39+ Thoughtful Dog Poems – We all know that dogs are a man's best friend, and for good reason! They're always excited to see you, are fantastic company, and love you ferociously. This list includes a medley of dog poems, from ones that describe the unconditional love of a dog, to the bond between pet and owner, and poems that grieve the loss of a close companion.