Inside : 50 sister poems that say I love you, including poems about the loss of a sister. 
The relationship you share with a sister is unlike any other relationship in your life. The love shared between siblings is unique in so many ways. It's often said that sisters are like built-in best friends, and even if you're not the closest, your bond is still deeper than that of a long-time friend.
As such, the loss of a sister is an incredibly painful experience that can't be compared with any other loss. The feeling of losing a sister can be indescribable, which is why many people in mourning turn to poetry. Hopefully, the loss of a sister poems included in this list will bring you comfort.
Since they have been in our lives forever, we sometimes forget to tell our sisters how important they are to us. If you are looking for "poems for my sister," this list of happy and funny sister poems will help portray that love and bond that only you two can understand.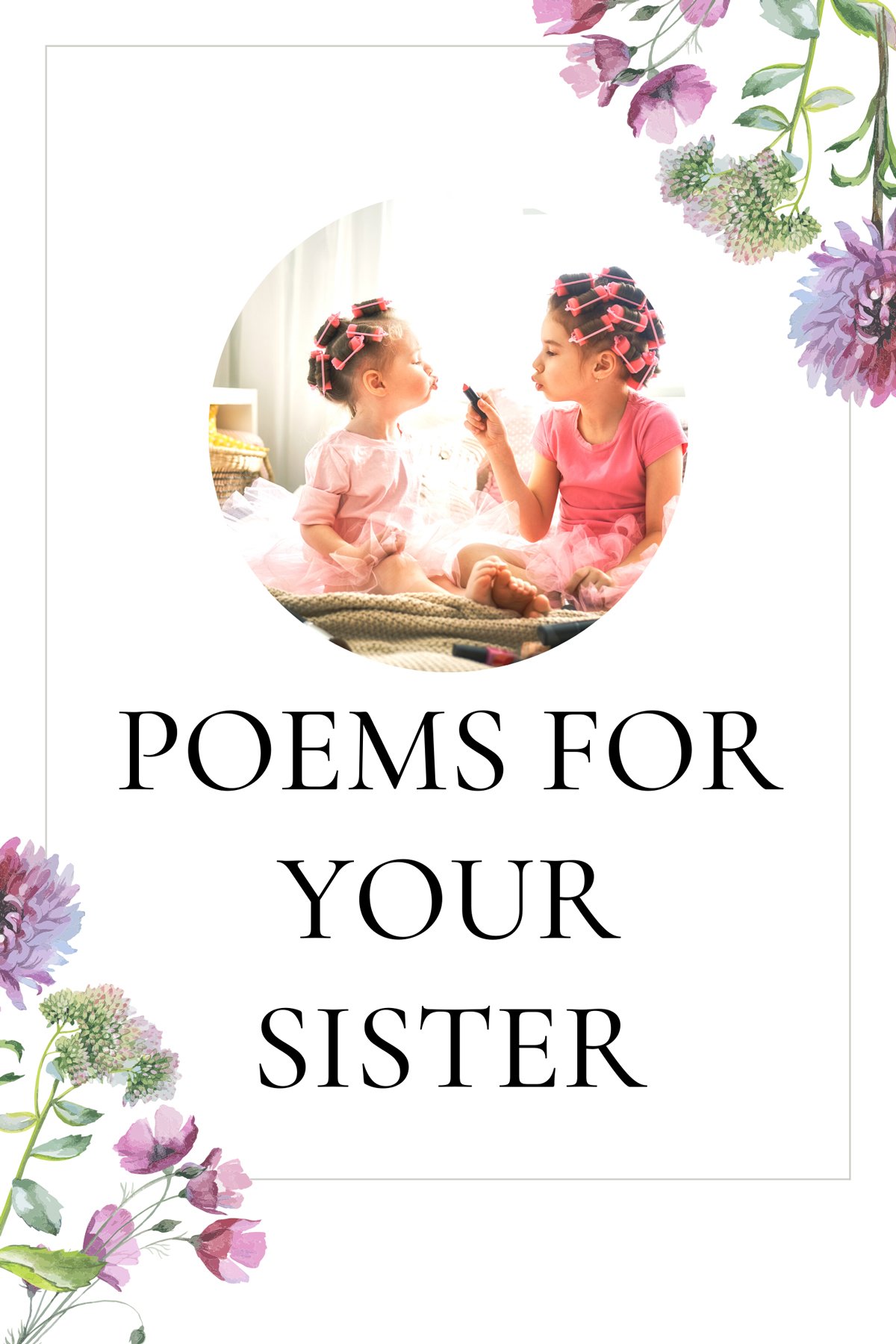 Loss of a Sister Poems
If you are dealing with the loss of a loved one, these are poems that could make you cry, but they might also bring some solace. A sister is often someone who knows you better than anyone else can. You've grown up with them, shared experiences with them that no one else understands, and always expected them to be in your life. The incredible shock and pain that comes from the loss of a sister is portrayed in these poems. Hopefully, you can find comfort in these words and know that you are not alone.
Sister Poems that Make You Cry
Poems that make you cry can be sad, but cathartic. When feeling such strong emotions, many people turn to art and poetry to make sense of their feelings. However, sometimes, we cry out of happiness, and many of these sister poems that make you cry could just be from pure love or appreciation for that special person in your life.
26. "You've shared my
Joys and sorrows,
My laughter and
My tears.
You've been my
Inspiration,
As we grew up
Through the
Years." —Allison Chambers Coxsey
Sister Poems to Say I Love You
Some people say "I love you" to their siblings all of the time. However, unlike friends or lovers, they have been in your life forever, and there is an unspoken feeling wherein you expect them to always be around. Because of this, we can forget to express our love for our sisters as often as we should. Whether you want to share these I love you sister poems just because, or you'd like to use them as gifts, she will appreciate your gesture.
41. "To me, you are an angel in disguise.
Full of intuition, you are intelligent and wise.
Always giving and helping through good times and bad.
You are the best friend I've ever had.
If I had one wish, it would surely be
To give you as much as you've given to me.
Though I've put our relationship through some cloudy days,
You've been my sunshine in so many ways.
Through trials and tests, right by me you stood,
And you gave me your hand whenever you could.
Thank you so much, my sister, my friend.
My gratitude for you has no end." —Leann Stiegman
42. "It isn't blood that makes you my sister
it's how you understand my heart
as though you carry it
in your body." —Rupi Kaur
43. "Go, go, my naughty girl, and kiss
Your little sister dear;
I must not have such things as this,
And noisy quarrels here.
What! little children scratch and fight,
That ought to be so mild;
Oh! Mary, it's a shocking sight
To see an angry child.
I can't imagine, for my part,
The reason for your folly;
She did not do you any hurt
By playing with your dolly.
See, see, the little tears that run
Fast from her watery eye:
Come, my sweet innocent, have done,
'Twill do no good to cry.
Go, Mary, wipe her tears away,
And make it up with kisses:
And never turn a pretty play
To such a pet as this is." —Ann Taylor
44. "Even though we are miles apart
It's like you're still here next to me.
Because I keep you in my heart.
When you feel down look for me in your dream
We have been there for each other our whole lives.
No one can ever take your place.
Your shoulder is what I have used for my cries.
You have made me laugh when I had a frown on my face.
We are sisters and friends.
I love you my sister till the end.
I could not imagine my life without you
You are my rock.
I can't wait to see you when you come home all new
I hope you never have to leave us again.
Just always remember I love you my sister.
And I will be here till the end.
So look for me in your dreams.
When you need a friend
Or you just want to scream." —Angela Gatch
Funny Sister Poems
Do you ever feel like you can't laugh with anyone else like you can laugh with your siblings? When you grow up alongside someone else and live with them for most of your life, you develop a bond that comes with a very unique sense of humor. The things that you and her find funny are often things that only you two can laugh about together. This is one of the most cherished feelings in life, and one that many people write about. Share these funny sister poems with your sister to remind her of your special bond.
Sister love is forever & a day
More Poems You'll Love
Whether you are sharing poems for my sister to say I love you or to mourn your loss, you may enjoy reading poetry from other genres as well. People love poetry because the words can be interpreted however you'd like them to. The following poems are about wolves, but many can be interpreted to be about strength, independence, loyalty, or loneliness.
Incredible Wolf Poems Wolves are fierce, powerful creatures. They are known for their loyalty to their herds, and humans have been writing about them for centuries. Wolves remind us of the strength that can be fostered within a team of like-minded, loyal members. In a way, these wolf poems can relate to poems about family and sibling relationships, as they are all centered around a tight-knit, unspoken love for one another.