Inside: Sweet heart melting birthday poems you need to share with the birthday person.
I kind of go big on birthdays. Acts of service are one of my love languages! So naturally, I try and do everything in my power to make the birthday person feel loved on their special day.
I have found from years of doing this that there are a few main components to a good birthday: The Action(AKA the Party), the Food(duh), and the Heart to Heart. The last one is one of the most important of the three.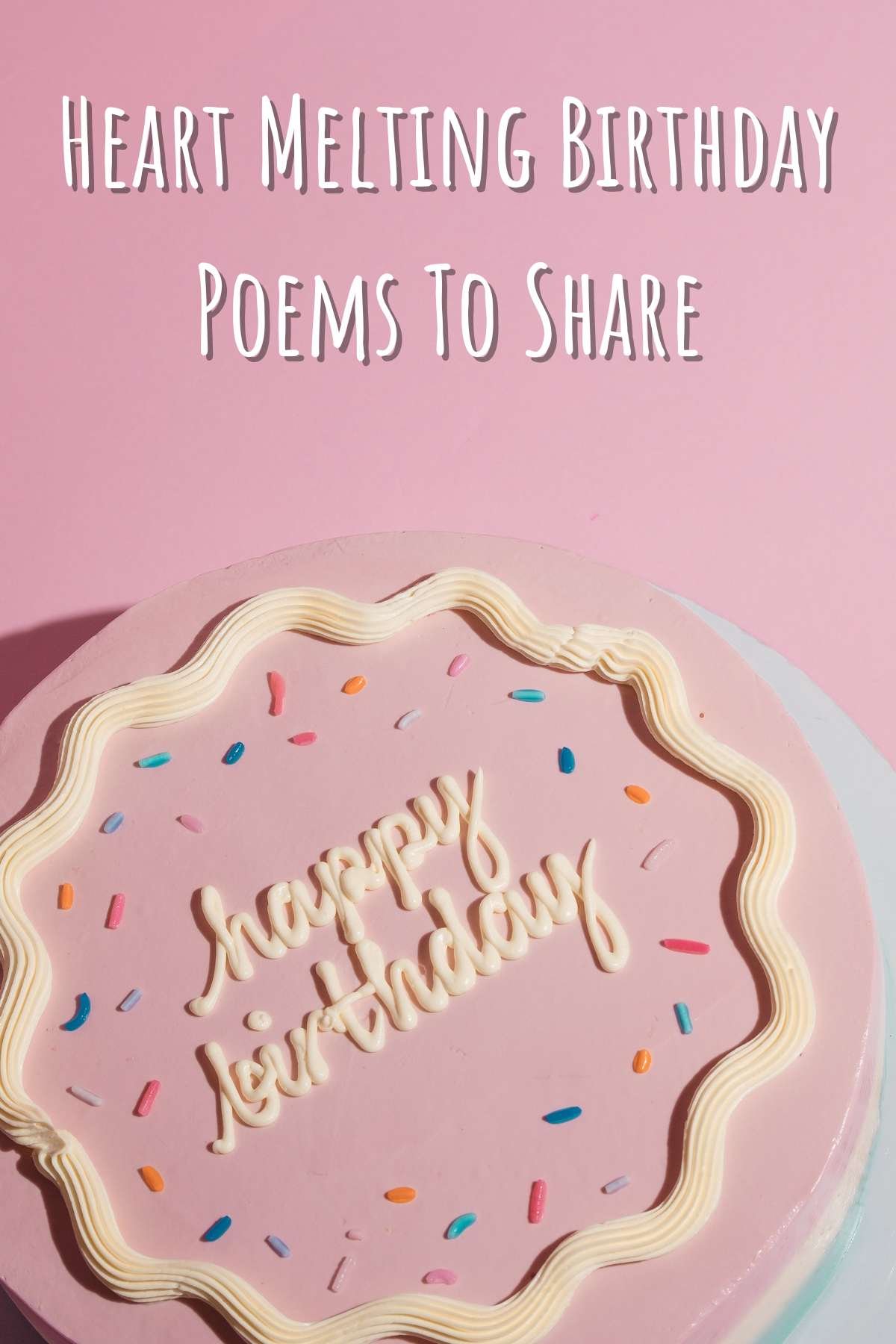 One of the best ways to fulfill the heart-to-heart category is by letting your birthday person know just how you feel about them. There are so many different ways to do this, but my favorite is by reading them a birthday poem!
What To Say In A Birthday Poem
Learning to write a birthday poem could never be easier. You simply need to know what you want to say! But how do you come up with that…
First, you are going to need to reflect on the relationship you have with this person. If they are your mom, your friend, or your significant other…chances are the result of the poem is going to be different. This is a highly personal task!
Once you have reflected on who they are and how much they mean to you, think of your absolute favorite memory with them. This will serve as your creative juice!
Lastly, you are going to start writing. If you want some inspiration, I have you covered. The list below is fully of some great examples of birthday poems.
If you are writing a heart melting birthday poem about a friend, then you need to check out this tutorial on how to write friendship poems 5 tips you'll love.
I am throwing a party for my aunt, so I am going to be reading these aunt poems for inspiration!
Heart Melting Birthday Poems
I wanted to include heart melting birthday poems directed at different people in your life. Each relationship is unique, and I think the poems I have included really cover everything you need to know.
1. Another year
I'm wishing you another year
Of laughter, joy and fun,
Surprises, love and happiness,
And when your birthday's done,
I hope you feel deep in your heart,
As your birthdays come and go,
How very much you mean to me,
More than you can know.
2. A Birthday
My heart is like a singing bird
Whose nest is in a water'd shoot;
My heart is like an apple-tree
Whose boughs are bent with thickset fruit;
My heart is like a rainbow shell
That paddles in a halcyon sea;
My heart is gladder than all these
Because my love is come to me.
Raise me a dais of silk and down;
Hang it with vair and purple dyes;
Carve it in doves and pomegranates,
And peacocks with a hundred eyes;
Work it in gold and silver grapes,
In leaves and silver fleurs-de-lys;
Because the birthday of my life
Is come, my love is come to me.
3. Birthday Blessings
The sun got out of bed
Swam across the ocean
Just to shine on you today
The wind climbed mountains
Endured dusty deserts
Just to blow on you today
The birds organized their orchestra
Traveled to nearby trees
Just to serenade you today
The rain descended high heavens
Bowed at your feet
Just to refresh you today
I join all of nature in wishing you
A blessed birthday today
4. Happy Birthday Dear Friend
On this day,
to your Pa and Ma
a condign star was born.
A precious one,
God gave this world,
a special gift
That was YOU,
the day YOU were born.
Your sempervirent nature,
touched many lives I know,
A sempiternal brook of kindness
that wants to merge with the ocean.
A difference in this world
YOU made,
Not only for me
But those around YOU too.
On this your birthday,
I wish YOU a life of blessedness.
May all your fondest dreams come true,
That with every candle on your birthday cake,
a lovely surprise await YOU.
My wish for YOU -that whatsoever
YOU want most in life-
come your way,
just the way YOU imagined it
or maybe better.
I hope YOU treasure
this friendship,
and nothing can succedaneum this,
as much I do.
Look forward,
for many more happy birthdays
to follow,
in friendship with YOU,
Happy Birthday dear friend
I wish God's opulent Blessings inundate YOU
And good wishes, to last YOU all lifes through
And with this sincerest hope and joy
That will never end
From which YOU can
to others lend.
May each new birthday
Be the best YOU ever knew
HAPPY, HAPPY HAPPY BIRTHDAY DEAR!
Heart Melting Birthday Poems To Share
I think that expressing your love for someone is never a bad thing. If anything, it only serves as a good thing. So add some good into your and your close friends' and family's lives by saying the loving things on your mind! The list below is full of some of the sweetest heart melting birthday poems you will read.
5. Birthdays
Let us have birthdays every day,
(I had the thought while I was shaving)
Because a birthday should be gay,
And full of grace and good behaving.
We can't have cakes and candles bright,
And presents are beyond our giving,
But let lt us cherish with delight
The birthday way of lovely living.
For I have passed three-score and ten
And I can count upon my fingers
The years I hope to bide with men,
(Though by God's grace one often lingers.)
So in the summers left to me,
Because I'm blest beyond my merit,
I hope with gratitude and glee
To sparkle with the birthday spirit.
Let me inform myself each day
Who's proudmost on the natal roster;
If Washington or Henry Clay,
Or Eugene Field or Stephen Foster.
oh lots of famous folks I'll find
Who more than measure to my rating,
And so thanksgivingly inclined
Their birthdays I'll be celebrating.
For Oh I know the cheery glow|
Of Anniversary rejoicing;
Let me reflect its radiance so
My daily gladness I'll be voicing.
And though I'm stooped and silver-haired,
Let me with laughter make the hearth gay,
So by the gods I may be spared
Each year to hear: "Pop, Happy Birthday."
6. A Birthday Wish
Like a cherry tree bloomed
I can feel the fragrance around
A face full of energy and life
always radiating happiness
with contagious grin
beaming from within
I salute your unconquerable spirit
and persistent determination
I admire in you
the internal strength and wisdom
I treasure your uniqueness
the caring heart and adorable smile
At times, I wonder how would I say
how much you mean to me
and how much you have given me
the support, encouragement
With each additional candle on the cake
I contemplate once again
how privileged I've been
to have you in my life
Thank you my dearest
for making my life brighter and sweet
you are a gift of tranquility in my life
It's your birthday
and I know,
you must be feeling lonely today
well,
I may be far from you
thousands miles away
from your birthday cake
but, close your eyes and look
deep down your feelings
I am there clapping
singing your birthday song
holding you in embrace
dancing with shear joy
so,
don't ever think of my absence
I'm there with you
at every breath of life
Happy Birthday, sweetheart!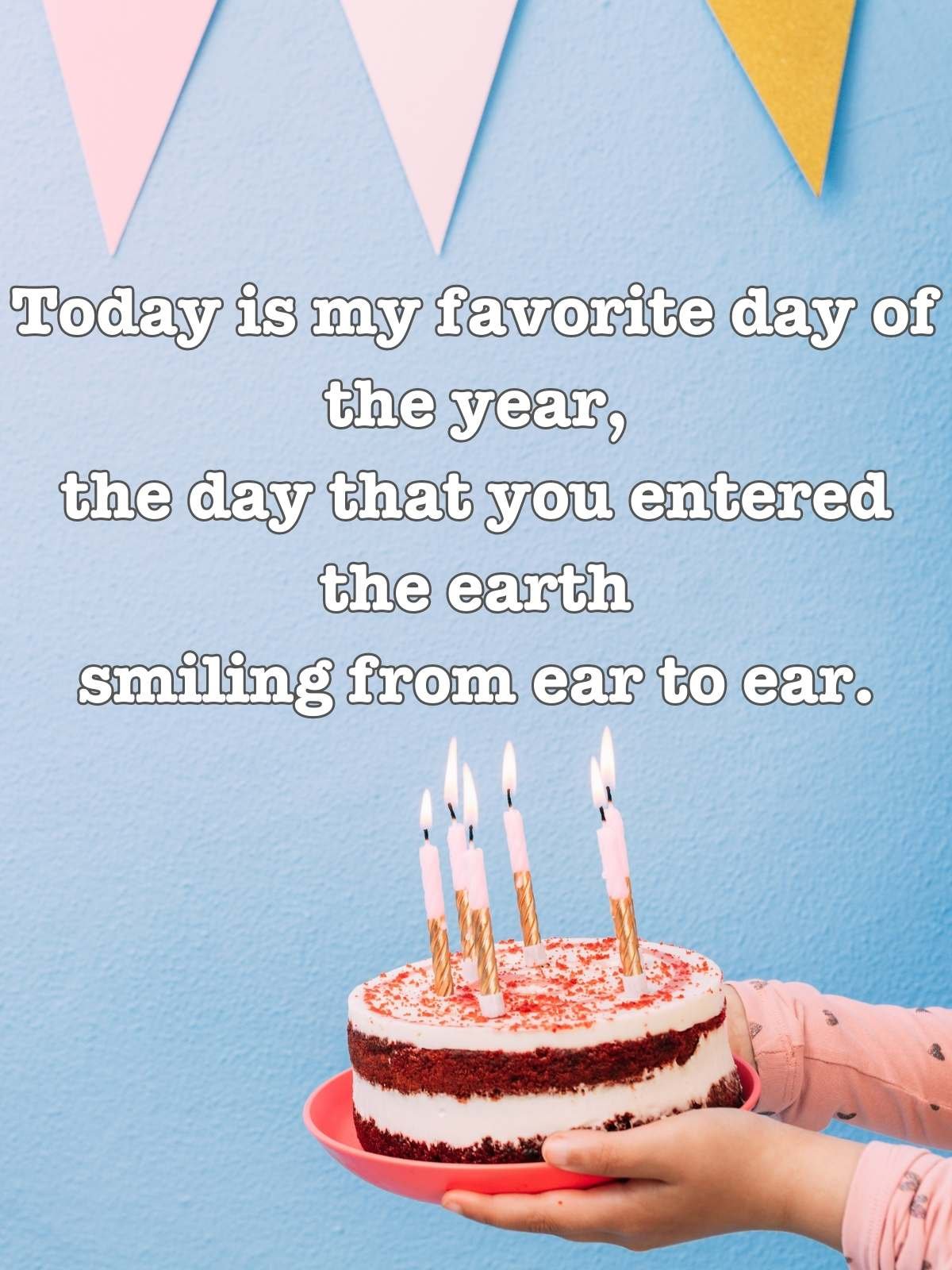 7.  Birthday Wishes to A Friend
So many people live around you,
But not all get close to your heart.
Some become so dear
That with their thoughts, its beating starts.
You are the one to whom
I'll give my care to the most.
Your absence makes me feel in life,
As if everything is completely lost.
Your birthday was in my mind,
Wishes though I couldn't convey.
There were so many hurdles
Standing tall in the way.
I have prayed for your good life
And mental peace with good health.
The rest of things are just temporary,
Only these will be your real wealth.
8. Happy Birthday Sister
God gave me a beautiful gift when he gave me you
Not only a big sister but a best friend too
To share times of laughter and memories
You can't put a price on precious times like these
What a blessing to have you in my life
Always compassionate in times of hardships and strife
Wishing you a birthday making wonderful memories
With friends, family, and everything to please!
9. A Bunch Of Flowers
A bunch of flowers,
A homemade cake,
That special gift,
A birthday steak.
A Facebook greeting,
And a cyber card.
We hold these gifts
In high regard.
But the greatest gift
I can truly say
Is our love and hugs
On your special day
10. Here It Is
Here it is,
Your special day,
So I thought I'd take
This time to say
How nice it is
To have a friend
Who listens
and understands.
The kind of friend
Who's always there,
Ready to show
That someone cares.
You've cheered me up
When I was down
Just by simply
Hanging around.
And oh the times
We've spent in laughter
Have made me chuckle
For many days after.
We've stored many
Good memories away
As I sit here drowned
In memory today.
Wanted to share
This thought with you
Having you as a friend
Makes it my special day too.
11. Birthday Wishes
Today is my favorite day of the year,
the day that you entered the earth
smiling from ear to ear.
I like to think of birthdays as an individual's own personal New Year's. After all, it is technically the first year of their life starting over. So why not allow your close loved ones to start their personal year off with a bang?
I will admit that I sometimes go over the top when planning birthdays, but these heart melting birthday poems are always just the ticket needed for a good day. After all, who doesn't like hearing that they are loved?
If you loved these, then you need to check out this list of funny poems birthday people will love.