Inside: Poems About August For Last Summer Days.
Depending on where you are, August is the last month of hot summer days before autumn returns in September. It's also back to school month for lots of the country, so it's a month full of transitions. 
It's also HOT. It seems the heat will never recede. So we take our last beach trips, and swim a few more times. It's a month to relax inside with a cold drink and reflect on summer memories with friends and family. 
We hope you love these August Poems to Treasure, and we hope you've had an amazing summer full of precious memories.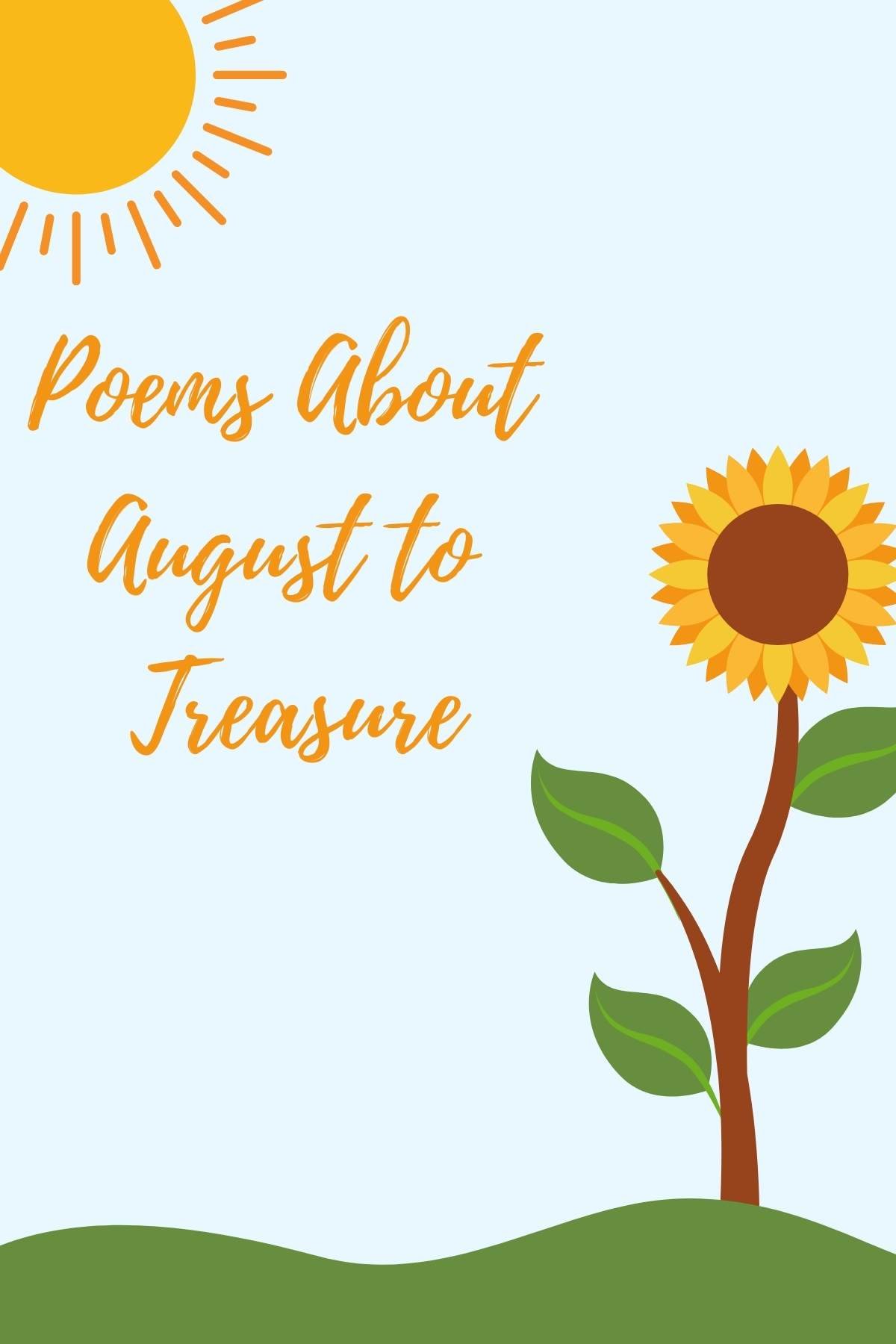 1. Late August
Change of heart in the dreams I bear—
Green leaf turns to brown;
The second half of the month is here,
The days are closing down.
Love so swift to up and follow
The season's fugitive,
If thou must, make rapture hollow,
But leave me dreams to live.
Change of heart! O season's end!
Time and tide and sorrow!
I care not what the Fates may send,
Here's to ye, goodmorrow!
-William Stanley Braithwaite
2. August
I come! I come! and the waving field
Its wealth of golden grain shall yield.
In the hush and heat of glowing noon,
The insects' hum is the only tune;
For the merriest birds forget to sing,
And sit in the shade with drooping wing.
But see! how the purpling grapes hang high,
And ripen beneath my sunny sky!
And see! how the fruits of the bending tree
Turn blushing and rosy cheeks to me!
And soon shall your garners be over-full
With gifts from the August bountiful.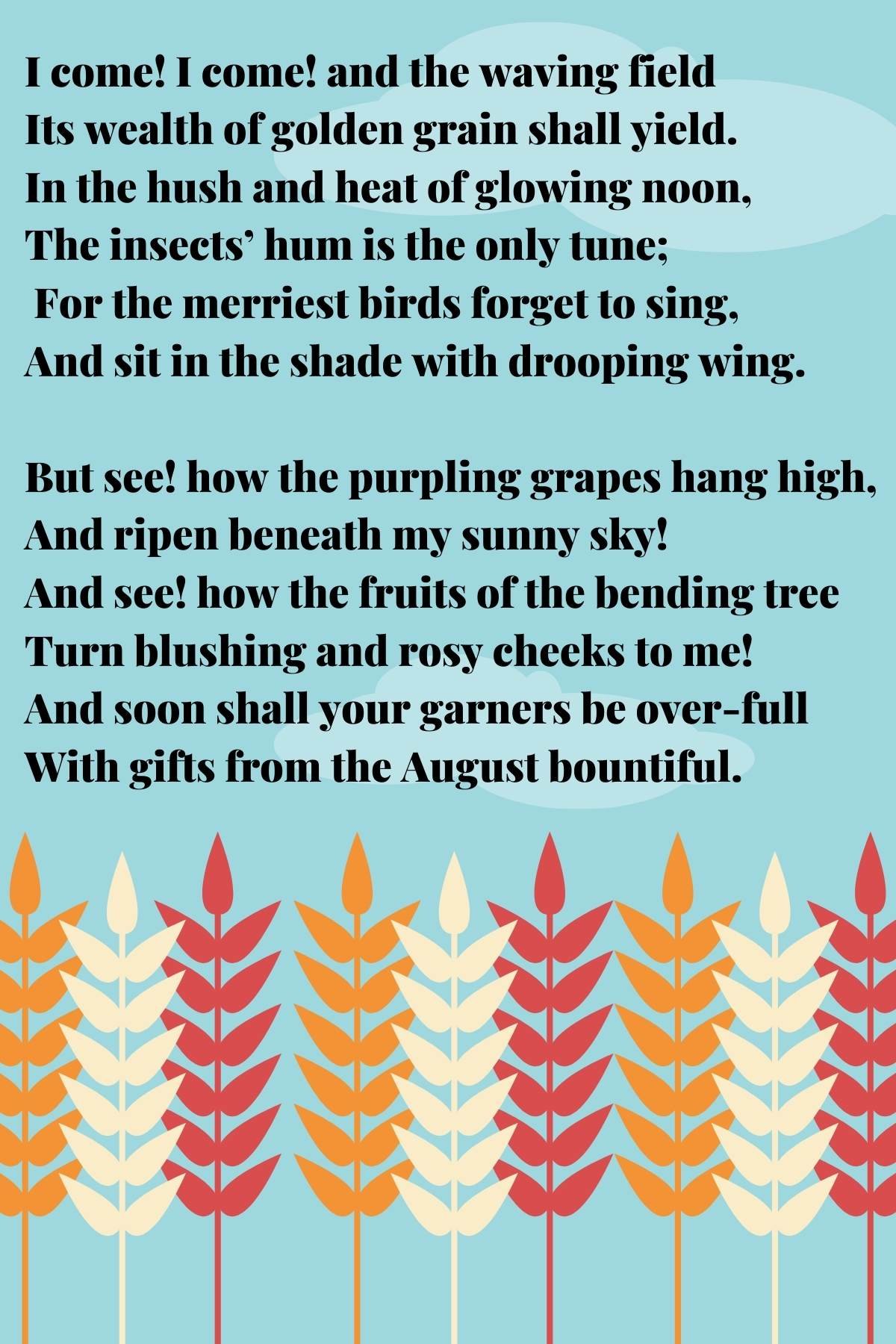 3. An August Wood Road
When the partridge coveys fly
In the birch-tops cool and high;
When the dry cicadas twang
Where the purpling fir-cones hang;
When the bunch-berries emboss—
Scarlet beads—the roadside moss;
Brown with shadows, bright with sun,
All day long till day is done
Sleeps in murmuring solitude
The worn old road that threads the wood.
In its deep cup—grassy, cool—
Sleeps the little roadside pool;
Sleeps the butterfly on the weed,
Sleeps the drifted thistle-seed.
Like a great and blazing gem,
Basks the beetle on the stem.
Up and down the shining rays
Dancing midges weave their maze.
High among the moveless boughs,
Drunk with day, the night-hawks drowse.
Far up, unfathomably blue,
August's heaven vibrates through.
The old road leads to all things good;
The year's at full, and time's at flood.
-Sir Charles George Douglas Roberts
4. August
August days are hot and still,
Not a breath on house or hill,
Not a breath on height or plain,
Weary travelers cry for rain;
But the children quickly find
A shady place quite to their mind;
And there all quietly they stay,
Until the sun has gone away,—
August is too hot for play!
-Annette Wynne
5. August
When my eyes are weeds,
And my lips are petals, spinning
Down the wind that has beginning
Where the crumpled beeches start
In a fringe of salty reeds;
When my arms are elder-bushes,
And the rangy lilac pushes
Upward, upward through my heart;
Summer, do your worst!
Light your tinsel moon, and call on
Your performing stars to fall on
Headlong through your paper sky;
Nevermore shall I be cursed
By a flushed and amorous slattern,
With her dusty laces' pattern
Trailing, as she straggles by.
-Dorothy Parker
6. In August
BESIDE the country road with truant grace
Wild carrot lifts its circles of white lace.
From vines whose interwoven branches drape
The old stone walls, come pungent scents of grape.
The sumach torches burn; the hardhack glows;
From off the pines a healing fragrance blows;
The pallid Indian pipe of ghostly kin
Listens in vain for stealthy moccasin.
In pensive mood a faded robin sings;
A butterfly with dusky, gold-flecked wings
Holds court for plumy dandelion seed
And thistledown, on throne of fireweed.
The road goes loitering on, till it hath missed
Its way in goldenrod, to keep a tryst,
Beyond the mosses and the ferns that veil
The last faint lines of its forgotten trail,
With Lonely Lake, so crystal clear that one
May see its bottom sparkling in the sun
With many-colored stones. The only stir
On its green banks is of the kingfisher
Dipping for prey, but oft, these haunted nights,
That mirror shivers into dazzling lights,
Cleft by a falling star, a messenger
From some bright battle lost, Excalibur.
-Katharine Lee Bates
73 Leo Quotes for the Lion Inside
7. An August Cricket
When August days are hot and long,
And the August hills are hazy,
And clouds are slow and winds also,
And brooks are low and lazy.
When beats the fierce midsummer sun,
Upon the drying grasses;
A modest minstrel sings his song
To any soul that passes.
A modest, yet insistent bard
Who while the landscape slumbers;
And Nature seems, herself asleep,
Pours out his soul in numbers.
His song is in a tongue unknown,
Yet those, me think, who hear it
Drink in it's healing melody
Renewed in frame and spirit.
His life is brief as is the leaf
To summer branches clinging!
But yet no thought of death or grief,
He mentions in his singing.
No epic strain is his to sing;—
No tale of loss or glory;—
He has no borrowed heroines;
His heroes are not gory.
He is no scholar; all he knows
Was taught by his condition,
He never studied synthesis,
Nor simple composition.
His lays are all of rustic themes;
Of summer's joys and treasure
Yet scarce could Homer's masterpiece,
Afford us keener pleasure.
-Arthur Goodenough
8. Hummingbird Motion
whisperings of wings
deep drone of summer's old gold
red rose drips petals
only time will tell
of the countless jeweled birds
summoned by the blooms
fanning the breezes
'til the last of orange sun
august night is soon
-Evelyn Judy Buehler
9.August
No wind, no bird. The river flames like brass.
On either side, smitten as with a spell
Of silence, brood the fields. In the deep grass,
Edging the dusty roads, lie as they fell
Handfuls of shriveled leaves from tree and bush.
But 'long the orchard fence and at the gate,
Thrusting their saffron torches through the hush,
Wild lilies blaze, and bees hum soon and late.
Rust-colored the tall straggling briar, not one
Rose left. The spider sets its loom up there
Close to the roots, and spins out in the sun
A silken web from twig to twig. The air
Is full of hot rank scents. Upon the hill
Drifts the noon's single cloud, white, glaring, still.
-Lizette Woodworth Reese
10. Warm Summer Sun
Warm summer sun,
Shine kindly here,
Warm southern wind,
Blow softly here.
Green sod above,
Lie light, lie light.
Good night, dear heart,
Good night, good night.
-Mark Twain
11. August
The August sun is pouring on the land,
His scorching rays, and vegetation stands
Beseeching to the skies for showers again
And being answered like the prayers of men.
Along the creeks the white rocks heat and glow,
As it some one had built great fires below,
And cattle stand in stagnant pools to fight
The pestering flies that trouble day and night.
In vain we look for those refreshing showers
That come so oft in Spring at call of flowers,
But clouds come to our view, then pass away,
And leave us in despair at close of day.
-Ed Blair