Summertime is a wonderful time of the year, and some may argue that it's the MOST wonderful time, even when certain other seasons think they have the claim to that title. These summer acrostic poems will show you why.
Don't get me wrong, I love winter time as much as the next person, but there's just something about Summer that makes my heart happy. It's warmer, the days are longer, no school, barbecues! I rest my case. Seriously though, the warmer season is amazing.
Even more amazing for kids who no longer have to go to school and get to sleep in and enjoy the sunshine!
It's a good thing that winter has Christmas because otherwise there would be no argument over which was better.
Some of the best memories are made during the Summer months, and not just because you have more daylight to make them. These are the times of family vacations, beach trips, and roasting marshmallows over an open fire to make s'mores, UGH! I cannot wait. Not to mention, you get some of the best sweet treats during the summer.
No longer do you need an excuse like being good in a doctor's appointment to get your kid some ice cream during the day and not just for dessert. Shaved ice, milkshakes, popsicles….the list goes on. After a long year, sometimes it's easy to forget the good times that are just right around the corner. One of the best ways to get your kids (and you) even more excited about the up & coming season is by making Summer Acrostic Poems.
It's fun, simple, and will definitely leave you with the Summer spirit!
Read on to learn all about this style of poetry as well as to get some ideas for your own poem! I've even included some free printable templates you can use to get the party started.
What is an Acrostic Poem
An acrostic poem is when you create a poem using each letter in the chosen word as the first letter in a sentence, this way by the end of it when you look at the poem it spells out the word you chose. It doesn't always have to be the first letter either, as you'll see below you can also create an acrostic poem by simply capitalizing the chosen letter within your sentence! This gives you a little bit more freedom when writing.
To help you remember, you can think of Acrostic poems like Acronyms, which is what the word is based on.
This style of poetry is said to have been created between 1831 & 1834, which makes the fact that you're about to write your own even cooler. It's a simple and fun way to continue a practice created in the past, like writing in a time machine! It can also be a lovely way to express how much you love summer and all of the amazing memories you have made during this time.
We've included a few examples to help you get a good idea of what exactly this acrostic poem will look like, this can also give you some inspiration for your own poems. We've also included some free printable templates that you can use for the kiddos as a guide for their project.
Take a look…
Summer Acrostic Poems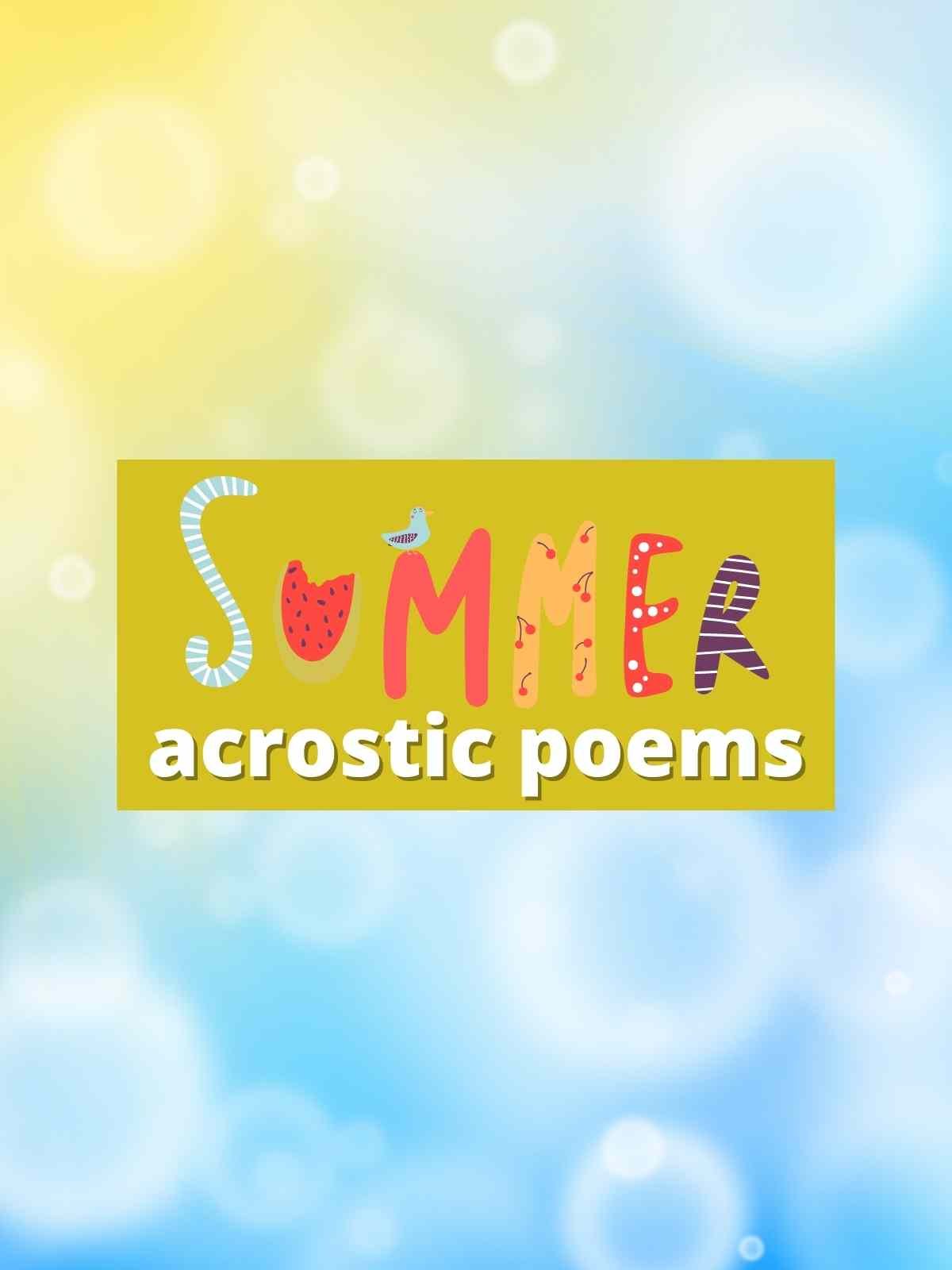 1. Happiest Time of the Year
Sunny Days
no Umbrella in sight
Music in my ears
Making tree forts
Enjoying nature
Running towards the sun
-Unknown
2. The Essence of Summer
Sunshine
Under the water
Making memories
Marshmallow roasting
Eating Popcicles
Riding bikes
-Unknown
3. SUMMER
Sleeping in
Under the night sky
Making new friends
Enjoying my family
Relaxing by the pool
-unknown
4.Summer
Sitting outside
Under a tree
Mud pies and water
Making memories
Enjoying summer
Relaxing fun!
-Mary E Bone
5. Ready to Play
Smearing on Sunscreen
Under the umbrella for shade
Melting popcycles
Massive waves
Everyone happy
Ready to play all day
-Unknown
6.Summer Season
Summer's the season when sun is the strongest,
Under blue skies, the days are the longest,
My friends and I, like to swim when it sizzles,
My friends and I, like the cool, rainy drizzles,
Each summer, each June, I really can't wait,
Returning to school in September is great!
-Mr. R.'s Science Poems
Acrostic Poem About Summer Break
7. Summer Break
Sunshine is finally back
Under the pools cold water
Making memories with my loved ones
Munching on things from the garden
Eating ice cream on a hot day
Reveling in the moment
Believing in life
Relaxing in bed
Entertaining my animals
Ate all the food
Kicking the football
-Unknown
Acrostic Poem about Summer Time
8. Summer Time
Sun shines on your skin and mine
Until it sets way after nine.
Memories made with a cold drink in hand.
Moments to cherish with feet in the sand.
Everyone laughing, smiles on every face.
Remember the moments, those were the days.
Turn up the music, sing it out loud.
Indigo skies, no sign of a cloud.
Mutter the words that no one will know.
Everlasting memories; where does time go?
-William Wilson
9. Summer Time Poem
Summer's sun came again today it was clear
Until I felt strong winds coming ashore
My heart yearned for more swimming and cheer,
More basking in slight breezes as before,
Excepting unprotected sunburn I wished
Reruns of yesterday's excitement in the sun
That left my heart more than blessedly missed
In a way that belonged only to me when done,
More times than I care to remember at all
Easy weather doesn't last all that long
Pleasures have to depend on another call
Overcast, windy and clear; some other wrong,
Existing in your clime mustn't be allowed
More play time than the fun sunshiny crowd.
-John Fredrick Carver
Printable Summertime Acrostic Poem Templates
To make things even simpler and more structured, here are 4 of the cutest summer-themed acrostic poems on the internet for you to choose from. These are guaranteed to please the kiddos!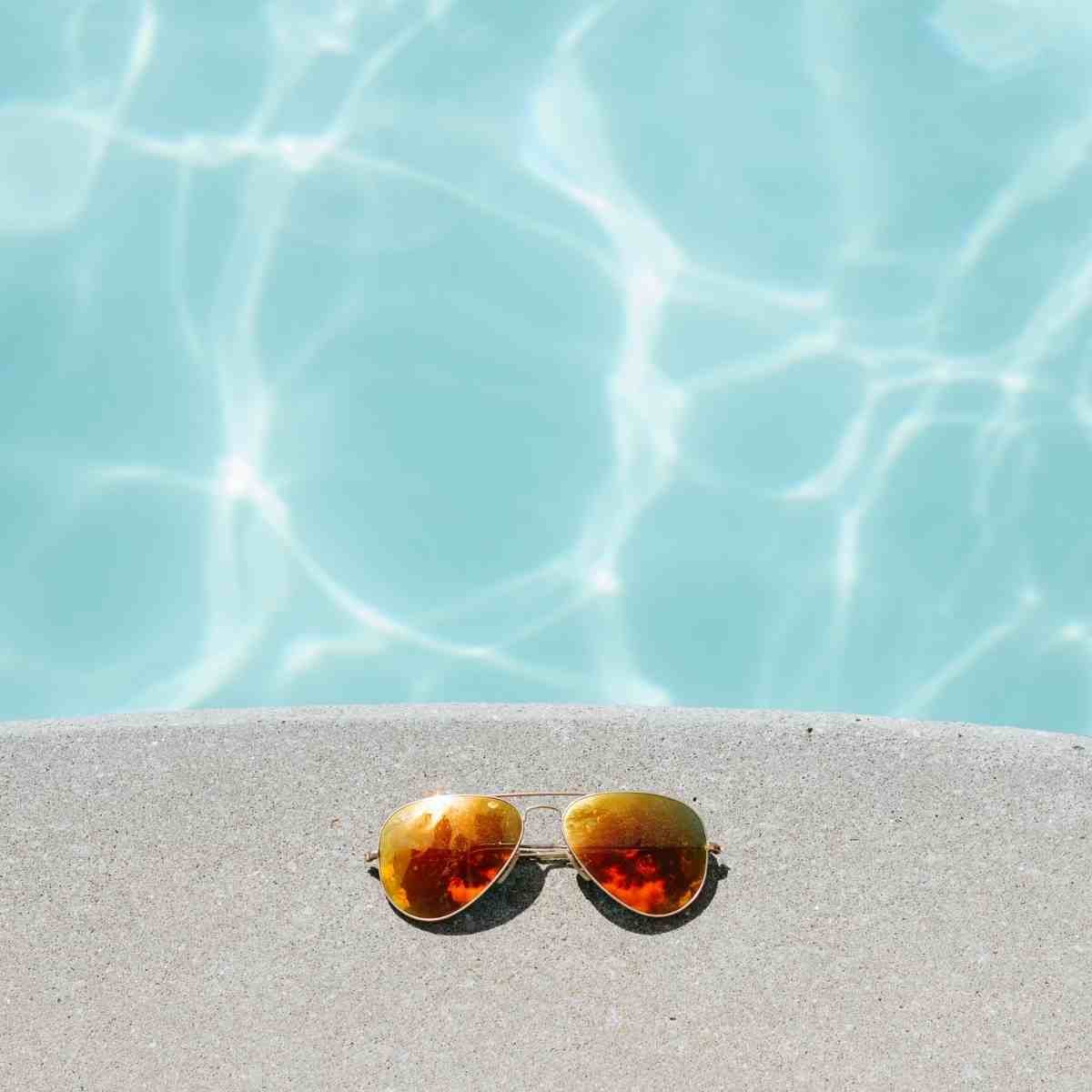 10. Black & White Summer Printable
12. Summer Free Printable with Examples
13. Summertime Acrotic Printable
I hope you loved learning about acrostic poems as well as have a re-ignited excitement for all things summer! Happy Writing & Happy Summer!
More Poem Ideas You'll Love
23 Incredible Rumi Poems – Take a deep dive into over 20 of our favorite Rumi poems! Rumi was a Persian poet who, 700 years after his death, still has incredible popularity in today's world. Many of his poems surround spirituality and consist of deep reflection on humans. The power of poetry is very clear in his works, as anyone who reads them today, so many years after their initial publications, can relate to them in some way or form!
27 Impactful Wolf Poems – Wolves have always been a constant figure in art created by humans, even dating back to the times where all art was cave drawings. Wolves are a symbol of strength and perseverance, while also being able to represent loneliness and desperation. The versatility of the animal in art, specifically poetry, is something to be marveled at. So we compiled a list of our favorite wolf-centric poems!
30 Passionate Poems About Love – Sometimes putting your feelings of love into words is something that is incredibly difficult. Love itself is a complex feeling, so it only makes sense that trying to articulate those feelings would not come so easy. On the flip side, heartbreak is a very deep emotion that is prompted by love. Those feelings are just as hard to put into words as the pure magic of being in love. In this list, we grabbed our 30 favorite poems that we believe nicely put words to the strong, almost indescribable, feelings of both passionate love and crushing heartbreak.