Inside: Poems About Jesus.
Life isn't always easy. In fact, sometimes it can be quite hard. But despite the difficulties we face, we can find comfort in knowing that Jesus is always with us. His words can bring us hope and peace, even in the darkest of times.
Throughout history, many poets have written about Jesus and the impact He has had on their lives. Their words can inspire us and help us to remember that, no matter what happens, we are never alone.
These 17 uplifting poems about Jesus will remind you of His love, mercy, and grace. Whatever you are going through, know that He is with you and will never leave you.
Poems About Jesus
These classic poems, some of which have become popular songs, express the deep love and admiration that many people have for Him. They also show how His teachings can change our lives for the better. We hope they will inspire you to reflect on your own relationship with Jesus and the difference He has made in your life
1. Amazing Grace
Amazing grace! How sweet the sound
That saved a wretch like me!
I once was lost, but now am found;
Was blind, but now I see.
—John Newton
2. Be Still, My Soul
Be still, my soul; the Lord is on thy side;
Bear patiently the cross of grief or pain;
Leave to thy God to order and provide;
In every change He faithful will remain.
Be still, my soul; thy best, thy heavenly Friend
Through thorny ways leads to a joyful end.
—Katharina von Schlegel
3. Footprints in the Sand
One night I dreamed a dream.
As I was walking along the beach with my Lord.
Across the dark sky flashed scenes from my life.
For each scene, I noticed two sets of footprints in the sand,
One belonging to me and one to my Lord.
—Mary Stevenson
4. He Leadeth Me 
He leadeth me, O blessed thought!
O words with heavenly comfort fraught!
Whate'er I do, where'er I be,
Still 'tis God's hand that leadeth me.
—Joseph Henry Gilmore
5. In the Garden
I come to the garden alone,
While the dew is still on the roses,
And the voice I hear falling on my ear
The Son of God discloses.
And He walks with me, and He talks with me,
And He tells me I am His own,
And the joy we share as we tarry there,
None other has ever known.
—C. Austin Miles
6. O Sacred Head, Now Wounded 
O sacred Head, now wounded,
With grief and shame weighed down;
Now scornfully surrounded
With thorns, Thine only crown;
O sacred Head, what glory,
What bliss till now was Thine!
Yet though despised and gory,
I joy to call Thee mine.
—Paul Gerhardt
Jesus Poems That Rhyme
These poems about Jesus rhyme, making them perfect for kids or anyone who loves a good sing-along. They are fun to read aloud and offer a lighthearted look at some of the most important aspects of our faith. We hope they will make you smile and help you to remember that Jesus is always with us, no matter what.
7. Jesus Loves Me
Jesus loves me! this I know,
For the Bible tells me so;
Little ones to Him belong,
They are weak but He is strong.
—Anna B. Warner
8. Just As I Am 
Just as I am, without one plea,
But that Thy blood was shed for me,
And that Thou bid'st me come to Thee,
O Lamb of God, I come! I come!
—Charlotte Elliott
9. Amazing Love
And can it be that I should gain
An int'rest in the Savior's blood?
Died He for me, who caused His pain?
For me, who Him to death pursued?
Amazing love! how can it be
That Thou, my God, shouldst die for me?
—Charles Wesley
10. When I Survey the Wondrous Cross
When I survey the wondrous cross
On which the Prince of glory died,
My richest gain I count but loss,
And pour contempt on all my pride.
—Isaac Watts
11. What a Friend We Have in Jesus
What a friend we have in Jesus,
All our sins and griefs to bear!
What a privilege to carry
Everything to God in prayer!
—Joseph Scriven
12. Shall We Gather at the River? 
Shall we gather at the river,
Where bright angel feet have trod,
With its crystal tide forever
Flowing by the throne of God?
—Robert Lowry
13. Jesus Bids Us Shine

Jesus bids us shine with a clear, pure light,
Like a little candle burning in the night;
In this world of darkness we must enlighten,
You in your small corner, and I in mine.
—Selina Bunbury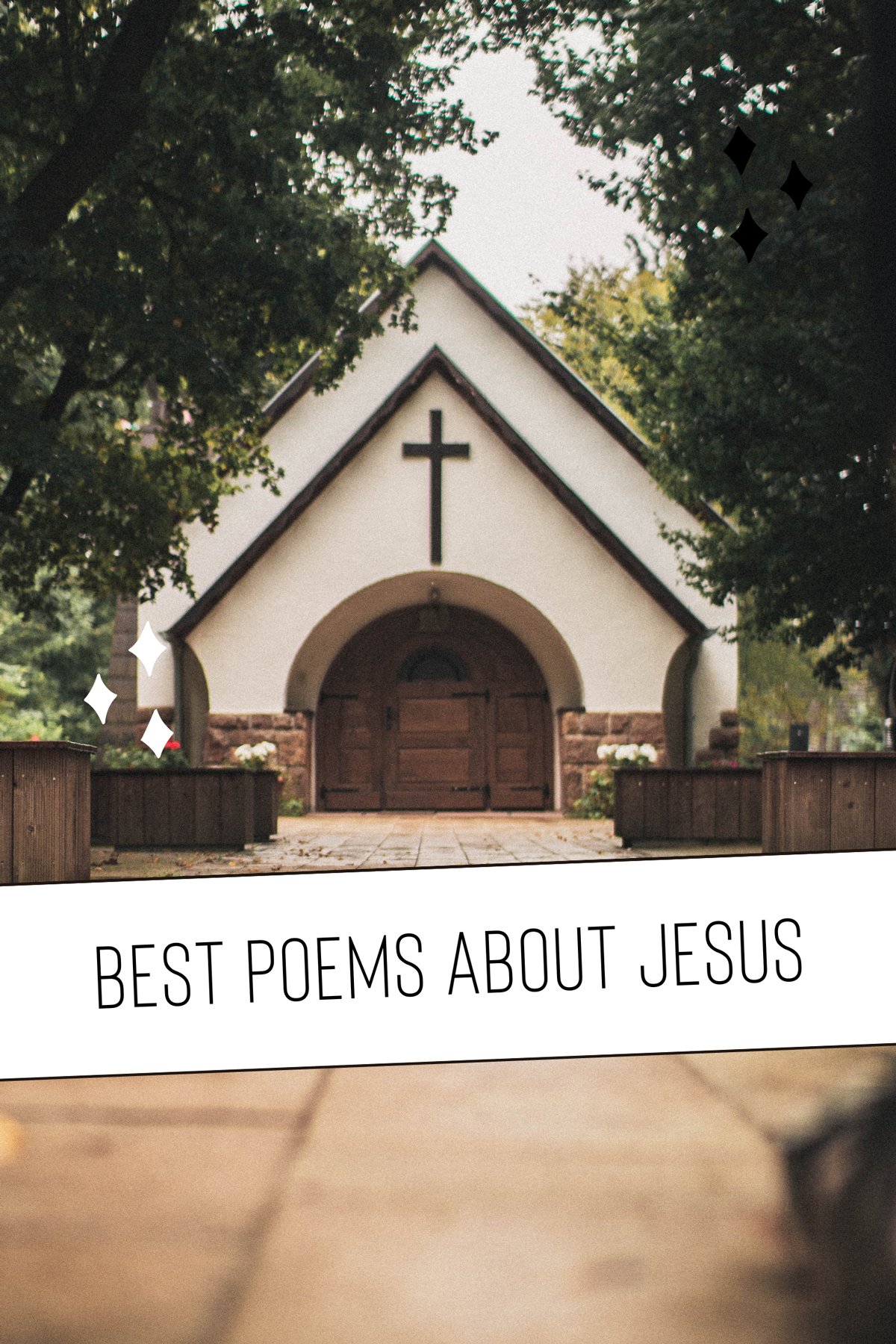 Short Poems About Jesus
These short poems about Jesus are perfect for when you need a quick dose of inspiration or comfort. They are easy to remember and can be shared with others in a moment's notice. We hope they will bless you and help you to keep your eyes on Jesus, the light of the world.
14. Light of the World
You are the Light of the world, Jesus,
Shining in all who believe;
Bringing hope to the hopeless,
And peace to hearts in pain.
—Helen Steiner Rice
15. We Plow the Fields
We plow the fields and scatter
The good seed on the land,
But it is fed and watered
By God's almighty hand.
—John Greenleaf Whittier
16. The Lord is My Shepherd – Psalm 23
The Lord is my shepherd, I shall not want;
He makes me lie down in green pastures.
He leads me beside still waters.
He restores my soul.
He leads me in paths of righteousness for his name's sake.
17. My Jesus, I Love Thee 
My Jesus, I love Thee, I know Thou art mine;
For Thee all the follies of sin I resign.
My gracious Redeemer, my Savior divine!
—William R. Featherstone
18. O for a Thousand Tongues to Sing
O for a thousand tongues to sing
My great Redeemer's praise,
The glories of my God and King,
The triumphs of His grace!
—Charles Wesley
19. Blessed Assurance 
Blessed assurance, Jesus is mine!
Oh, what a foretaste of glory divine!
Heir of salvation, purchase of God,
Born of His Spirit, washed in His blood.
—Fanny Crosby
More Poems You'll Love
23 Poems About Confidence

If there's one thing you need to play soccer, or any sport, it's confidence. Without a wealth of confidence in yourself, in your abilities, and in your team's abilities, you won't get anywhere. Read these inspirational poems about confidence to boost your spirit and remind yourself that you are a winner!

23 Incredible Rumi Poems

Rumi is one of the most influential writers and poets of all time. His poems, dating back to the 13th century, are still widely circulated today. He writes poignantly about love and the deepest human emotions, and readers find solace in their ability to relate to his words. 

11 Fun Video Game Poems

Are you a video game lover? If you are, you will also love these awesome poems about video games. We've compiled some of the most innovative, fun, interesting video games poetry in this article.