Inside : 17 touching black love poems, including black love poems for her and black love poems for him. 
It has been said that poetry is the language of love. For centuries, people have taken to poetry to express their innermost feelings and thoughts, and to create amazing art out of these complex and poignant emotions.
Love poems are steeped in passion, lust, appreciation, and romance.
These black love poems portray themes of love, but also the deep cultural connection within the African American community that adds a nuanced layer of intimacy to a romantic relationship. Sharing black love poems with your partner is a wonderful way to show them how much they truly mean to you and to make them feel seen, appreciated, and cared for.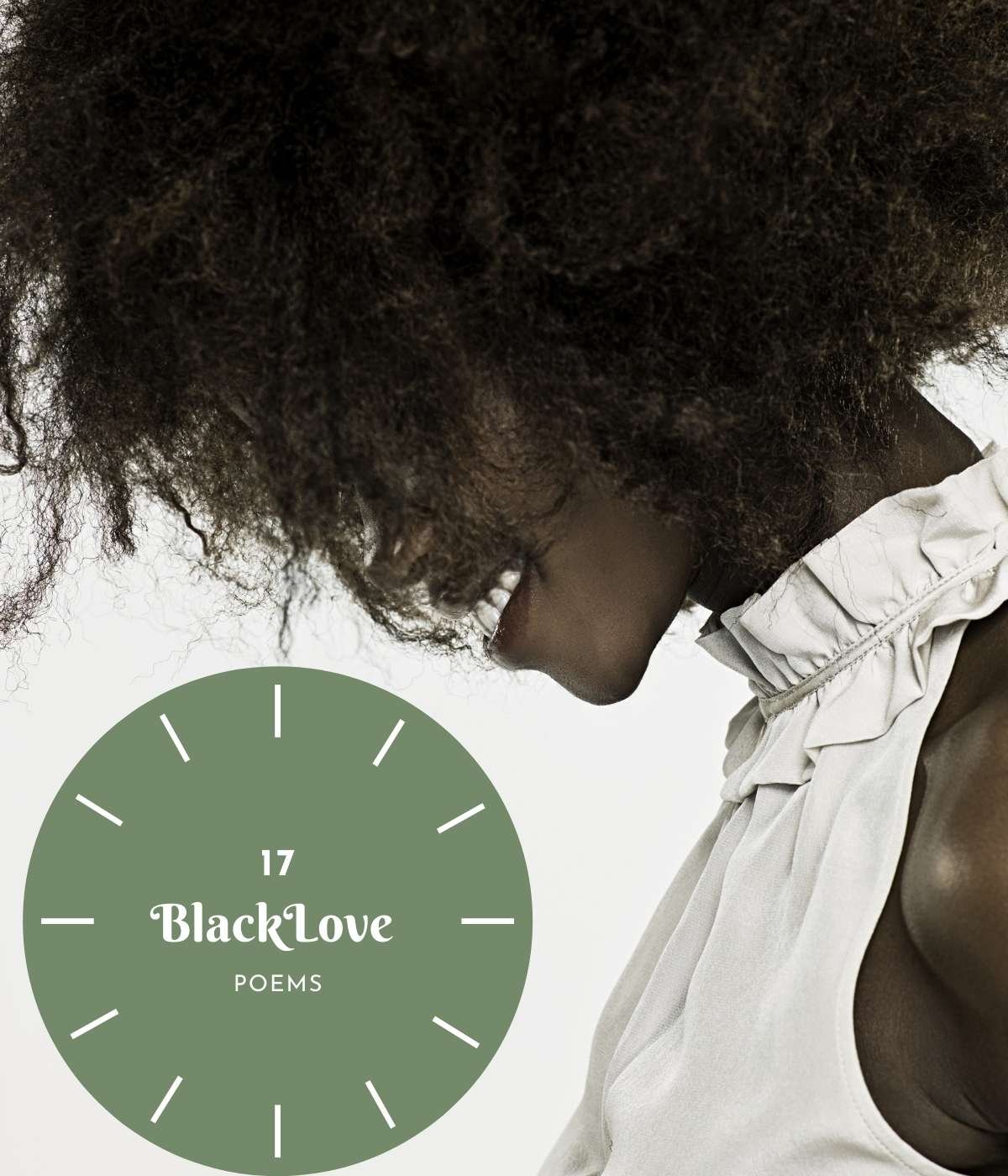 Black Love Poems for Her
Black love activism is about unity, togetherness, and empowerment. These black love poems for her serve dual purposes. There are romantic pieces that can portray to a woman how important she is to you and how much you love her. Additionally, there are black love poems for her that are meant to be a source of empowerment and admiration for the strength and beauty of a black woman.
1. Woman of Worth by Nuria Groll. This empowering piece is about seeing yourself as a force of strength and capability.
2. Phenomenal Women by Maya Angelou. Perhaps one of the most legendary activists in terms of feminism and equality, Maya Angelou's poems beautifully embody the strength and intricacies that come with being a woman.
3. And I Have You by Nikki Giovanni. This touching love poem is simple, sweet, and romantic.
4. Melanin Monroe by Hannah Jones. This black love poem for her is all about celebrating these unique and beautiful qualities.
5. A Negro Love Song by Paul Laurence Dunbar. A creative piece with a deeply unique voice, that of Mr. Dunbar, an incredibly influential writer of the late 1800s.
6. True Beauty by Segovia Amil
7. The Black Woman by Lorraine Freeman
8. "My Black is Beautiful
From the color of my skin, to the texture of my hair, to the length of my strands, to the breadth of my smile,
To the stride of my gait, to the span of my arms, to the depth of my bosom, to the curve of my
hips, to the glow of my skin,
My Black is Beautiful.
It cannot be denied. It will not be contained. And only I will define it.
For when I look in my mirror, my very soul cries out,
My Black is Beautiful.
And so today, I speak it out loud, unabashedly, I declare it anew,
My Black is Beautiful.
Whether celebrated, imitated, exploited or denigrated. Whether natural from inside or
skillfully applied,
My Black is Beautiful.
To my daughters, my sisters, my nieces, my cousins, my colleagues and my friends,
I speak for us all when I say again,
My Black is Beautiful." Andria Thompson
9. "In the flush of love's light
we dare be brave
and suddenly we see
that love costs all we are
and will ever be.
Yet it is only love which sets us free" –Maya Angelou
10. "The highway is full of big cars going nowhere fast
And folks is smoking anything that'll burn
Some people wrap their lives around a cocktail glass
And you sit wondering
where you're going to turn.
I got it.
Come. And be my baby.
Some prophets say the world is gonna end tomorrow
But others say we've got a week or two
The paper is full of every kind of blooming horror
And you sit wondering
what you're gonna do.
I got it.
Come. And be my baby." Maya Angelou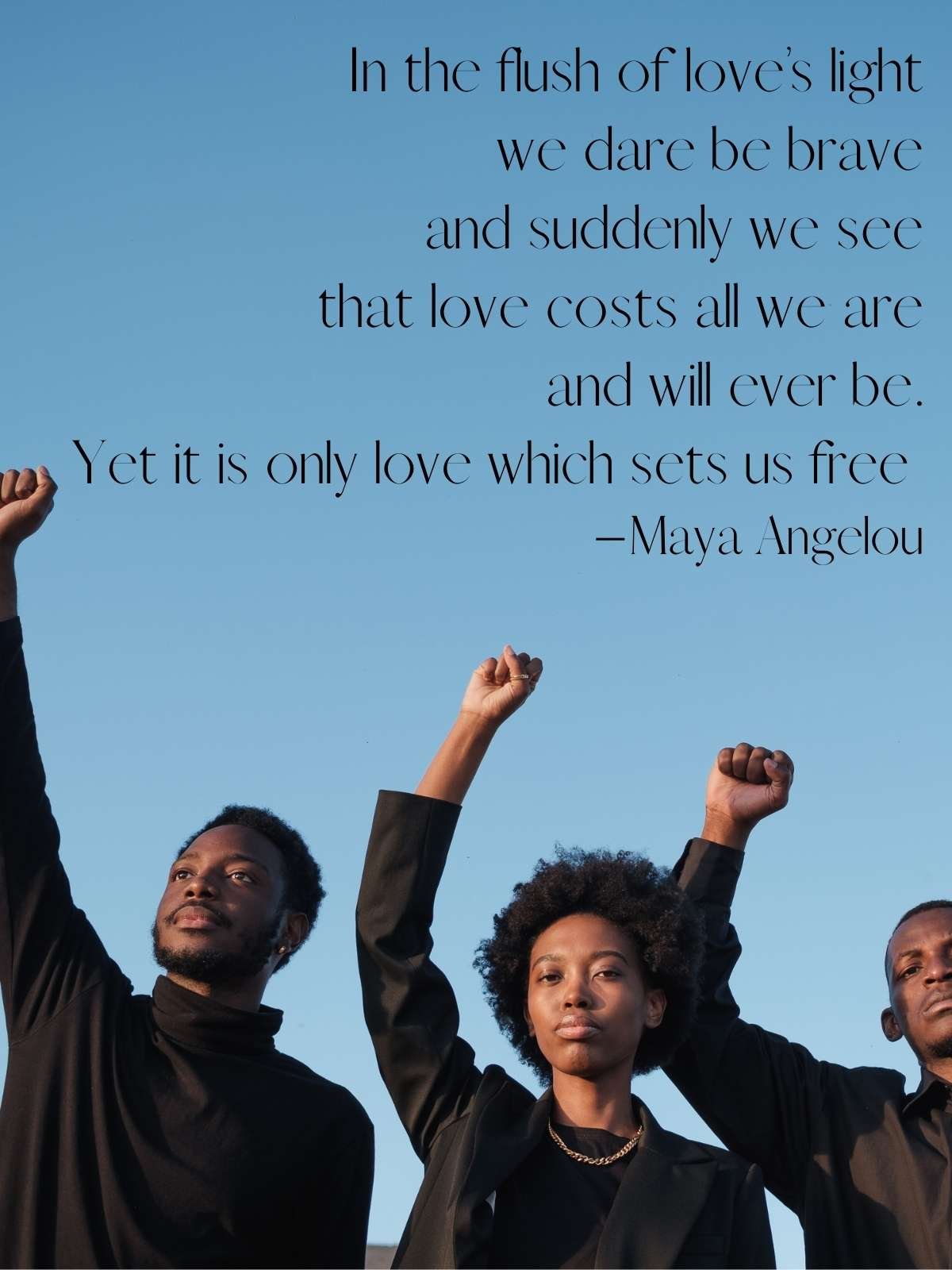 Black Love Poems for Him
It can be difficult to try showing a man how much he means to you. There are only so many gifts to be bought and words to be said. Sometimes, a beautifully written poem is the best way to give such strong emotions meaning. These black love poems for him help convey the significance that your special someone has in your life. Moreover, some are written by famous African American activists and are a celebration of black love and life.
11. Heartbeats by  Melvin Dixon. A pioneer in LGBTQ writing, Mr. Dixon is also an important figure in black history, and this touching poem proves why.
12. Alternative Names for Black Boys by Danez Smith.
13. I, Too by Langston Hughes.
14. Canary by Rita Dove.
15. "My black bleeds the same color red
My black breaths the same air
My black causes death instead
Of life.
My black should live loud and free
My black is me.
My black loves you
My black loves are true.
My black served the same country
Pride.
My black is set aside
Like last nights trash
Yet I ask, does your color
Mean right, and my black
Mean wrong?
What a sad black song." –Sona Wilae
16. "African
Violet
I see you in the wind
Subtle, beautiful
The sun captures you,
from bloom to stem
Your dark attraction is intoxicating
Various shades you are,
Blue-violet, fuschia and pink
My favorite
The wind teases your petals,
Your color is rich,
Deep
Your petals are your crown
Where did you come from?
Usam Basa mountains of Kenya or Tanzania?
What do they call you?
They call you "Blue Boy", but I like
"Pink Beauty"
I pluck you, and touch your petals…softly
Teasing the rim ever so gently
Let me plant you in my garden
Let my water flow around you,
In you, to nurture you" Miguel Edwards
17.  "I have a loving black beloved,
His heart is full of reddish love.
When we silently walk side by side;
When one stealthily touches another;
A hasty wave reaches into the high.
When we sit together with full of shy;
When those bright eyes look on mines;
An odd wave swims on the flat rimes.
When he holds my shivering fingers;
His warm touch creates a silent fire–
In my body! In my mind!
When he comes a bit more closer–
I feel a sure earthquake in my heart–
But!!! All stops abruptly…
When those lips' pair kisses on mines.
I have a loving black beloved,
His heart is full of reddish love." Asma Hosna
More Poems You'll Love
Reading and sharing poetry is a cathartic experience for most people. Poems tend to capture emotions and evoke feelings that we otherwise might find hard to tap into.
23 Poems About Confidence. Confidence does not come naturally to anyone, even if it may seem like it. Even the most confident people have moments of insecurity or uncertainty about themselves. These uplifting works about fostering confidence will boost your mood and help remind you of your worth!
23 Incredible Rumi Poems. Persian poet Rumi has earned renown for the way that his deeply intimate works of writing have infiltrated literature and pop culture for many centuries. Read these poems about the complexities of love and life to see why Rumi has always been so loved by readers.
53 Amazing Sister Poems. There is nothing quite like the bond shared between siblings, especially the one between sisters. These pieces about sisterly love are sure to warm your heart and make you want to reach out to your favorite sister.