Inside: Fun and creative video game poems
Video games have become a staple diversion for both young and old. The interactive storylines and immersive worlds that keep us glued to our screens have also inspired many artists, writers, poets, and musicians who see gaming not just as a form of entertainment but as a phenomenon worth exploring in its own right.
We've compiled some of the most innovative, fun, interesting video games poetry in this article. Below, you will find poems from poet laureate Kenn Nesbitt, old and new pieces, and a poem from Reb Day, whose monologues while playing GTA were transformed by her roommate into viral Rupi Kaur-style poems!
After reading these video game poems, you will surely want to start thinking differently about your favorite video game. You might even want to write a poem of your own.
Just a reminder: we've included a poem on video game addiction, so make sure to play in moderation!
Funny Poems About Video Games
These poems about video games are for the gamers among us. For those who can identify with what it's like to lose yourself in an online game, or for those who enjoy the daily struggle of trying to keep up with their games backlog, these funny poems about video games are just what you need.
"They're under my bed
in a battered old box.
They're tossed in the closet
with Legos and blocks.
They're stuffed in a drawer
with my undies and socks.
They're thrown around every which way.
It's kind of a problem.
It's sort of a shame.
It's clearly my fault.
No one else is to blame.
The game I can't locate
is always the same…
it's the one that I'm wanting to play."
―Kenn Nesbitt
2. Video Games
"I wish there was a video game
that let me clean me room
with shiny mops and old dust pans
and dreary, deathly doom.
I want explosive mess-be-gones,
robotic cleaning whales.
They all know how to save the Earth
and vacuum with their tales.
But since there aren't aliens
who've learned to make my bed
I guess I'll have to just sit here
and play my games instead!"
―Steve Hanson
3. Video Games
"If it wasn't for them, I'd go ballistic
I'd just have memory cards with nothing in them
My mouse is screaming from constant abuse
But if it wasn't for video games, what's the use?
I think I need to get some rest
It probably is for the very best
But no matter what I do, or what I say
Please don't take my games away!"
―Avrii Monrielle
4. I Got a New Game for my Brother
"I got a new game for my brother.
My mom and my dad got upset.
They said, "You should never do something
that, later, you'll come to regret.
I nodded and told them, "I'm sorry,"
then sat back and smiled as I played.
I got a new game for my brother,
and that was an excellent trade.
―Kenn Nesbitt
5. Don't Make Me Sleep
These blinking lights
My winking eyes
Whew, I'm fast losing lives
But isn't these the best of times?
With this small screen,
And a pint of ice cream,
I can't and won't feel the heat.
―Joana Bagano
Creative Video Games Poetry
In the poems below, artists show how video games can be much more than just games. Some share exactly why, and some demonstrate that games do stimulate and inspire creative thinking while building a competitive spirit.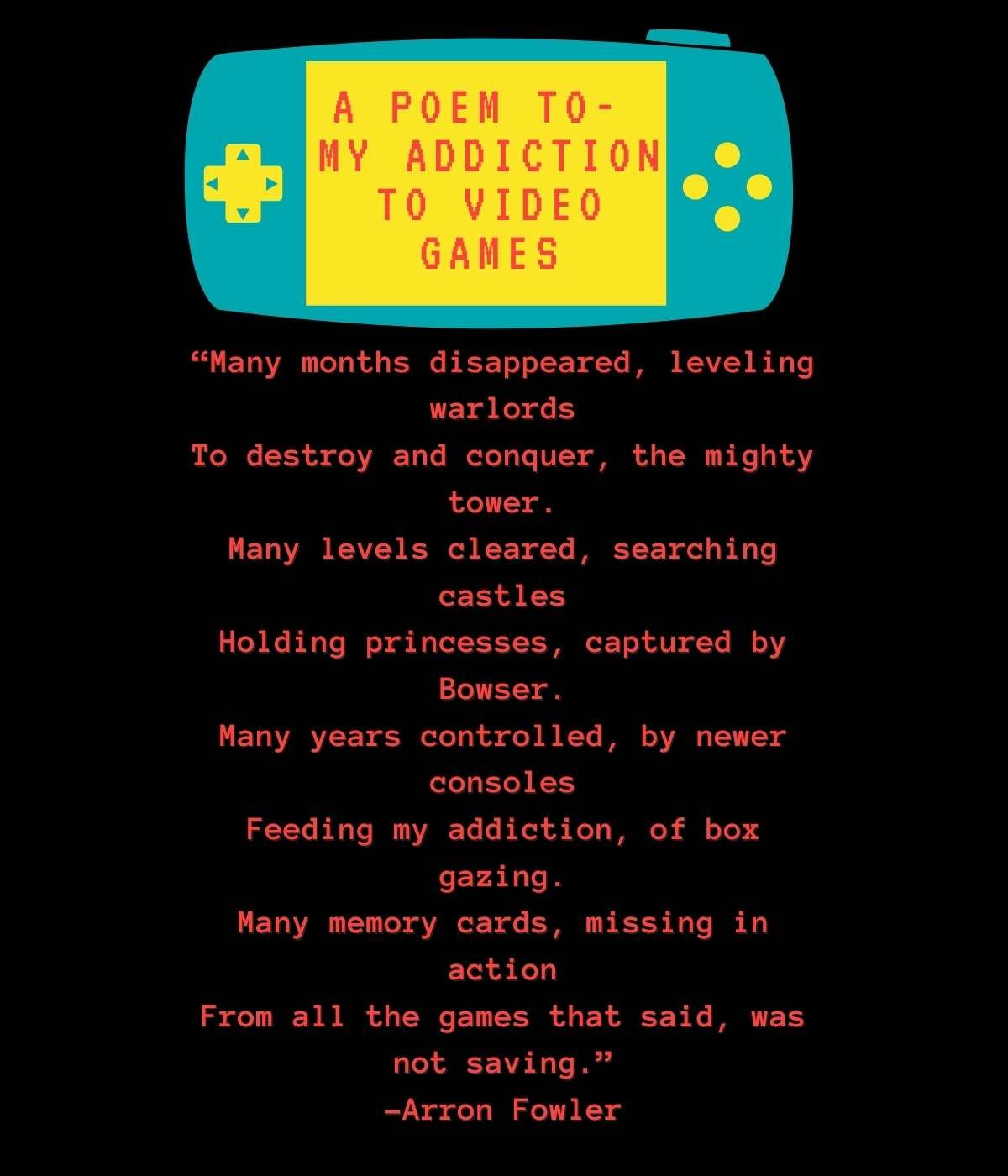 6. Game
"You complete my Final Fantasy.
Your Golden eyes are intoxicating, your voice a sweet Ocarina song,
a Halo enveloping your hair.
Before you, I was a Resident in the world of Evil
With you? My Soul is of the highest Caliber
You are my D.S.
My Darling Sweetheart
I keep you in my pocket, close to my heart.
Mario is red, Sonic is blue.
Why don't you hit select and be my player two."
―Chris Bussey
"They say that video games are a waste of time.
They act as if they are a crime.
They say that they will rot your brain,
That three hours a day is insane.
I say that nonsense isn't true.
How can they be bad for you?
The strategy they overlook.
The values which they mistook.
They say there is no variety—
Racing, Platform, Society.
Have they played them? Usually not.
Yet they're fast to judge the lot.
They think all games are blood and gore,
That killing civilians racks up the score.
Sure for some games that might be true,
But the majority of video games are good for you."
―Ryan Smith
"If I win or lose, it doesn't matter,
Just look at who got the high score.
My skills keep on getting better,
You can't break me, I'm hardcore.
We all strive to be the very best,
We all know there is an end,
We all try to eliminate the rest,
We all still have fun, making new friends."
―Jordan Kurniawan
9. A Poem To – My Addiction for Video Games
"Many months disappeared, leveling warlords
To destroy and conquer, the mighty tower.
Many levels cleared, searching castles
Holding princesses, captured by Bowser.
Many years controlled, by newer consoles
Feeding my addiction, of box gazing.
Many memory cards, missing in action
From all the games that said, was not saving."
―Arron Fowler
10. Let's Do Some Wiggily Wammilies
"I don't want
to race―
sometimes,
it's just nice
to take life slowly
and enjoy
the view."
―Reb Day
"Once you have beaten the Man in Black Robes
and obtained the banana, pass through the Woods
and enter the Prison, under which lies the Demon Stronghold.
The demons are vulnerable only to the banana.
You will now be in a blue room (aren't you glad
you brought that key?) with the Demon Master.
He can be defeated with persistence. You will know
you have damaged him when his color flashes from red
to a lighter red—an almost imperceptible change."
―James Davis
More Poems You'll Love
Poetry has been around for so long and has been written by almost everyone at one point in their lives. It's difficult not to find a poem about what you're feeling today or a topic you want to read about. Below, we share more poems about other topics you might be interested in:
23 Incredible Rumi Poems. Rumi has published over 6,000 poems, amongst other works. His ideas about life unite humans as a species, and highlight how, though our lives are different, we all experience the same emotions, including joy, pain, love, and longing. Take a look at these 23 Rumi poems for some inspiration and much-needed reflection!
23 Poems About Confidence. Reading poems about confidence that describes struggles and overcoming difficulties can be inspiring and encouraging. We often find strength in ourselves when we read about strength in others. If you need a little pick-me-upper, we highly recommend these poems!
53+ Amazing Sister Poems. Since they have been in our lives forever, we sometimes forget to tell our sisters how important they are to us. If you are looking for "poems for my sister," this list of happy and funny sister poems will help portray that love and bond that only you two can understand.