Inside: Very sweet candy poems to give and share with sugar loving friends. 
Is there a food more universally loved than candy? I mean, we even have a whole holiday dedicated to dressing up in costumes and going door to door to get more candy! From creamy chocolate to sour gummies, there is a candy flavor for everyone. My personal favorite type of candy is chewy candy, but there are some days when only chocolate will suffice.
If you're also a candy lover, these 21 Short & Sweet Candy Poems are just for you! We hope you enjoy these delectable poems about candy.
5 Candy Poems
1."Who can take a sunrise, sprinkle it with dew
Cover it in chocolate and a miracle or two
The candy man, the candy man can
The candy man can 'cause he mixes it with love
And makes the world taste good
Who can take a rainbow, wrap it in a sigh
Soak it in the sun and make a strawberry–lemon pie
The candy man?
The candy man, the candy man can
The candy man can 'cause he mixes it with love
And makes the world taste good
Willy Wonka makes everything he bakes
Satisfying and delicious
Talk about your childhood wishes
You can even eat the dishes
Who can take tomorrow, dip it in a dream
Separate the sorrow and collect up all the cream
The candy man, Willy Wonka can, the candy man can
The candy man can 'cause he mixes it with love
And makes the world taste good
And the world tastes good'
Cause the candy man thinks it should"
-Roald Dahl
2. You, Me, and Candy
"Love is the essence.
Your presence is flavor.
I'll savor you "Now and Later."
Your sweetness is one,
of many candies,
not just good night pillow mint "Andes."
I'm a "sucker" for you,
like an "Everlasting Gobstopper," forever true.
Even if there's "Mounds" on the "Rocky Road,"
we'll "Crunch" it out and keep our oath.
You gave me a "Ring Pop" and I said, "I do."
You're forever my "Sweettart" and I love you."
-Juliet Ligon
3. "I picked up a lovely sweet treat
Unwrapped it, was ready to eat
Much to my chagrin
A grub was within
I chucked it and stamped with my feet"
-Michelle Faulkner
"Willy Wonka sang the cheeriest of songs
to every child he did see.
For what other adult could eat candy all day long
and not get a single cavity?"
-Timothy Hicks
4. "My scrumptious baby girl's
half-awake, half asleep.
And her toffee yawns are
sweet as caramel cream.
Her cotton candy cheeks
glow like pink marshmallows.
And dark chocolate curls
adorn her pretty head.
She sports blueberry eyes
and red licorice lips.
And her creamy face hosts
a million-dollar smile.
A confectionery
treat, she is delicious.
And gives sugared kisses
that taste ever so sweet."
-Emile Pinet
5. "Sweet Tooth
She always asks for candy,
When we ask what she wants for her Day,
Or on Christmas she asks for pralines,
That come from far away.
She never asks for diamonds,
Nor an eco friendly mink;
Only some kind of truffles,
Or a gooey chocolate drink.
Jelly beans by the handfuls,
She keeps at her kitchen door,
I'll want that candy dish in her will,
Just in case it fills some more.
We all just call her Sweet Tooth,
She never puts on any pounds,
If she did, we'd love her just the same,
For GrandMother is sweet as it sounds."
-Sunlite Wanter
Sweet Poems for Candy Lovers
6. Ode to a Candy Cane
Stripes of red on cane of white,
Oh, what a very pretty sight.
Nothing else is ever quite
As sweet as peppermint delight.
7. Sweet Carmel
The taste of homemade Carmel so sweet/ everyone I know desires the treat.
After one night in the kitchen covered/ half the pan gone, next morning discovered.
Is it my beagle Lily whom loves any food? / she seems in a hyper beagle mood.
I know I heard a squeak in the night / a dream ? No, for low was the kitchen light.
T'was my husband, for he can't resist/ soft , buttered brown sugar , a Vanilla twist.
-Shanity Rain
8. Candy, Candy, Candy
You've heard the expression many times
About a kid in the candy store
But there's a place I'll tell you about
That has every kind of candy and more.
The containers of candy go way back
To retro styles of such fun
Candy from your childhood too
You'll no doubt find every single one.
A soda fountain graces the store
Oh my, sure takes me back
Way back when I was a teenager
Yes sir, that's simply a fact.
Cherry red stools to sit upon
As you smile and make your choice
Of delicious enticing concoctions
You just plain want to rejoice.
So maybe someday you can be
As lucky as we were to see
A store that's filled with delicious
Candy, candy, candy!
-Marilyn Lott
9. Candy Candy Not So Good
Ouch my teeth hurt,
Candy candy not so good.
Candy candy stuck in my teeth!
Mm..
That lovely taste..
It's just so sweet! !
My mum always tells me 'candy candy not so good, it will hurt your teeth UNDERSTOOD! '
I want candy,
I want to eat,
I don't care what anyone says,
know that candy is the best.
Ouch! Ouch!
Mummy was right!
Because of candy I can't even bite.
Candy candy not so good,
Just remember to brush your teeth because..
Candy candy is not so good..
For your teeth.
-Aisha Alansari
10. Butterscotch
Butterscotch for me
The best as you will see
So brown and sweet
A masterful treat
With flavor flowing free
-Andy Chunn
11. She Had Only One Tooth
And then she had only one tooth
The rest had decayed, that's the truth
Too much Christmas candy
No dentist was handy
She lived all alone in Duluth
Of dentists, she was not a fan
Guess that's why she can't find a man
One tooth has its perks
Just watch how it works
When she needs to open a can!
-Mark Gentile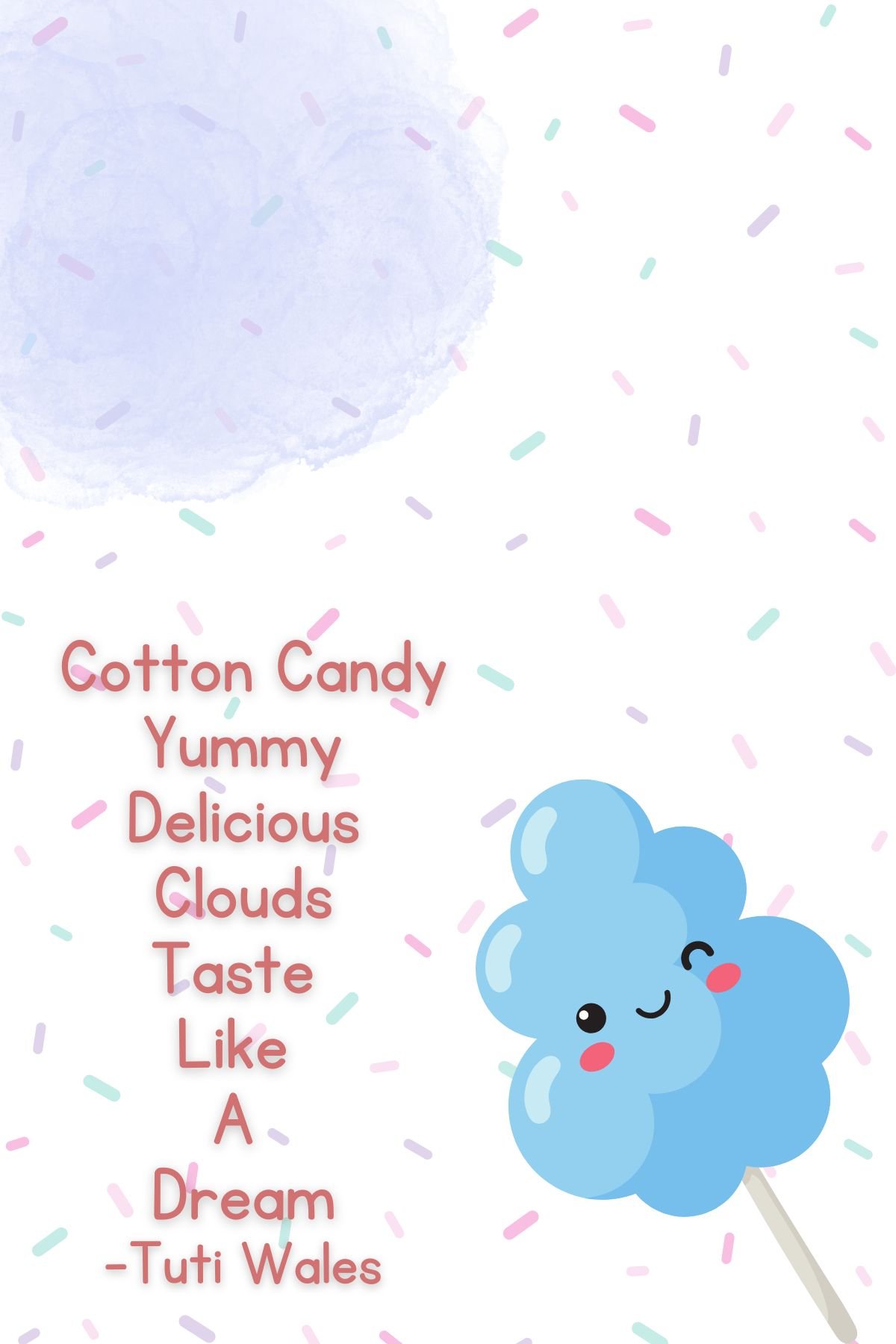 11. Cotton Candy
Yummy
Delicious
Clouds
Taste
Like
A
Dream
-Tuti Wales
12. Candy moon
Peppermint moon
floats through
cotton candy clouds…
-Valerie Bellefleur
Haikus about Candy
13. moving clouds, puffy
gold rose dawn fills waking skies
summer's honeyed days
-Evelyn Judy Buehler
14. as heat gains its peak
gilt clouds, noon butterscotch sky
lemon meringue pie
-Evelyn Judy Buehler
15. chocolate sunset
cocoa with soft marshmallows
so frothy and light
-Evelyn Judy Buehler
16. morning, noon and night
fluffy clouds slowly drift by
colorful summer
-Evelyn Judy Buehler
17. Your wonderful love
Pretty flowers, candy, cards
Filled with your kisses
-Paula Goldsmith
18. the bowl of candy
the slow setting sun outside
i lean back & smile
-Rick Davis
Delicious Chocolatey Poems
19. Death by Chocolate
Sandy was a chocoholic,
The worst I've ever seen!
If she didn't eat some daily,
She'd become crazy mean!
It didn't matter what kind it was,
Ice cream, cake, pie or candy,
As long as it was chocolate,
Sandy was fine and dandy!
Then one day the unthinkable happened,
To the chocolate-loving miss,
While eating her favorite candy,
She choked on a chocolate kiss!
"Death by chocolate," the coroner concluded,
As to the cause of Sandy's death.
At least she died doing what she loved,
Eating chocolate til her last breath.
-Kim Merryman
20. Chocolate
Velvet fruit, exquisite square
I hold up to sniff
between finger and thumb –
how you numb me
with your rich attentions!
If I don't eat you quickly,
you'll melt in my palm.
Pleasure seeker, if i let you
you'd liquefy everywhere.
Knotted smoke, dark punch
of earth and night and leaf,
for a taste of you
any woman would gladly
crumble to ruin.
Enough chatter: I am ready
to fall in love!
-Rita Dove
21. Beautiful Chocolate
The
taste of
chocolate;
coco heaven;
Joy!
-M.L. Kiser