Inside: The Juiciest Peach Poems 
Peaches. They remind us of summer, of warm days spent outside, and of sticky fingers. They bring us back to grandma's kitchen, or to that roadside stand where we first tasted a fresh peach.
And they make for some pretty great poetry too! Because we associate peaches with happiness and nostalgia, poets have long used the fruit as a metaphor for love, desire, and life itself.
The poems below explore everything from the taste of a peach to the peach-colored sky at sunset. So sit back, enjoy a peach, and let these poems transport you to summertime bliss!
Descriptive Peach Poems
What better way to enjoy poetry than through vivid imagery? These poems capture the sights, smells, and tastes of peaches so perfectly, you'll feel like you're right there with the speaker.
1. From Blossoms
O, to take what we love inside,
to carry within us an orchard,
to eat not only the skin, but the shade,
not only the sugar, but the days,
to hold the fruit in our hands, adore it,
then bite into the round jubilance of peach.
—Li-Young Lee
2. Peaches
What English can do: ransack
the warmth that chuckles beneath
fuzzed surfaces, smooth velvet
richness, plashy juices. I beseech you, peach,
clench me into the sweetness
of your reaches.
—Peter Davison
3. Peaches—Six in a Tin Bowl, Sarajevo
And if peaches could
they would sleep
with their dimpled head
on the other's
each to each.
—Blanca Rodriguez
4. Wild Peaches
When the world turns completely upside down
You say we'll emigrate to the Eastern Shore
Aboard a river-boat from Baltimore;
We'll live among wild peach trees, miles from town,
You'll wear a coonskin cap, and I a gown
Homespun, dyed butternut's dark gold color.
Lost, like your lotus-eating ancestor,
We'll swim in milk and honey till we drown.
—Elinor Wylie
5. A Dish of Peaches in Russia
The bells of the chapel pullulate sounds at
Heart.  The peaches are large and round,
Ah! and red; and they have peach fuzz, ah!
They are full of juice and the skin is soft.
They are full of the colors of my village
And of fair weather, summer, dew, peace.
—Wallace Stevens
The blossom fall
With a light fragrance
On her tight grey hair;
And over the fields
Where the young green stirs
— Margaret Mackprang Mackay
7. A Stone is Hidden in the Peach
Deep in the soft, sweet-smelling fresh
Body of fruit a seed, a pit
Eternal in the delicate flesh
That cradles it.
—Marjorie Allen Seifert
Emotional Poems About Peaches
Feelings and fruits go hand-in-hand in these poems. From lighthearted to deep and introspective, these poems explore the emotional power of peaches.
'The cause, my children, I may say,
Was joy, and not dejection;
The peach, which made you all so gay,
Gave rise to this reflection:
'It's many a mother's lot to share,
Seven hungry children viewing,
A morsel of the coarsest fare,
As I this peach was doing.'
—Charles Lamb
9. Peach Farm
I'm thinking it's time to go back
to the peach farm or rather
the peach farm seems to be wanting me back
even though the work of picking, sorting,
the sticky perils and sudden swarms are done.
Okay, full disclosure, I've never
been on a peach farm, just glimpsed
from a car squat trees I assumed
were peach and knew a couple in school
who went off one summer, so they said,
to work on a peach farm.
—Dean Young
The peach was soft and fuzzy, bruise less and juicy, waiting to be tasted.
Yet no one would touch it.
Maybe it was because it was the last peach left in the ceramic fruit bowl.
Or maybe no one craved peaches anymore.
It sat in the sun for weeks, getting softer and changing its pale peach colour to a sandy burnt orange.
No one ate it or threw it away.
—Anna-Lynn
11. Peach Fizz
Does the tree
whole heartedly agree
without the need to preach
when to evict the peach.
Time to say goodbye
when the twig is dry.
—Cheryl Love
12. If I Ever Knew
Our peach tree lies unaccompanied,
and Spring-gardens will turn cold.
If I ever knew a night would come
where I stopped counting stars
in the jazzy sky so blue …
I would have stopped the time in yester's arms,
and whispered, I love you.
—Charmaine Chircop
More Peach Poems
We have our own peach-related anecdotes, and poets are no exception. These peach poems might encourage you to create your own creative peach poem.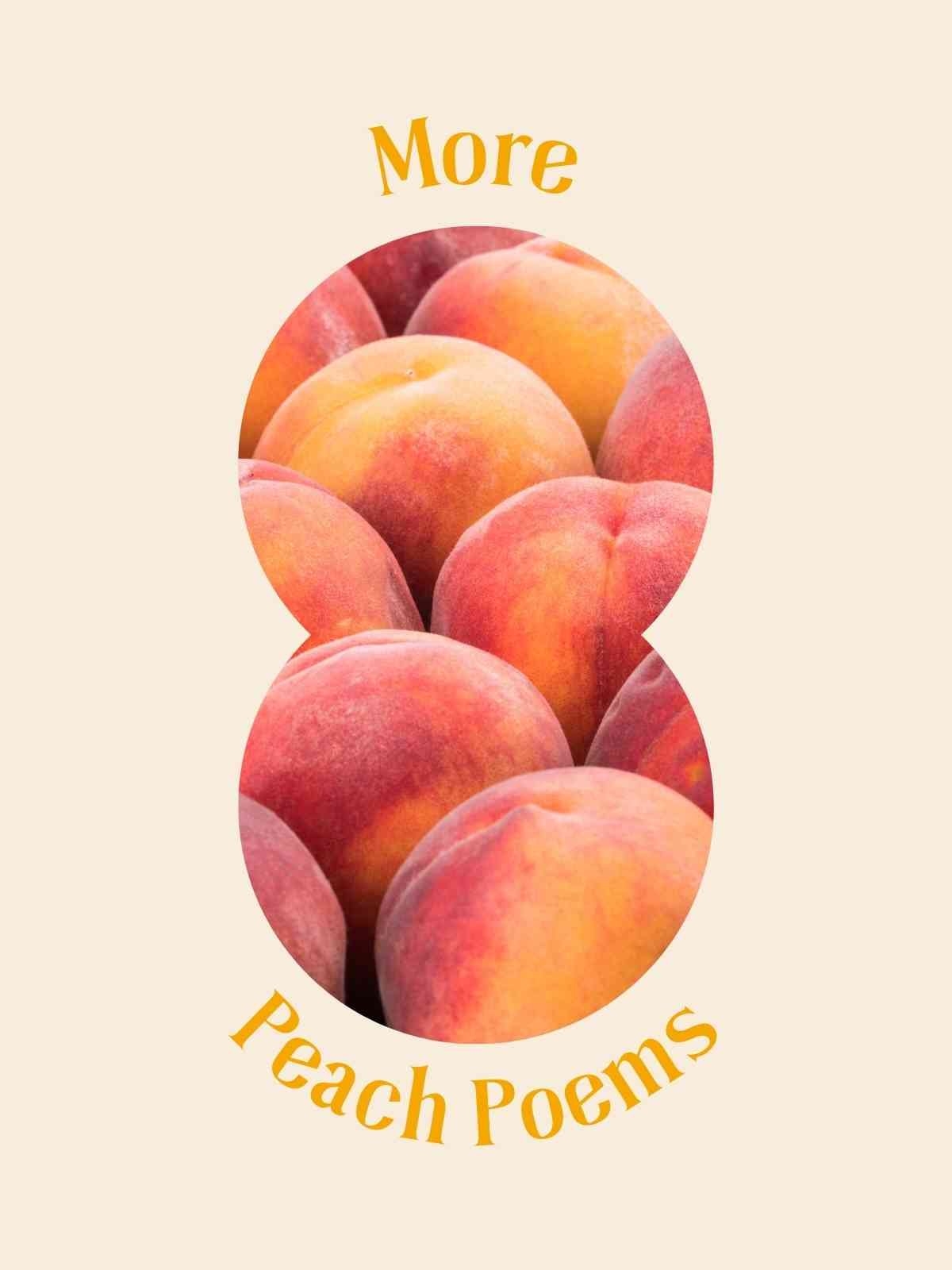 And…
Wanted so bad if asked,
What is missed more?
Someone missed,
To have not seen for years?
Or that taste to have again,
For a deep dish peach cobbler?
Had just a week ago.
—Lawrence S. Pertillar
A peach so special
That it ripens on the tree,
Ripens to perfection,
But you must consume it
Straight away.
It's never with us
Longer than two weeks,
But it's a treat
That you'll not want
To miss.
—Gary L. Misch
A fisher's boat chased the water into the coveted hills,
Both banks were covered in peach blossom at the ancient river crossing.
He knew not how far he sailed, gazing at the reddened trees,
He traveled to the end of the blue stream, seeing no man on the way.
Then finding a crack in the hillside, he squeezed through the deepest of caves,
And beyond the mountain, a vista opened of flat land all about!
—Wang Wei
16. Peach Salsa
Peach salsa
Is the quiet librarian of dips
Unassuming until the bun comes undone
And in the blink of an eye, she's a firecracker in bed.
—Sand
17. Prunus Persica
There's a pit in my stomach.
That must make me a peach.
My skin is so soft.
That must make me a peach.
I bruise.
That must make me a peach.
Sometimes I'm hard and bitter.
When you wait to see, I'm as sweet as can be.
That must make me a peach.
I must be a peach.
—Bekka Walker
I looked at it critically
Was it red enough, plump enough,
Will it be juicy still?
Will it live up to its promises?
Nobody wants a dry peach.
—Margit Appleton
19. The Little Peach
A little peach in the orchard grew,—
A little peach of emerald hue;
Warmed by the sun and wet by the dew,
It grew.
—Eugene Field
More Poems You'll Love
13 Mouth-Watering Pizza Poems – If you're already craving a slice, go ahead and order a box, but be careful not to get sauce on your computer!
21 Unique Poems About the Moon and Stars – As such, poetry about the moon and stars has been incredibly popular in literature and pop culture. As emotional beings, we have historically attached ourselves to these celestial objects, assigning them roles in our lives regarding luck, love, and fate.
27 Beautiful Aesthetic Poems – Some of the most popular poems are aesthetic poems that actually paint a vibrant image in the readers' minds. The reason that humans have flocked to poetry for centuries is because the most talented poets use their words to capture a unique feeling and put it down on paper in a way that makes us feel heard, seen, and connected.