Inside : 13 Creative Pregnancy Announcement Poems
There's probably nothing more exciting and nerve-wracking than finding out you're going to become a parent.
Whether it's your first time or your fifth, that moment when you see those two pink lines on the pregnancy test is unforgettable. And once the shock and joy have worn off (just a little), it's time to start thinking about how you want to tell your family and friends the news.
Some parents opt for a more traditional route, like a phone call or an email. But if you want to make an announcement that will really wow your loved ones, why not try one of these creative poems?
Below, you'll find 13 baby announcement poems that range from sweet and sentimental to funny and clever. No matter what your style, there's bound to be a poem here that will fit your needs.
Cute and Funny Pregnancy Announcement Poems
These pregnancy announcement poems are short and sweet, but they'll definitely get the message across. Personalize them with your own details to create a one-of-a-kind announcement.
1. Dr. Seuss Pregnancy Announcement
"What is this news?
Oh haven't you heard?
A New Copeland's coming
Around May 23rd!
So shout from the rooftops
For all that God's done!
Jonathan and Ashley are blessed
With a daughter or son!"
2. I'm Pregnant!
"My tummy's getting rounder,
My clothes are starting to fit tighter,
I can't keep anything down,
I'm tired all the time.
Yep, there's no doubt about it,
I'm pregnant, I'm knocked up,
I'm going to have a baby!"
3. Untitled
"We prayed for you,
With all our faith,
Then kept you a secret,
Until you were safe.
At twelve weeks,
I'm now ready to say,
We're expecting a baby,
Six months away."
4. Baby Reveal Poem
"What has ten fingers
And ten little toes,
Two sleepy eyes
And a cute button nose?
What has two feet,
And a belly to tickle,
And can cause a craving
For ice cream and pickles?
With just one more hint,
I'm sure you will see,
The answer to this riddle,
Begins with a B."
5. When Two Became Three
"There was once a girl
And that girl met a boy
They found living as two
Was a life full of joy
These two happy lovebirds
This couple, this pair
Were snug in their nest
But they thought it quite bare
So they cuddled up closer
Made room in their tree
And their joy overflowed
When two became three."
Baby Announcement Poems
Finding out you're pregnant is a life-changing event, and these poems capture all the emotions that come with it. Some of them can even inspire you to create your own!
6. Ultrasound
"Novel unbegun,
half-loaf rising,
lighthouse northward
and anchor south.
Lemon to grapefruit,
you sleep-step sidewise,
turnover, pop-up,
tongue in the mouth."
—Rachel Richardson
7. Song for Baby-O, Unborn
"Sweetheart
when you break thru
you'll find
a poet here
not quite what one would choose.
I won't promise
you'll never go hungry
or that you won't be sad
on this gutted
breaking
globe
but I can show you
baby
enough to love
to break your heart
forever."
—Diane Di Prima
8. Honey
"I dream I am guided
by an elderly couple in a dim farmhouse
to their morning radio and blackberry tea
and then given the combs which I snap
into my dry mouth where they fill and fill.
Never, upon awaking, have I been so empty
and wanted more a cracker.  Never so
suffused with the weekly, with time
as another god passing through the many perfect
crypts and ambers I house beneath my skin."
—Arielle Greenberg
9. Metaphors
"I'm a riddle in nine syllables,
An elephant, a ponderous house,
A melon strolling on two tendrils.
O red fruit, ivory, fine timbers!
This loaf's big with its yeasty rising.
Money's new-minted in this fat purse.
I'm a means, a stage, a cow in calf.
I've eaten a bag of green apples,
Boarded the train there's no getting off."
—Sylvia Plath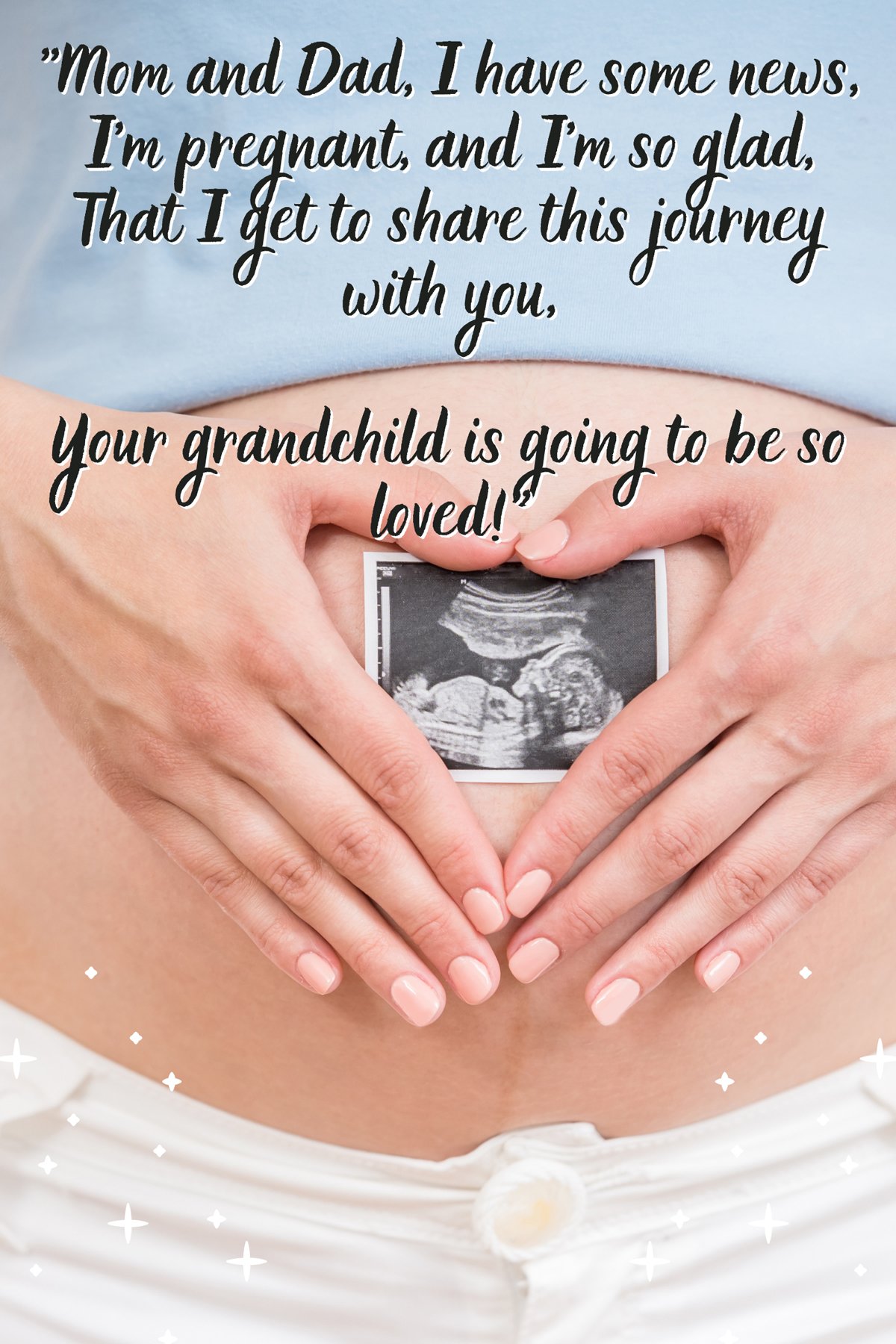 Adorable Pregnancy Poems for Grandparents
These pregnancy announcement poems are excellent for parents or grandparents. I'm sure you find at least one of these poems is the perfect way to do it.
10. For My Mom and Dad
"Mom and Dad, I have some news,
I'm pregnant, and I'm so glad,
That I get to share this journey with you,
Your grandchild is going to be so loved!"
11. Surprise!
"I'm only about 4 weeks
So this is a secret to keep
Let my bump grow
Then we will let people know
It could be pink or blue
It could be one or two
All we know is we are due
Here is your test
So put your mind at rest
We are one step closer
To our mini Greengrocer
Thank you for being around
We will know more at the ultrasound."
12. Announcement for Grandma
"We know it's kind of sudden
The news we sprung on you
There was no talk of plans
It kind of sprung up on us too
We may be far from perfect
And many will agree
But there's one more thing I'm sure of
It's our hearts have room for three
We'll take it day by day
The good the bad…the poo
We're ready for the challenge
We hope that you are too!"
13. Untitled
"One…two… Happy Mother's Day to you
Three…four…but we've got something more
Five…six…in our bag of tricks
Seven…eight…we know you can't wait…
Nine..ten…to be a GRANDMA again!"
14. For Grandma
"You're a rock, you're a hard place
you're the one I can always turn to
and I know that come what may
you'll be there for me, day after day
I'm so glad that you're my grandma
and I can't wait for you to meet your grandchild!"
More Poems You'll Love
27 Impactful Poems – Wolves are figures of strength, courage, and perseverance. At the same time, this majestic creature can represent loneliness, struggle, and desperation. The versatility of this beautiful animal and what it can represent is why it is used so regularly in works of art. When it comes to poetry, we often see these poems depicting a lone wolf separated from its pack, one bonding with a lost stranger, hunting its prey, or a human overpowering it. With wolves, we reflect upon our experiences, as well as our connection to nature and our place in the universe.
31 Beautiful Wildflower Poems – Wildflower season is the most beautiful season. Not only do these little flowers bloom all over, dotting sidewalks and lawns with their colorful petals, but it means that the warmth of spring and summer is upon us! These poems admire the beauty of wildflowers and use their short seasonal time with us to relate to both life and death. Indulge in some beautiful poems about these beautiful flowers!
23 Enchanting Disney Poems – Disney has taught us so many wonderful and necessary lessons over the years. Lessons revolving around family, friends, love, courage, and most importantly, never growing up! The magical poems included in this list are mostly well-known Disney songs, as all songs are poetry before they are put to music. The magic of Disney and the topics many of its songs and movies address have withstood the test of time and will continue to do so for decades to come.