Inside: Funny turkey poem ideas to share on turkey day.
Turkeys have become a staple icon in the month of November– as soon as the clock strikes midnight on Halloween, it's time for Christmas music and peppermint mochas. But the first thing up on the calendar of the holiday season is of course turkey day!
When you're getting together with family or friends, there are so many ways to use a fun little poem, so I wanted to collect some of the most fun ones and give them to you.
Whether you're planning to use them on little invitations for Thanksgiving or Friendsgiving, or print them out and place them on the table settings, I think there are too many cute ideas to pass up a little turkey poem.
Reading them to the kids while you wait for dinner, or reading them to a classroom of kids the day before the short break starts, they're sure to love them!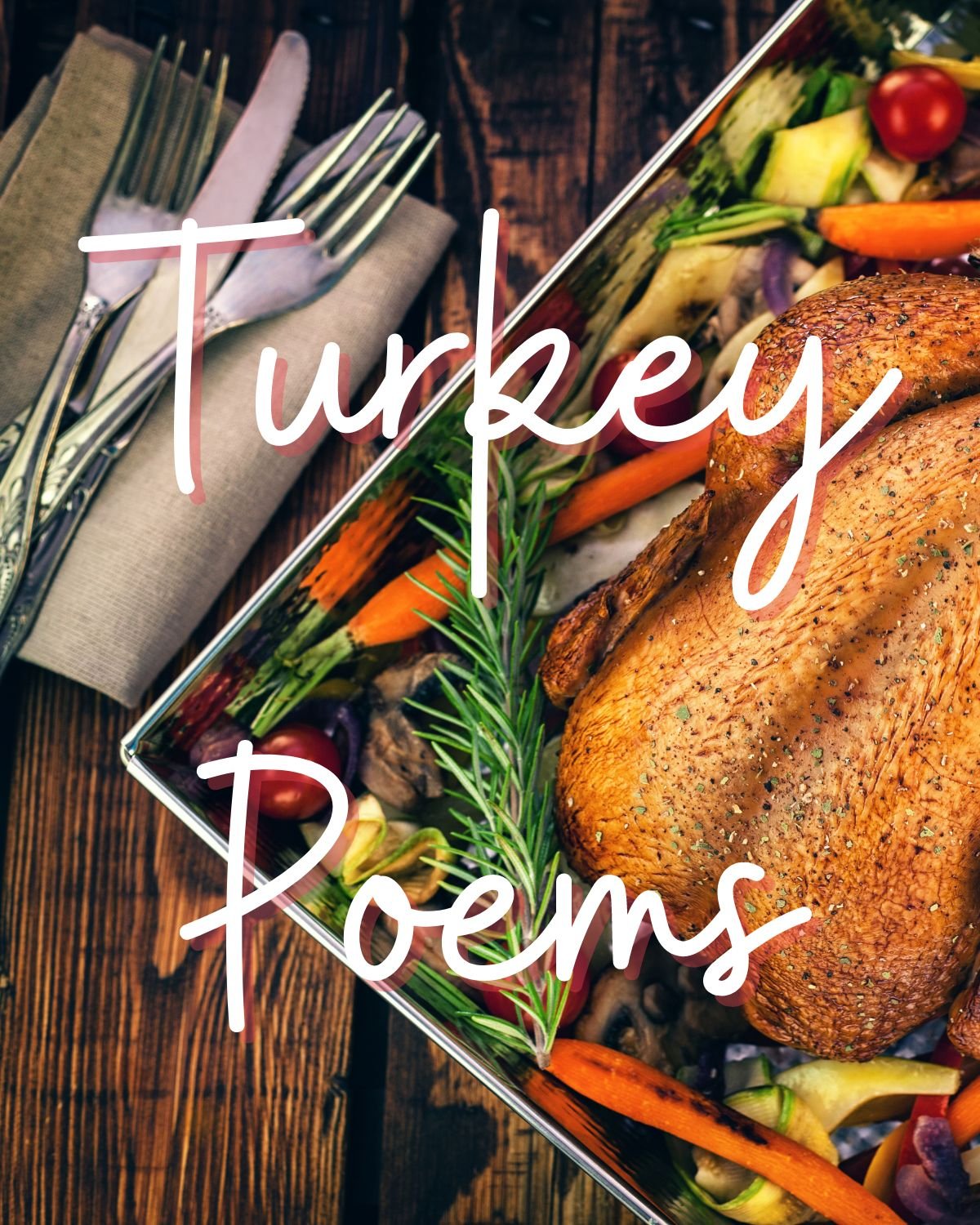 I love turkey imagery and iconography– it's such a random bird that we have chosen as American society to obsess over! Although it wasn't necessarily our pick, it was those that have come before us, it's still a little tradition that we will always adore.
The choice of eating solely turkeys as the main course was a very practical one, back during the days of the first Thanksgiving. It was the most bountiful game on the land back then, and it was the easiest one to have accessible for everyone in the community.
Now, because of this, they symbolize the prosperity of the harvest, and that's why we eat turkeys on Thanksgiving! To give thanks for the prosperity and welcome more wealth and success in the coming season.
Turkey Poem Ideas
These poems are sure to make everyone around the table smile!
They're cute, lighthearted, and remind us that family is everything. I'm personally crafting new ways to utilize poetry into my Thanksgiving plans, and hope that you do as well! Read up on your turkey poetry and have fun with it!
1. Wild Turkeys
When Ronnie's husband stepped out of the shower
She spotted bite marks on his buttocks
I was so listless
I wished the dog could talk
The room was frowsty. Then men
Were discussing the legacy of Wendell Willkie
Those little cupids of nostalgia
Fading into doubt…
All that fussing
Followed by a creamy silence—
Oh mother, my daughter said, you're so '80s
To winkle out meaning, I've given up,
I'm simply nosing through the thistle.
Prudish light of a candle
As night closes with a tail over water
A rufous backdrop of brush.
A clot of gardening tools
When Mrs. Mast took a photo in September
Of a cougar lounging beneath her clothesline
Everyone stopping strolling our lazy road.
Even Jack felt uncomfortable
Smoking a cigarette on the patio
Before retiring
By Robert Vandermolen
2. The Turkey And The Trimmings In Swift
I just saw a Turkey and an oven running down Main Street
The Turkey being the main treat
The oven determined not be a defeat
Trimmings revenge in retreat
The Turkey continues to run
Well the oven and trimmings are all out of breath from so much fun
But they don't know we are nowhere near done
The oven in a fiery turn
Done or not that Turkey is going to be a cooked urn
But according to a Main Street witness, they saw a Turkey running with a surprised look
Camera's were ready in took
So much for food for thought
Now what meat will be sought?
However, the Turkey is the tradition
I am on my own Turkey catching mission
After that bird!
You heard!
I caught that Turkey trying to escape
All I had to do was act like an ape
The Turkey is finally in the oven
It's 9:00 AM for the Macy's Thanksgiving Parade to start
Step away from the kitchen and make your mark
A day to give thanks, but on Thanksgiving, I refuse to serve franks.
By PreservationMan
3. Herky-Jerky
First the cornbread now the turkey
his movements seemed herky-jerky
stuff a bird
think absurd
sounds to me a bit quirky
By Linda Alice Fowler
4. Wild Turkey
Not the bottle
Not the burn on the lips
lit throat glow
Not even wild really
but a small-town bird
whose burgundy throat
shimmers like nothing ever
A huge bird impressive
who lurches and stalks me
window to window in this
desert retreat
What does he want?
Clearly he is lonely
pecks his reflection
and speaks to it in a low gubble
(not gobble) gubbles so tenderly
Soon as I think of him his eye hits on me
We have watched each other for days
His shifting colors fascinate me his territorial strut
But it is his bald and blue-red head
his old man habits and gait that move me
If I even think of him I taste whiskey
Drunk on solitude I'd talk to anybody
I try his language on my lips
His keen response burns like shame
By Heid E. Erdrich

Thanksgiving Poems
If you want to channel a little bit more thoughtful energy and remind us all why we celebrate the day (and that it's more than just great food), then use a poem about Thanksgiving! It may not be specifically turkey-centric, but it's a cute touch.
Check these out!
It is the Harvest Moon! On gilded vanes
And roofs of villages, on woodland crests
And their aerial neighborhoods of nests
Deserted, on the curtained window-panes
Of rooms where children sleep, on country lanes
And harvest-fields, its mystic splendor rests!
Gone are the birds that were our summer guests,
With the last sheaves return the laboring wains!
All things are symbols: the external shows
Of Nature have their image in the mind,
As flowers and fruits and falling of the leaves;
The song-birds leave us at the summer's close,
Only the empty nests are left behind,
And pipings of the quail among the sheaves.
By Henry Wadsworth Longfellow
I'm resting here quite regally,
The feature of the table.
Surrounded by potatoes that
I'd taste if I were able.
My subjects, scrubbed and beaming,
Circle round the royal platter.
They seem to be adoring me,
But something is the matter.
See me basking in the candlelight,
My skin so nicely tanned.
The reason for this treatment,
I do not understand.
While I'd love to peck that dish of corn
And gobble down a berry,
I find this jolly atmosphere
To be a trifle scary.
These human creatures were my friends.
They filled me up with bread,
But now I have suspicions that
They're cannibals instead!
By Jo McNally
Over the river, and through the wood,
To grandfather's house we go;
The horse knows the way
To carry the sleigh
Through the white and drifted snow.
Over the river, and through the wood—
Oh, how the wind does blow!
It stings the toes
And bites the nose
As over the ground we go.
Over the river, and through the wood,
To have a first-rate play.
Hear the bells ring
"Ting-a-ling-ding",
Hurrah for Thanksgiving Day!
Over the river, and through the wood
Trot fast, my dapple-gray!
Spring over the ground,
Like a hunting-hound!
For this is Thanksgiving Day.
Over the river, and through the wood,
And straight through the barn-yard gate.
We seem to go
Extremely slow,—
It is so hard to wait!
Over the river and through the wood—
Now grandmother's cap I spy!
Hurrah for the fun!
Is the pudding done?
Hurrah for the pumpkin-pie!
By Lydia Maria Child
Lord God, the winter has been sweet and brief
In this fair land;
For us the budded willow and the leaf,
The peaceful strand.
For us the silver nights and golden days,
The violet mist;
The pearly clouds pierced with vibrating rays
Of amethyst.
At evening, every wave of our blue sea
Hollowed to hold
A fragment of the sunset's mystery—
A fleck of gold.
The crimson haze is on the alder trees
In places lush;
Already sings with sweet and lyric ease
The western thrush.
Lord God, for some of us the days and years
Have bitter been;
For some of us the burden and the tears,
The gnawing sin.
For some of us, O God, the scanty store,
The failing bin;
For some of us the gray wolf at the door,
The red, within!
But to the hungry Thou hast given meat,
Hast clothed the cold;
And Thou hast given courage strong and sweet
To the sad and old.
And so we thank Thee, Thou most tender God,
For the leaf and flower;
For the tempered winds, and quickening, velvet sod,
And the gracious shower.
Yea, generous God, we thank Thee for this land
Where all are fed,
Where at the doors no freezing beggars stand,
Pleading for bread.
By Ella Higginson
9. This Sugar
When you ask me to split a dessert with you, I wince
because I don't like to share my restaurant food
and there is the matter of who pays for what.
If I don't order a drink and just have a salad,
always the person in the group who gobbled steak,
a glass of wine, and two appetizers says, Let's just split
the check equally! But you, you raise your eyebrows when
the waitress mentions a brambleberry tart and maybe
so do I. When she places the piping-hot pie dish
with two funnels of steam and two spoons, you look
at me and say: dig in. We have already tasted
from each other's lips when we've shared cold glasses
before. I'm fairly certain across this table across the slide
of the fork, even the knife we both use—this is how
thumbnail-sized coquina clams feel when they tumble
and toss into the shoreline from an impending storm—
how they gasp and slide their feet trying to brace
themselves, then thwap—another wave. And after
that tumble, the sunlight glows below you, and then
above you, where it should be, and I wipe my mouth
with the pink napkin and in the folds of that napkin
is a lipstick kiss where the kiss should be—never
between your neck and shoulder. Our mouths will press
only on this sugar, this glaze, and this caramelized topping.
By Aimee Nezhukumatathil

Animal Poetry: Turkeys
A classic topic of poetry is animals. Especially when it comes to kid's poetry!
Here are some that are specific to the turkey the animal, as we get ready to pull one out of the freezer to defrost for the big day. I love these turkey poem ideas!
These poems make them to be so cute and so oblivious, so it kind of feels twisted! But after all, tradition is tradition, right?
Valleys lay in sunny vapor,
And a radiance mild was shed
From each tree that like a taper
At a feast stood. Then we said,
"Our feast, too, shall soon be spread,
Of good Thanksgiving turkey."
And already still November
Drapes her snowy table here.
Fetch a log, then; coax the ember;
Fill your hearts with old-time cheer;
Heaven be thanked for one more year,
And our Thanksgiving turkey!
Welcome, brothers—all our party
Gathered in the homestead old!
Shake the snow off and with hearty
Hand-shakes drive away the cold;
Else your plate you'll hardly hold
Of good Thanksgiving turkey.
When the skies are sad and murky,
'Tis a cheerful thing to meet
Round this homely roast of turkey—
Pilgrims, pausing just to greet,
Then, with earnest grace, to eat
A new Thanksgiving turkey.
And the merry feast is freighted
With its meanings true and deep.
Those we've loved and those we've hated,
All, to-day, the rite will keep,
All, to-day, their dishes heap
With plump Thanksgiving turkey.
But how many hearts must tingle
Now with mournful memories!
In the festal wine shall mingle
Unseen tears, perhaps from eyes
That look beyond the board where lies
Our plain Thanksgiving turkey.
See around us, drawing nearer,
Those faint yearning shapes of air—
Friends than whom earth holds none dearer
No—alas! they are not there:
Have they, then, forgot to share
Our good Thanksgiving turkey?
Some have gone away and tarried
Strangely long by some strange wave;
Some have turned to foes; we carried
Some unto the pine-girt grave:
They'll come no more so joyous-brave
To take Thanksgiving turkey.
Nay, repine not. Let our laughter
Leap like firelight up again.
Soon we touch the wide Hereafter,
Snow-field yet untrod of men:
Shall we meet once more—and when?—
To eat Thanksgiving turkey.
By George Parsons Lathrop
Five little turkeys standing at the door,
One waddled off, and then there were four.
Four little turkeys sitting near a tree,
One waddled off, and then there were three.
Three little turkeys with nothing to do,
One waddled off, and then there were two.
Two little turkeys in the morning sun,
One waddled off, and then there was one.
One little turkey better run away,
For soon it will be Thanksgiving Day.
By DLTK's Site For Kids
12. Turkey Acrostic
Thank you for
Understanding. Thank you for
Remembering to be
Kind and help
Each other. That is why I thank
You for everything you do!
By Unknown
13. Five Fat Thanksgiving Turkeys
THE FARMER HAD BEEN BUSY
PICKING CORN LOAD AFTER LOAD,
HE SAID OUT LOUD ONE DAY TO FIVE TOM TURKEYS
PLEASE HELP YOURSELVES AND EAT ALL YOU CAN HOLD.
FIVE OLD TURKEYS ENTERED THE CORN FIELD
THEY WERE EATING LOTS OF GRAIN,
THEN ONE DAY THEY NOTICED
A LOT OF WEIGHT THEY HAD STARTED TO GAIN !
IT WAS LATE OCTOBER
THE LEAVES WERE BEGINNING TO TURN RED,
THE PUMPKINS WERE GOLDEN YELLOW
THE AXE WAS SHARPENED STANDING IN THE SHED.
ONE WISE OLD TURKEY
TURNED AND TO ANOTHER DID SAY,
WE BETTER SLOW DOWN ON ALL THIS GOBBLING
IT WILL SOON BE THANKSGIVING DAY.
NOW HEED MY WARNING
LISTEN TO WHAT I'VE JUST SAID,
UNLESS YOU LOSE A DOZEN POUNDS OR MORE
YOU JUST MIGHT LOSE YOUR HEAD !
THE FARMER WILL ROAST YOU
FILL YOUR REAR-END WITH CORNBREAD FLUFF,
ARRANGE SWEET 'TATORS AND CRANBERRIES
ON A PLATTER ALONG WITH OTHER STUFF.
SO THE TURKEYS QUIT EATING
WALKED AROUND – THEIR TUMMIES NO LONGER FAT AND ROUND,
THE OLD FARMER GOT WORRIED
WHEN THEIR WEIGHT BEGAN TO GO DOWN.
NO PLUMP TURKEY THERE WOULD BE TO EAT
THIS COMING THANKSGIVING DAY,
HE'D HAVE TO SETTLE PERHAPS FOR HAM
BUT AFTER EATING ALL THE ACORNS – THE PIGS HAD RUN AWAY !
ALL THAT GRAVY AND MASHED POTATOES
BAKED SWEET POTATO PIES – FRESH OUT OF THE OVEN,
CRANBERRY RELISH AND DEVIL EGGS
HOT FLAKY BISCUITS – HE'D PROBABLY EAT OVER A DOZEN !
BUT WITH THIS LATEST NEWS
NO FAT TURKEY TO SIT ON A PLATTER,
THE FARMER'S WIFE ANNOUNCED TO HIM DON'T WORRY
WE GOT PLENTY – THIS YEAR IT WILL NOT MATTER.
I HAVE A FEELING SHE REALLY DID NOT CARE
ALL THOSE LEFT-OVERS SHE WASN'T LOOKING FORWARD TOO,
TURKEY HASH, TURKEY SANDWICHES, TURKEY POT PIE
THEN A BIG KETTLE THREE DAYS LATER OF TURKEY STEW !
SO THE HOLIDAY CAME AND WENT
NO TURKEY GRACED THE THANKSGIVING TABLE,
THE FAMILY ATE AND ATE AND ATE
THEN GETTING UP FROM THEIR CHAIRS THEY WERE NOT ABLE !
FIVE TURKEYS HEADED BACK TO THE FIELD
BUT THEY SURE BETTER TRY TO REMEMBER,
TO LOSE ALL THAT EXTRA WEIGHT THEY MIGHT GAIN
THANKSGIVING TIME COMES AROUND AGAIN NEXT NOVEMBER.
By Adine Cathey

Turkey Hand Poem Ideas
Using poetry when teaching children about a holiday is a super fun element! When talking to preschoolers about Thanksgiving before they really know what the day is about can be fun. Make turkey handprint art like we always have in school, and use it to create poetry!
Here are some ideas.
I made this little turkey
so everyone can see
that I am very thankful
for the things you do for me!
By ColiesCreationsShop
15. Print
Today's a very special day
We're grinning ear to ear.
We welcome family near and far
And friends that we hold dear.
We share our favorites from plate to plate.
The stuffing's good, the turkey great.
And with our stomachs full we say
Have a happy Thanksgiving Day!
By ColiesCreationsShop
This isn't just a turkey,
As anyone can see.
I made with my hand,
Which is a part of me.
It's made with lots of love,
Especially to say,
I hope you have a very
Happy Thanksgiving Day.
By SimplyKinder.
17.Thanksgiving Handprint Poem
One little turkey
Made on my own
A little piece of me
For when I am grown.
By FunSensoryPlay
Funny Turkey Poem
While some of these can be silly and goofy, some of these can be really meaningful and thoughtful about the day of Thanks.
Not these though!
I love the idea of making the goofy uncles laugh and make the cousins start throwing around jokes with a funny turkey poem!
Take a turkey, stuff it fat,
Some of this and some of that.
Get some turnips, peel them well.
Cook a big squash in its shell.
Now potatoes, big and white,
Mash till they are soft and light.
Cranberries, so taste and sweet,
With the turkey we must eat.
Pickles-yes-and then, oh my!
For a dessert, a pumpkin pie.
Golden brown and spicy sweet.
What a fine Thanksgiving treat!
By Maude M. Grant
May your stuffing be tasty
May your turkey plump,
May your potatoes
and gravy
Have nary a lump.
May your yams be delicious
And your
pies take the prize,
And may your Thanksgiving dinner
Stay off your
thighs!
By Funny-Jokes
20. The Turkey Shot Out Of The Oven
The turkey shot out of the oven
and rocketed into the air,
it knocked every plate off the table
and partly demolished a chair.
By Jack Prelutsky
21. Thank Goodness It's Only Once A Year
Turkey so dry that I can't speak
Brussel sprouts boiled for a week
Roast potatoes burnt to a crisp
Lumpy gravy
I feel
Sick
By Jan Allison
Thanksgiving is like an appetizer to Christmas– just as fun and merry, and just as filled with fun little quirky traditions. If you're like me and like to add something fun and lighthearted like a little turkey poem to all the placemats on Thanksgiving, these are all super fun options!
I love getting to use little details to make everything a little more fun around the holidays. And poetry is always a cute addition to any event you're throwing.
Even using these as an Instagram caption as you post photos of you and your family around the table is a cute way to spread turkey cheer this Thanksgiving! It's all about the joy of the season.
Hungry yet? Here are 37 rhyming poems about food to hold you over until Thanksgiving dinner!