Inside: Rhyming Love Poems to Impress Your Man.
It's no wonder that love and romance have been the source of inspiration for many artists, writers and poets. It's something we as humans LOVE – being in love.
From William Shakespeare in the 1600s to modern day poets like Rupi Kaur, love has been the subject of beautiful poems for centuries. Love has inspired some of the most beautiful and iconic poems of all time.
If you are looking for a poem to send your man that will express your feelings for him, these 27 Rhyming Love Poems are sure to inspire you.
9 Beautiful Rhyming Love Poems
1. You're My Everything By Jetem Westbrook
It makes me happy just being by your side.
All these feelings I just can't hide.
You'll always be in my heart.
Can't bear the pain when we are apart.
Nobody is as special as you are to me.
I hope you are beginning to see
Just how much I care for you,
And all my feelings will always be true.
I can't describe how much I care,
But when you need me, I'll be there
To wipe those tears when you are sad,
To make you happy when you are mad.
All these things I can really do.
Just remember I'm thinking of you!
2. If Not For You By Joanna Fuchs
If not for you, I wouldn't know
What true love really meant.
I'd never feel this inner peace;
I couldn't be content.
If not for you, I'd never have
The pleasures of romance.
I'd miss the bliss, the craziness,
Of love's sweet, silly dance.
I have to feel your tender touch;
I have to hear your voice;
No other one could take your place;
You're it; I have no choice.
If not for you, I'd be adrift;
I don't know what I'd do;
I'd be searching for my other half,
Incomplete, if not for you.
3. To My Dear And Loving Husband By Anne Bradstreet
If ever two were one, then surely we.
If ever man were loved by wife, then thee.
If ever wife was happy in a man,
Compare with me, ye women, if you can.
I prize thy love more than whole mines of gold,
Or all the riches that the East doth hold.
My love is such that rivers cannot quench,
Nor ought but love from thee give recompense.
Thy love is such I can no way repay;
The heavens reward thee manifold, I pray.
Then while we live, in love let's so persevere,
That when we live no more, we may live ever.
4. From My Heart – Mrs. Creeves
A million stars up in the sky.
One shines brighter – I can't deny.
A love so precious, a love so true,
a love that comes from me to you.
The angels sing when you are near.
Within your arms I have nothing to fear.
You always know just what to say.
Just talking to you makes my day.
I love you, honey, with all of my heart.
Together forever and never to part.
5. Forever And Always By Mercedes
You are the sun that shines brightly throughout my day.
You are the gravity that holds me down in every way.
You are the moon that shimmers throughout my night.
You are stars that glimmer oh so bright.
You are the oxygen that keeps me alive.
You are my heart that beats inside.
You are the blood that flows through me.
You are the only guy I can see.
You have the voice of when a mockingbird sings.
You are my everything.
You are my one and only.
You stop me from being so lonely.
We plan our future as if we have a clue.
I never want to lose you.
I want you to be my husband, and I want to be your wife.
I want to be with you for the rest of my life.
6. Creatures Of The Fire By Joanna Fuchs
We swan-dive into the volcano, burning;
We're creatures of the fire,
Mingled male and female, yearning
For the heat, the sweet explosion of desire.
I splash into the pleasure, all-consuming;
I'm joyfully insane,
My passion for you deep, and fully blooming;
Long after, sweet warm flickers still remain.
You make my body sizzle with your kisses,
And yet there's so much more;
My heart is kindled, too; It knows what bliss is,
This closeness that I've never felt before.
My body and my heart belong to you;
I'm peaceful and complete.
I see more adventures coming for we two,
We creatures of the tender fire and heat.
7. I Am Ready to Go Everywhere with You
I'll follow you even to the earth's end
Staying closer to you as my best friend
Wherever you turn or go, there I'll follow
Sticking with you until the day after tomorrow.
Love you so much.
8. Silence Is Golden – Shelagh Bullman
They say silence is Golden,
I believe it is true,
Because in that Golden silence,
my thoughts occur of you.
You are the flame in my candle
that lights the darkness of my room,
You are the scented flowers
that makes my heart full bloom.
You are the butterflies
that flicker in my stomach all day long,
When I know I will be holding you
before my day is done.
You are the stars that shimmer and shine,
You light up the skies above
In this Golden silence
it's truly you I love.
You are the thunder of the night,
your lightning strikes whenever,
Into my soul that makes me whole,
and excites my heart forever.
You are my paradise, my oceans wide,
My mountains standing tall,
So in this Golden Silence
I love you most of all.
9. "I Will Wait for You Forever," by Diana J. Briones
The days are cold, the nights are long,
but my love for you stays strong.
I hold you in my heart
and have you on my mind.
I'll wait for you; however long,
my love for you is blind.
You are my lover and my friend,
you are my everything.
I shall remain here waiting,
even if for eternity.
Express Your Love with These Poems
10. "I Love You," by Ella Wheeler Wilcox
So kiss me sweet with your warm wet mouth,
Still fragrant with ruby wine,
And say with a fervor born of the South
That your body and soul are mine.
Clasp me close in your warm young arms,
While the pale stars shine above,
And we'll live our whole young lives away
In the joys of a living love.
11. "Love Comes Quietly," by Robert Creeley
Love comes quietly,
finally, drops
about me, on me,
in the old ways.
What did I know
thinking myself
able to go
alone all the way.
12. "Close Your Eyes," by Elizabeth Smith
Close your eyes and think of me
Close your eyes and try to see
Our hearts together and what could be
Our love forever as destiny.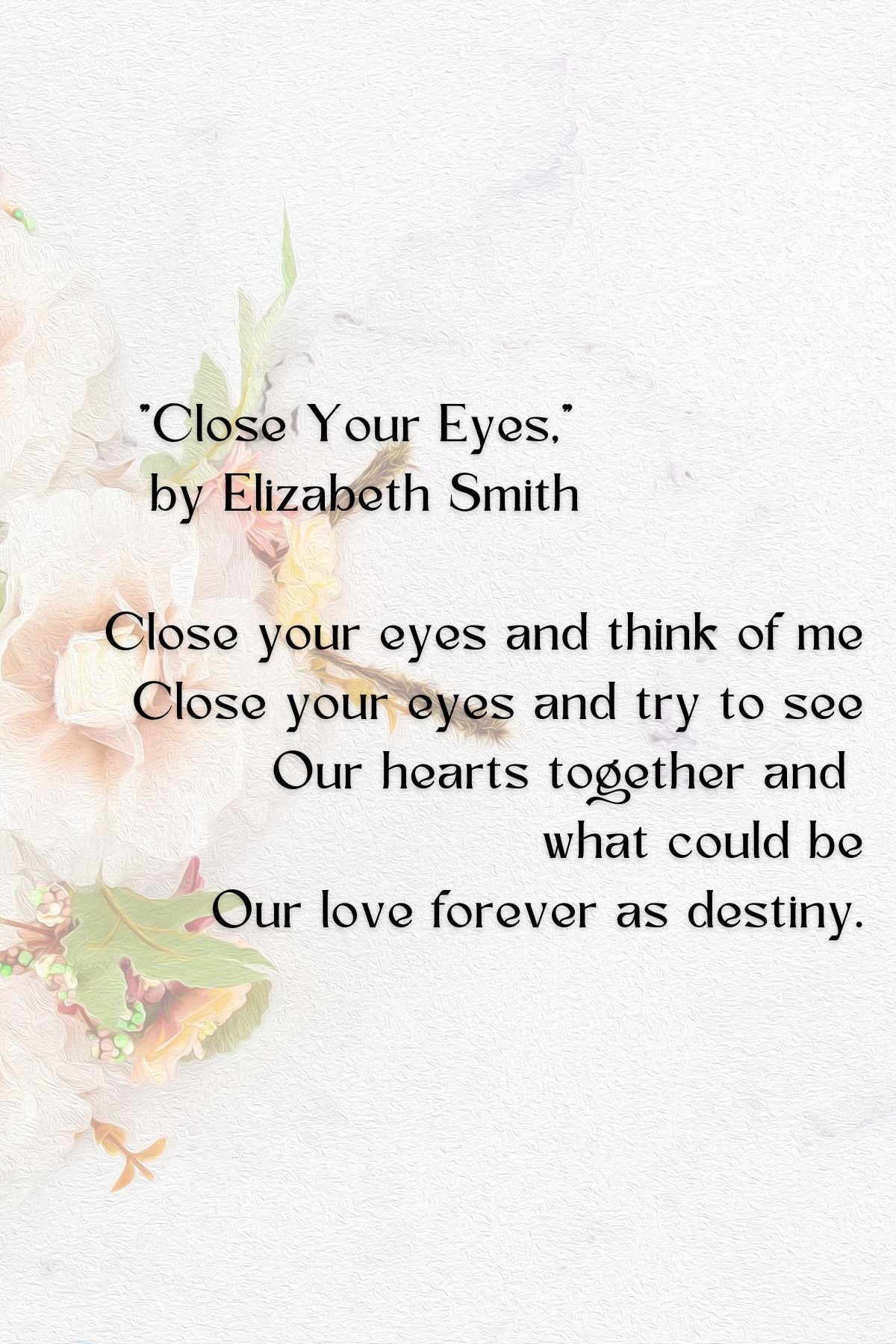 13. "When You Are Old," by William Butler Yeats
When you are old and grey and full of sleep,
And nodding by the fire, take down this book,
And slowly read, and dream of the soft look
Your eyes had once, and of their shadows deep;
How many loved your moments of glad grace,
And loved your beauty with love false or true,
But one man loved the pilgrim soul in you,
And loved the sorrows of your changing face;
And bending down beside the glowing bars,
Murmur, a little sadly, how Love fled
And paced upon the mountains overhead
And hid his face amid a crowd of stars.
14. My Blessing In Life by Jessica L. Newsome
Every morning I wake up and see
The most handsome man lying next to me.
He's the one I cherish and love,
A blessing sent from Heaven above.
I will love him as a faithful wife should
And do everything for him I could.
I would let him know every day
That I love him more than words can say.
For the two children we have together
And the love for God in each other,
It will keep our love for each other strong,
And the Lord will guide us away from all wrong.
15. For My Husband by Lisa
You are my first thought in the morning,
My last thought at night.
For you, I have always been longing.
You bring me so much delight.
You have changed my life so much.
You have a special kiss
And a special touch.
Forever we will be like this.
We met over 8 years ago,
A brilliant 8 years it has been.
Oh…where does the time go?
There was such a big space in between,
But we came through it.
Although it always seemed mean,
It was well worth it.
Being able to get a cuddle from you
Makes me so happy and feel wanted.
Everything you do,
Some I may take for granted,
But nothing can be stronger than my love for you.
What we have is bliss.
Even though we have ups and downs,
Nothing can come between this.
We have our smiles and our frowns,
But when we kiss and cuddle
All the frowns seem to drown.
Love You Forever Quotes and Instagram Captions
16. Our Romance by Susan L. Malone
'Twas the night before Sunday
When all through the bar
Texans were dancing
Beneath the Lone Star
When what to my wandering eyes should appear
A handsome young Texan
Buying a beer
Our love story started
Right there, right then
Joy Unexplainable
Least not by pen
If I had your attention
For a lifetime or so
I could tell you about the man
I've come to know
He is the best husband
Now the best dad
I am living the life
I wish all could have
Years later
We stroll hand in hand
Thanking the Lord
For His Perfect Plan
17. If only you knew by Rahik Thamir
In the darkness of the night, there is only me and you,
We are woven together in our very own cocoon.
I feel your heartbeat against my chest,
I hold you tight as we both rest.
I start to drift off to sleep,
And think of how I turned complete.
I am only complete when you are near,
To lose you someday is my biggest fear.
It takes two halves to make a whole,
My heart and yours, we make one soul.
18. Our love by Stephanie
Our love grows every day we are together
I hope our love last forever
I'm happy to say my dreams came true
Because I'm blessed to be loved by you
I hate when we fuss and fight
Because in the end neither was right
You're the love of my life, you're my best friend
And I never want this love to end
I hope to be always together
I vow to love now and forever
'How Do I Love Thee?' and Other Classic Love Poems
19. How do I love thee? by Elizabeth Barrett Browning
How do I love thee? Let me count the ways.
I love thee to the depth and breadth and height
My soul can reach when feeling out of sight.
For the ends of being and ideal grace.
I love thee to the level of every day's
The quietest need, by sun and candle-light.
I love thee freely, as men strive for right.
I love thee purely, as they turn from praise.
I love thee with the passion put to use
In my old griefs, and with my childhood's faith.
I love thee with a love I seem to lose
With my lost saints. I love thee with the breath,
Smile, tears, of all my life; and, if God choose,
I shall but love thee better after death.
20. The Meaning Of Love By Krina Shah
To love is to share life together,
to build special plans just for two,
to work side by side,
and then smile with pride,
as one by one, dreams all come true.
To love is to help and encourage
with smiles and sincere words of praise,
to take time to share,
to listen and care
in tender, affectionate ways.
To love is to have someone special,
one on whom you can always depend
to be there through the years,
sharing laughter and tears,
as a partner, a lover, a friend.
To love is to make special memories
of moments you love to recall,
of all the good things
that sharing life brings.
Love is the greatest of all.
I've learned the full meaning
of sharing and caring
and having my dreams all come true;
I've learned the full meaning
of being in love
by being and loving with you.
21. My Dearest Love by Sherri Brown
I see you in my thoughts and dreams.
When I awake, how real it seems.
You aren't here to comfort me,
But soon I hope you will be.
No one truly knows or understands;
You have my heart in your hands.
My love is what you truly own.
Come soon and make our house a home.
Inside those walls you are doing your time,
Not being here with me is your only true crime.
Others in your life will come and go,
But my love is true, and I'm sure you know.
I may not be rich or the prettiest one,
But I love you so much; you are my sun.
You light up my life every time you call.
When the time is up, I begin to fall.
You are my stars, you are my moon,
Being with you will come very soon.
So when you sleep, take this to heart,
No one or nothing will keep us apart.
22. You Are My Sunshine by Donna Donathan
You brought me sunshine
when I only saw rain.
You brought me laughter
when I only felt pain.
Romantics at heart?
Love at first sight?
Have I known you before?
God! This feels so right!
Have I met you before?
Another time, another place?
If it's only one night,
will it bring us disgrace?
What are these feelings?
Must they be temporary?
Just to make you happy
seems so necessary.
I want you to know,
'cause I'll never forget –
knowing your smile,
your kisses and yet…
Dreams are something,
that can't always come true,
nothing more we can say,
nothing more we can do.
23. Our Love By John P. Read
L is for "laughter" we had along the way.
O is for "optimism" you gave me every day.
V is for "value" of being my best friend.
E is for "eternity," a love that has no end.
24. You by Bryce Jennings
It's that look in your eye.
It's the smile on your face
That makes time slip by,
And I know I'm in a better place.
It's the memories of you I have
That make any grey sky turn blue
And lets me know these feelings I have
Are true.
Getting lost in my dreams
With the mere image of you.
It's hard to imagine; it seems
A future lost, one without you.
So I leave my arms open,
And I'll wish and may pray,
Eyes focused and hoping
For your embrace just one more day.
25. I Love You By Adrian Jackson
My love for you will never fade.
With both our feelings combined is how love is made.
You give me the strength to stand up tall.
You reach out for my hand every time I'm about to fall.
There is not a day you're not on my mind.
A person like you is really hard to find.
A weekend without you is so hard to do.
I cannot even live a day without you.
I love to hold you and hold your hand.
From this day on, you are my very best friend.
I'm happy to wake up beside you every day.
"I love you" are my favorite words you always say.
I love it when I look in your eyes.
I see no hatred and no lies.
Forever in my heart is where you will be.
Nobody else will enter because you have the only key.
Just to keep you, there isn't anything I wouldn't do.
Because babe, I love you.
26. Love's Coming By Ella Wheeler Wilcox 
She had looked for his coming as warriors come,
With the clash of arms and the bugle's call;
But he came instead with a stealthy tread,
Which she did not hear at all.
She had thought how his armor would blaze in the sun,
As he rode like a prince to claim his bride:
In the sweet dim light of the falling night
She found him at her side.
She had dreamed how the gaze of his strange, bold eye
Would wake her heart to a sudden glow:
She found in his face the familiar grace
Of a friend she used to know.
She had dreamed how his coming would stir her soul,
As the ocean is stirred by the wild storm's strife:
He brought her the balm of a heavenly calm,
And a peace which crowned her life.
27. "Is Love, then, So Simple" by Irene Rutherford Mcleod
Is love, then, so simple my dear?
The opening of a door,
And seeing all things clear?
I did not know before.
I had thought it unrest and desire
Soaring only to fall,
Annihilation and fire:
It is not so at all.
I feel no desperate will,
But I think I understand
Many things, as I sit quite still,
With Eternity in my hand.