Inside: Dad acrostic poems to print & fill out for him, since all he wants is a sweet card anyway.
With Father's Day coming up, it's a great time to stop and appreciate the men in our lives, whether that be your own dad or the father of your children! It's too easy to get lost in the hustle and bustle of each day, so we're making a space for you to take a break and think about just how much your dad means to you!
We've put together a list of over 10 of the best Dad acrostic poems out there, as well as free printable templates for you to create your own that's unique to your Dad.
Your Pop has been there for you from the start. He's the one who protects you, teaches you how to be tough, laughs with you, and is overall just a reliable presence in your life. So when you sit down to write your own poem about your big guy, really think about all of the things he's contributed to your life, big or small.
Because when you think about it, the small things can end up meaning more to you than the larger moments.
But before we get started you may be wondering, what the heck is an acrostic poem? Let's discuss it!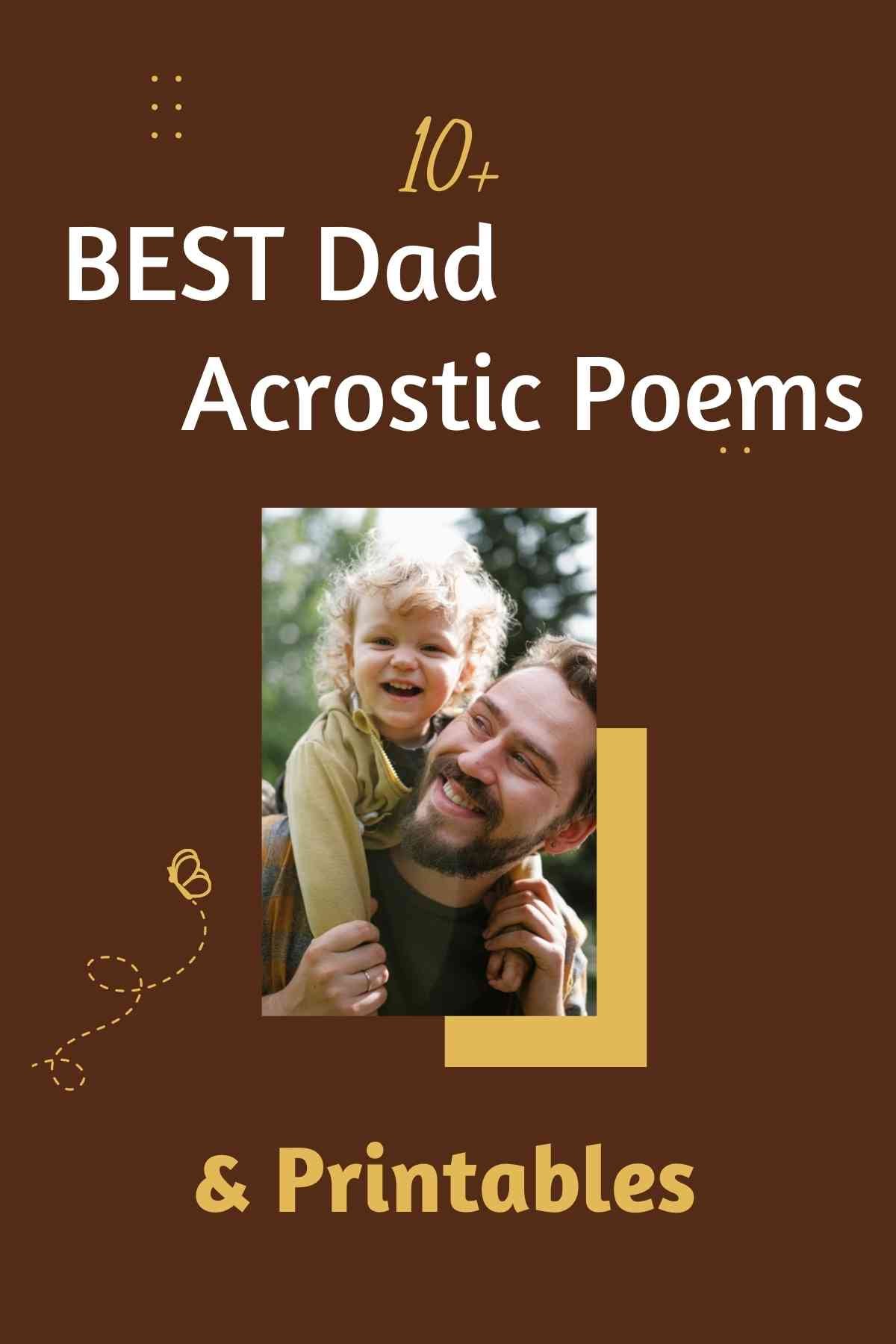 What is an Acrostic Poem?
An acrostic poem is when you create a poem using each letter in the chosen word as the first letter in a sentence, this way by the end of it when you look at the poem it spells out the word you chose. It doesn't always have to be the first letter either, as you'll see below you can also create an acrostic poem by simply capitalizing the chosen letter within your sentence! This gives you a little bit more freedom when writing.
To help you remember, you can think of Acrostic poems like Acronyms, which is what the word is based on!
This style of poetry is said to have been created between 1831 & 1834, which makes the fact that you're about to write your own even cooler! It's a simple and fun way to continue a practice created in the past, like writing in a time machine! It can also be a lovely way to show your dad how much you love him. Even though he already knows that you care, going this extra mile will be sure to make them feel extra loved and will bring a tear to even the toughest Dad's eye!
We've included a few examples to help you get a good idea of what exactly this acrostic poem will look like, this can also give you some inspiration for your own poems. We've also included some free printable templates that you can use for the kiddos as a guide for their project! Take a look.
DADDY Acrostic Poems
These ones are for those of you who prefer to call him Daddy! As most of us do between the ages of 2-10. But no shame if that's still your go-to! These ones are for you, check them out!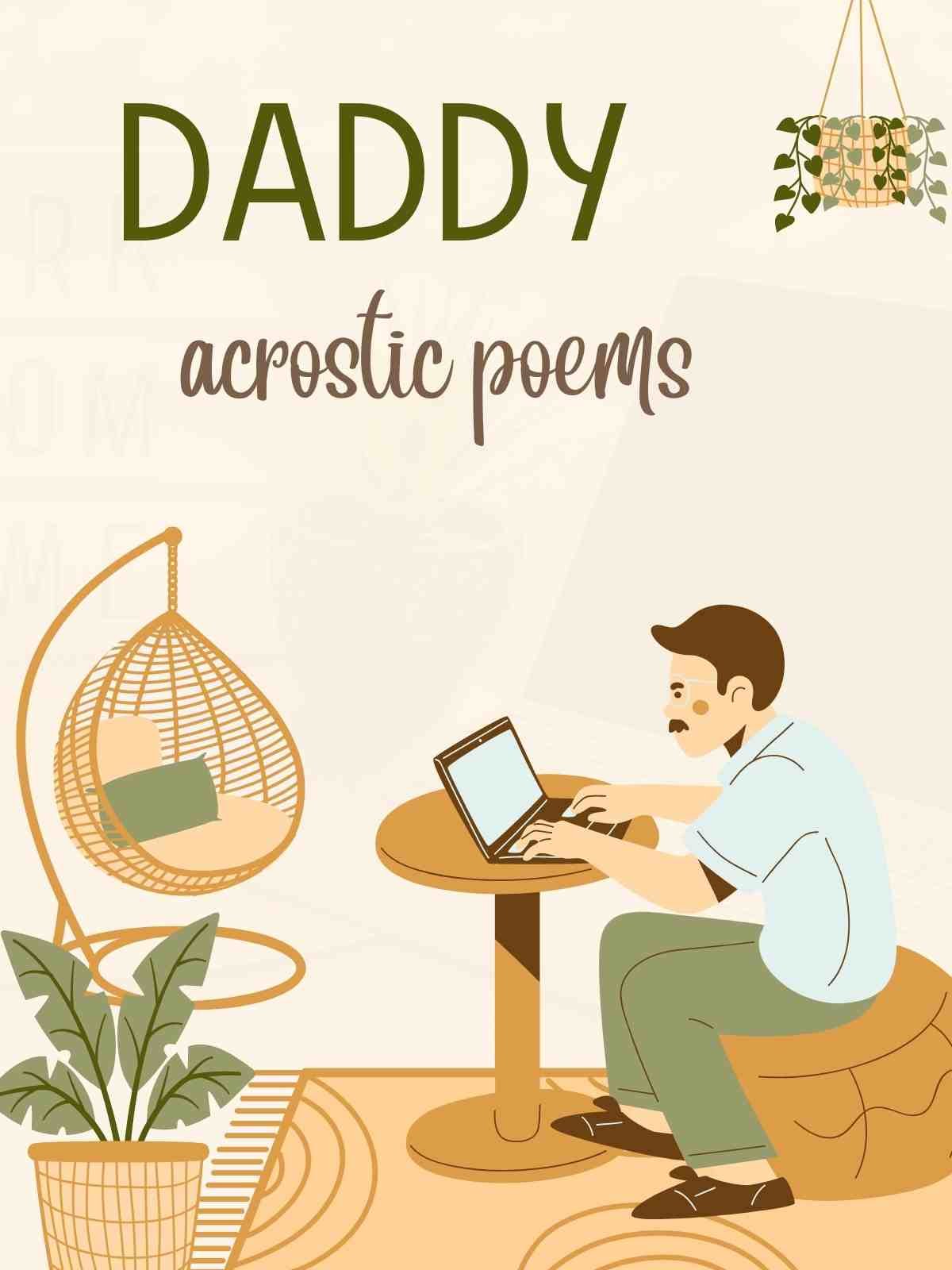 1. wonDerful
Adventurous
harD working
Da boss
alwaYs lots of fun!
2. Untitled    
Dependable
Awesome
Dedicated
Daring
alwaYs brings the fun.
That's my Daddy!
-Unknown
3. Deeply loving
Appreciated
Devoted
Dapper Dresser
Youthful Heart
-Unknow
4. Free Printable DADDY Acrostic Template
FATHER Acrostic Poem
Though father may seem a little formal, it's perfect for an acrostic poem! Not only is it the classic name for the paternal figure, but it's got more letters, and therefore more room for those sweet sweet compliments that will leave your Dad's heart full!
5.
Funny
pAtient
sTrong
Helpful
clEver
Reliable
– Anna
6.
Fantastic in every way.
Always there for me.
Teaching me sports.
Hero to the family.
Expecting great things from me.
Really the greatest dad ever!
– Leilani 
7.                                  always be Forgiving
helps protect his family with the Armor of god
being a Teacher and being an example
a Helper in time of need or no need at all
the memory of a father is Everlasting
a father is looked up to and also Respected
– Unknown 
8.  F is for Friendly; with him, fun times I share.
    A is for Amazing; his heart is full of compassion and care.
    T is for Truthful; his values have helped me stand tall.
H is for Helpful; his generosity is valued by all.
E is for Encouraging; his confidence in me stays strong.
R is for Reliable; he has been there for me lifelong.
FATHER'S DAY Acrostic Poems
And lastly, of course, we had to include one for Father's Day! What better way to celebrate this sweet occasion than with an Acrostic Poem commemorating it! Plus it's got EVEN MORE letters than either two options above…so it'll create more than a tear or two from dear ol Dad, it'll be a whole crying fest! Happy tears of course…
10. Fun to be around
Always there to help me
Take his time on something new
He cares for me
Every day he makes me happy
Reads and gets smarter
– Stacy
Hey, Dad; just a silly note to say
A heartfelt hope to "Have a Happy Day"
Please know, that even when I didn't obey
Paid attention, I did,  in many a way
Yes, with me you really did do OK
Fantastic at showing me how to grow up right
Attentive to my needs, every day and night
Trying to do your best,even when I gave a fight
Helping me through every tear, affront and fright
Encouraging me with all of your insight
Really, Dad, you are completely tight
'
So through everything, I just want you to know
Despite what I might've said, I really love you so
A man that I am proud of: something I try to show
You may have an easy heart on this, no matter where we go
-unknown
12. Free Father's Day Acrostic Poem Printable Template
And there you have it, 10+ of the Best Dad Acrostic Poems & Printable templates out there. We hope you loved learning about acrostic poems. See how good it feels to take a little time out of your day to appreciate your Dad? It's easy to take them for granted with how fast life moves, so while you write this just remember to be in the moment and truly relish in how amazing it is to have someone to call Dad!
More Poems You'll Love
17 Lovely Pink Poems – 

While it is fairly common knowledge that the color pink is tied to notions of love and romance, did you know that psychologically, pink is said to be a very calming color? Moreover, the color pink brings about feelings of optimism, sensitivity, and tenderness. Likewise, it represents hope, which coincides with pink being the international color for breast cancer awareness. 

The most popular use of the color pink is to represent femininity and ideas associated with it like kindness and compassion, although it has become more popular as of lately to consider the color unisex.
23 Incredible Rumi Poems -Rumi has published over 6,000 poems, amongst other works. His ideas about life unite humans as a species, and highlight how, though our lives are different, we all experience the same emotions, including joy, pain, love, and longing. Though his publications are nearly 1,000 years old, nearly everyone who reads them can relate to them in some way. That is the power of poetry!