Inside: Beautiful and deep ocean waves poems.
The ocean is a place where many of us feel most at peace. It is massive, powerful, and ever-changing. And when we look at its waves, we are reminded of the constant ebb and flow in all of nature's creations, and how we as humans fit into this world.
It is no doubt that poets often draw their inspiration from the beauty and power of nature, and that is why poems about waves hold such a special place in our hearts. This article features wave poems from some of the greatest poets, as well as poems about oceans and saving the environment, waves and nature, and poems reflecting on life through the lens of the sea.

With that, we hope you enjoy these poems and feel free to comment and share your favorites!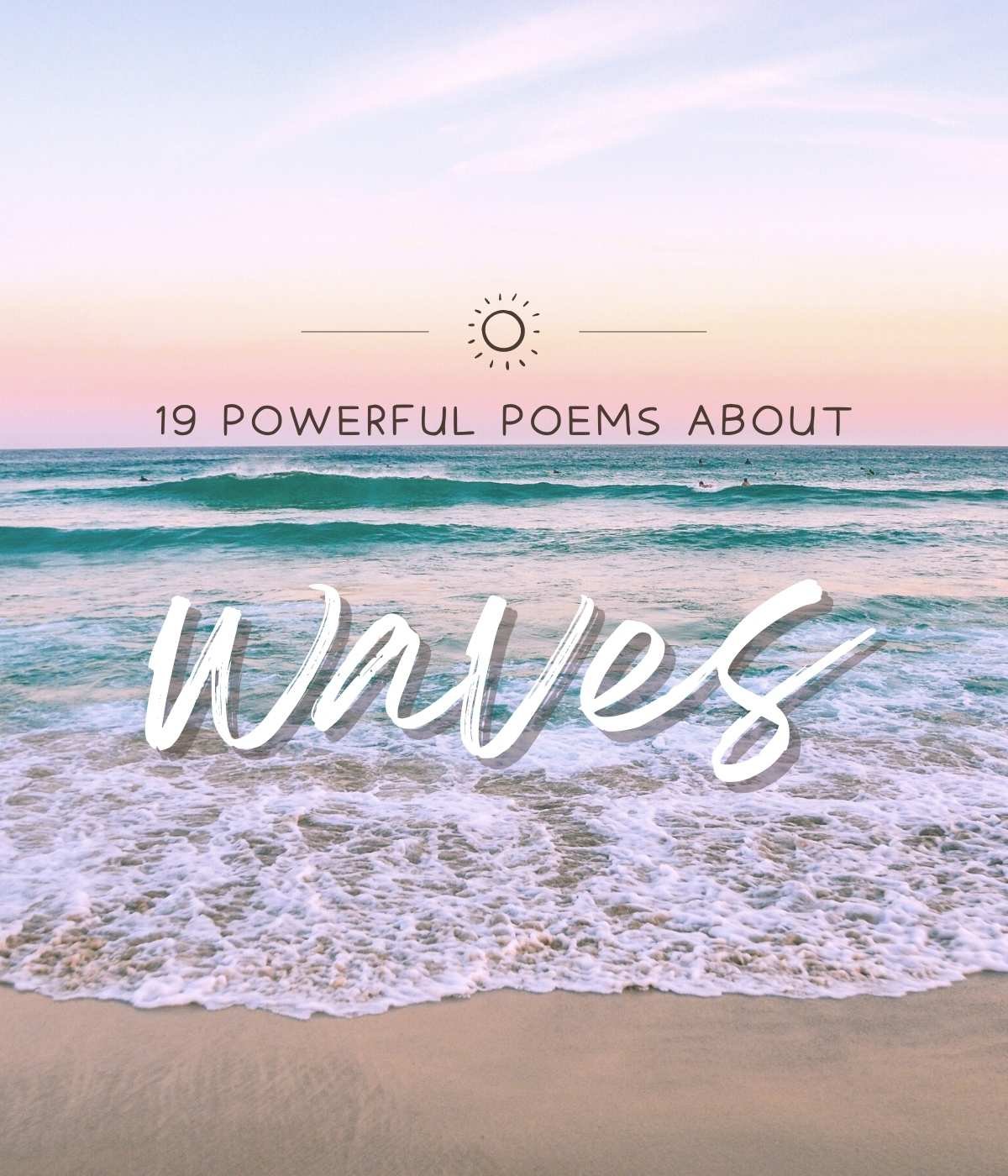 Waves Poems From Famous Poets
Since time immemorial, people have been inspired by the beauty of nature. There are several famous poets who have written poems about waves, like Tennyson, Shelley, and Whitman. Here are some of our favorite poems about waves.
1. Out of the Cradle Endlessly Rocking
"Soothe! soothe! Soothe!
Close on its wave soothes the wave behind,
And again another behind embracing and lapping, every one close,
But my love soothes not me, not me."
—Walt Whitman
2. Light
"The butterflies spread their sails on the sea of light.
Lilies and jasmines surge up on the crest of the waves of light."
—Rabindranath Tagore
3. Bombers Moon
"And waves are shining there beneath a bomber's moon
The Lancaster's flying high beneath a bomber's moon
Coming in along the Belgian coast
A thousand silver–shrouded ghosts."
—Mike Harding
4. The Brooke and the Wave
"Far away in the briny ocean
There rolled a turbulent wave,
Now singing along the sea-beach,
Now howling along the cave."
—Henry Wadsworth Longfellow
5. Dover Beach
"Listen! you hear the grating roar
Of pebbles which the waves draw back, and fling,
At their return, up the high strand,
Begin, and cease, and then again begin,
With tremulous cadence slow, and bring
The eternal note of sadness in."
—Matthew Arnold
6. XLIX
"When I see the sea once more
will the sea have seen or not seen me?
Why do the waves ask me
the same questions I ask them?
And why do they strike the rock
with so much wasted passion?
Don't they get tired of repeating
their declaration to the sand?"
—Pablo Neruda
Waves Poems and the Beauty and Mystery of Nature
Waves and oceans are often looked upon with awe, but at the same time, they can be mysterious and even frightening. Many waves and ocean poems reflect the awe and mystery of nature while also showing how our connection to both is important.
7. The Ocean
"The Ocean has its silent caves,
Deep, quiet, and alone;
Though there be fury on the waves,
Beneath them there is none.
The awful spirits of the deep
Hold their communion there;
And there are those for whom we weep,
The young, the bright, the fair."
—Nathaniel Hawthorne
8. The Picnic by the Ocean
"How can we say this is not a source of wonder—
"Who will sing my song, if not you?"  he asked.
"Who will dream of me, as I lay under the stillness of water?"
Even an Octopus can be eloquent, and then again,
as we know, enormous need can become power.
What am I supposed to do now?
I stand by the water,
my woolen dress unraveling in the waves."
—Grace Cavalieri
9. Sea Calm
How still,
How strangely still
The water is today,
It is not good
For water
To be so still that way.
—Langston Hughes
10. Promises of a New Day
Even the ocean's waves seem to conspire,
Relentlessly calling to stoke curiosity's fire,
As they rumble ashore with impatient haste,
Swirling about my feet with purpose chaste,
Urging me to follow as they return to the sea,
Leaving a luring trail of life or its relics for me.
—Belinda Stotler
11. A Miracle to Behold
Seagulls soar above her surf,
The sun reflects and gleams,
While people come from miles around
To stroll upon her beach.
Her touch conveys an icy chill
Through her stinging, foamy spray,
While her thunderous waves rush to the shore,
Then gently roll away.
—Patricia A. Fleming
Ocean Poems and the Environment
Waves are always associated with the sea, so many poems about waves are written about their relationship to the ocean and the environment.
12. Except for the Lone Wave
"But Atlantic is far out,
beach deserted in the mid-day sun
except for the lone wave of rubbish –
old car tyres, plastic bottles,
styrofoam cups –
rightly tossed back
by an ocean's moodswings."
—Grace Nichols
13. Thirteen Ways of Looking at a Glacier (after Wallace Stevens)
"When the glacial terminus broke,
It marked the beginning
Of one of many waves."
—Craig Santos Perez
14. Ice Would Suffice
"How swift, how far
the sea
carries a body from shore.
Empires fail, species are lost,
spotted frogs
and tufted puffins forsaken."
—Risa Denenberg
15. Ode To Our Ocean
"The sea sings out for its singular subjects:
Arching whales that wave from their waves,
Turtles that teeter down their shining shores,
Coral reefs shining brightly as cities."
—Amanda Gorman
Ocean Waves Poems and Life
As a symbol of the constant movement and energy of life, waves can often be used as a metaphor to describe all that we experience in our daily lives.
16. Three Poems
"They are the wet in the sand
Spreading in and down
Dark center of the old stain
The wave after wave is one wave never tiring."
—Tracy K. Smith
17. Wave After Wave
"a cold-blooded indifference so pure,
a strong swimmer won't last ten wet minutes.
At the Keweenaw, surf pummels the stamp
sands with ochre fists, ore boats stack up lee."
—M. Bartley Seigel
18.  Poets with History and Poets without History
"The same water – a different wave.
What matters is that it is a wave.
What matters is that the wave will return.
What matters is that it will always return different.
What matters most of all: however different the returning wave,
it will always return as a wave of the sea.
What is a wave? Composition and muscle. The same goes for
lyrical poetry."
—Marina Tsvetayeva
19. Sonnet LXXV
"One day I wrote her name upon the strand,
But came the waves and washed it away:
Again I wrote it with a second hand,
But came the tide, and made my pains his prey."
—Edmund Spenser
More Poems You'll Love
Funny poems. A good laugh heals a lot of hurts and what better way to relieve that pain or stress than to read something funny! Brighten your day with these poetries that will amuse you and uplift you with humor that will surely bring a smile to your face.
30+ Warming Winter Poems. The versatility of this blustery season as a theme makes it perfect for so many different poetic forms. Here, we have listed some of our favorite winter poems that come in haikus, sonnets, free verse, and even acrostic forms.
35 Just Because Poems for Couples. You can write these Just Because Poems on a post-it, send one as a text message, or express it verbally to convey your feelings to your partner. These poems are a heartfelt way to reassure your partner that you are there for him or for her, no matter what happens.