Inside: Easter acrostic poems to help understand and celebrate one of the most important Christian holidays. 
Easter is a Christian holiday that is typically celebrated in mid-April. As it signifies the end of the Holy Week, it is always celebrated on a Sunday. Easter itself is celebrated to commemorate the resurrection of Jesus Christ, as is written in the New Testament. Since Jesus Christ is said to be the savior of humanity, this day is one filled with joy and gratitude for all who celebrate.
On this holy Sunday, it is typical for individuals to spend the day off from work surrounded by family.
It is common for families to read scriptures or religious pieces. It can be especially fun to create Easter acrostic poems for this holiday.
What is unique about acrostic poems rather than other forms of poetry is that they are about one specific topic and they allow the writer to portray all that they know and feel about this specific topic.
Writing Easter acrostic poems is a great exercise for children or newer Christians who wish to become well-versed in the religion.
What is Easter?
Easter is celebrated as part of the Christian Holy Week. This week as a whole is meant to celebrate the resurrection of Jesus Christ. It begins with Palm Sunday, followed by Holy Monday, Tuesday, and Wednesday. Next comes Maundy Thursday, then Good Friday, Holy Saturday, and finally, Easter Sunday. While this holiday is celebrated somewhat differently around the world, there are some common traditions for this day in America.
On this Sunday, families will attend a Vigil, which consists of the service of the light, the liturgy of the word, the rite of baptism, and the liturgy of the eucharist.
After this church service which typically lasts around three hours, people typically spend the day with family, sometimes with an elaborate brunch and often with an egg-hunt for children.
Easter eggs and the bunny are two symbols that are associated with this holiday. While these icons have been somewhat commercialized over time, they do hold some significance for the holiday. The colorful eggs symbolize the new life of Jesus, and the rabbit actually is said to symbolize the resurrection due to rabbits' high reproductive rate.
Easter Acrostic Poems Examples
Since Easter is one of, or the singular most important holidays celebrated for followers of Christianity, it is common for poems and stories to be written about it. Acrostic poems are typically used for didactic purposes, as they are easy to comprehend and fun to create. For teaching children about Easter and its purpose, sharing acrostic poems with them or having them write their own is a very effective way to do so.
1. Easter Acrostic Poem A short and simple piece about the joys of celebrating this fun day, especially for children.
2. Spring Poem Since it occurs so close to the start of warmer temperatures, some associate this holiday with the emergence of Spring. People tend to dress in bright Spring colors for this holiday and it is seen as a vibrant new beginning.
3. Happy Resurrection A joyous religious piece that celebrates the miracle of resurrection.
4. Easter In this longer piece, each letter of the acrostic is used to portray an excerpt from the Bible so that, altogether, it speaks of the meaning of the holiday.
5. Jesus A piece that portrays a deep devotion and appreciation for the subject and all that he has done for humanity.
6. Father This piece attributes a deep faith to Jesus, who is considered a father.
7. Jesus Psalm A short and simple piece written about the sacrifices and bravery of the titular subject.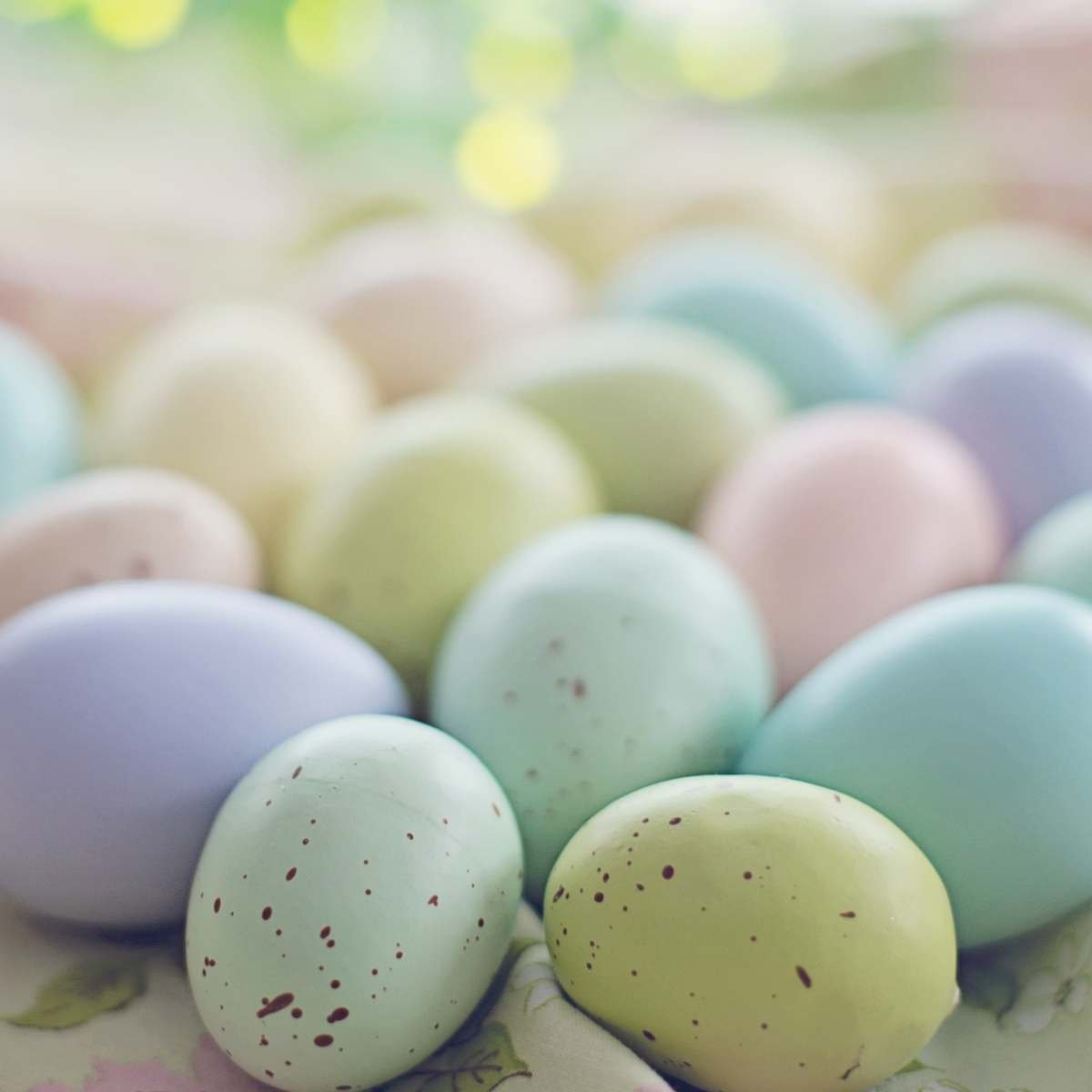 8. "Grace lighting my heart
Over the worst part
Old sins forgiven and forgotten
Dreams of real love boughten
Faith fills my soul
Ridding me of sin on the whole
Insuring me of God's hope
Dusting me with a prayer to cope
Alive on the third morn
Yes! We can truly be reborn!" —Regina McIntosh
9. "Everywhere chocolate is hidden
And
So many children have
To look.
Easter is a great time of year, so
Remember not to eat all the chocolate at once." —Kaitlyn Guenther
More Poetry
There is no shortage of literature or art related to this joyous holiday. Many pieces are written as a tribute for the writer to express their love and appreciation for Jesus, while others are created in hopes of showing others just how important he and his resurrection are. There are several poems on this list that are great to show children to help them learn more about this special holiday.
10. Jesus Loves Me; Easter Tells Me So This lengthy piece details the incredible relationship the speaker has with the lord, and how celebrating this holiday reminds them of this strong, unique bond.
11. Easter Gate Here, the lines are describing the debt owed to Jesus for his selfless sacrifices, and how it is crucial to allow him to be your guide through life to live a life filled with purpose and faith.
12. Jelly Bean Prayer This is a cute piece that is great for children. It uses all of the colors of the rainbow (or jelly beans) as a medium for portraying all that we have to thank the lord for.
13. Impossible In just a few short lines, the author simplifies exactly why this Sunday is such an important celebration. The speaker is saying that there is simply no other force like Jesus, and no other celebration like this one.
14. "May your Easter be happy,
May your day be bright,
May you enjoy the treats,
And sweet delights.
But remember the meaning,
Remember God's gift,
Remember the resurrection,
May your soul uplift." —Bill Hoeneveld
15. "With a hip and a hop—
Easter bunny won't you stop,
At my house to hide some yummy little eggs.
Then you'll jump out and run –
Down the street for some fun,
Zippity quick on your fuzzy, furry legs.
To hide treats for the others –
Boys and girls –even mothers,
Treats galore packed in baskets and bright bags!" —Leanne Guenther
More Poems You'll Love
While these acrostic poem examples are fun to read and try on your own, there are numerous other forms of poetry that are rewarding to read and write. And, of course, there are numerous other topics to focus on for reading and writing poetry. Here are some ideas that you'll love.
53 Amazing Sister Poems There is no bond quite like the one between two sisters. There is usually no one else in your life who shares the experiences and memories that sisters do. These are some poems that describe this and remind you of how special your sister really is.
17 Poems About Your Child Growing Up Watching children grow up and mature is an experience that often leaves you speechless and mystified. Time seems to fly by as your child who was once so small grows and begins to make a life of their own. Here are some touching words to commemorate that experience.
41 Good Poem Titles to Use When it comes to writing poetry, sometimes coming up with a title can be the hardest part! Some writers like to start with a title to decide the topic and how the rest of the piece will go, while others wait until the end to wrap up their piece with a title. This long list of ideas should help spark your creativity.